Have you seen the social video where the audio is a voice saying, "Hi, I'm a small business owner and unfortunately that means I have to be a content creator so here's the content"?
Maybe you heard this audio playing over a video of @saddlemountainbeadwork making handwoven beadwork. Or over shots of a necklace by @melaniegoldenjewelry at various stages as it's being made. Or the one of @tayloredtoys as she looks into the camera and mouths the words then holds up one of her handmade toys. There are countless examples.
The popularity of this audio track speaks to the understandable frustration that small business owners feel about the sheer volume of work involved in marketing their business. On top of, you know, actually making the things you're selling, plus running the business, there's a lot of pressure to churn out a never-ending supply of content for social media, blog posts and newsletters.
Whether you need to create All The Content depends on your audience, your capacity and your business goals, and is a question that we probably can't answer for you in just one article. (Though, as a starting point, we recommend checking out our article about creating content for your brand and this Ted Talk by Tara McMullin on creating remarkable content.)
What we can help with is one of the biggest roadblocks to creating content: coming up with ideas. As the aforementioned trending audio reflects, generating content can feel like a never-ending chore. So we thought we could help with a little of the overwhelm by creating a cheat-sheet of content ideas for you.
How to use this list
For this list of content marketing ideas, we've focused on the subject matter of the content, not the format or platform. As such, the ideas are adaptable and can be repurposed in many ways.
Take, for example, Number 3: "Announce the launch of a new product or product line." A ceramicist could create a TikTok video or Instagram Reel showing a slideshow of their newest line of pottery designs. An Instagram post could show the pieces all grouped together, with a caption detailing names and prices. And a Pinterest post could show a gorgeous styled shot of one item, with a keyword-rich caption to help searchers find it. A blog post could provide more in-depth information about each piece in the new line and link to the sales pages of each item.
In this way, these 53 ideas could yield content for the whole year and beyond, for multiple platforms, as you can do many of them many times over, in various formats and to highlight various products.
May you never run out of content again.
53 Content marketing ideas for social media, videos and blogging
Your Products
1. For each product you make, create a piece of content all about it. Think: product descriptions that you have written for your online shop. In fact, for one of your posts, you can just copy and paste from there!
2. Create a teaser for an upcoming new product.
3. Announce the launch of a new product or product line.
4. Showcase your most popular product and share what people love about it.
5. Showcase your own personal favourite product. What do you love about it
Product Education
6. Teach your customers how to use/wear your products.
7. Provide care instructions for your products. Create a different post for any items that have unique care requirements.
8. Educate your audience about your craft. For example, do you use a traditional firing method for your pottery? Share its history.
9. Show the benefits of your products.
---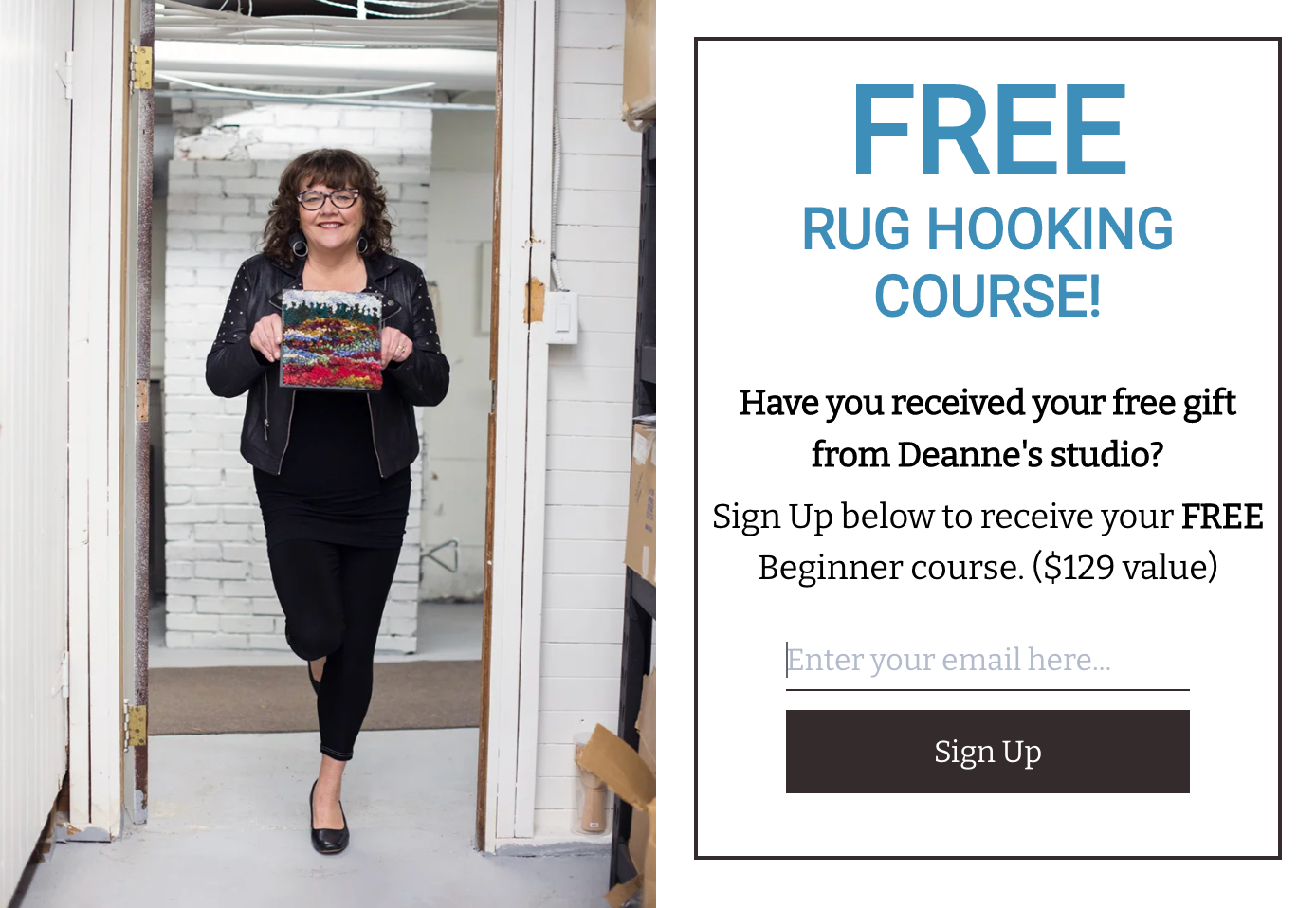 Deanne Fitzpatrick Studio in Amherst, N.S., gathered a 10-step guide, five how-to videos (which also appear on its YouTube Channel) and an 18-page PDF booklet all in one place as a free rug-hooking course promoted through a pop-up window on its website (as shown above). Guiding novice rug hookers through things like choosing the right tools, using different types of materials and how to finish off a rug ensures that customers will be able to successfully complete the kits that the studio sells. (See No. 8 on this list.)
---
How It's Made
10. Choose one step in your process and describe or show it in great detail. Do this for each step of the process…
11. …then create a piece of content that covers everything about how you make your product from start to finish. (Avoid creating a how-to guide — you don't want to show competitors your secret sauce!)
12. Describe the materials that your wares are made of. What is the material and where do you get it from? You don't need to say your supplier's name, but if you, for example, harvest seaweed from the coast to make your bath and body products, tell that story. Do this for each material.
13. What tools do you use? Show your collection of tools…
14. …and a more detailed post for each one.
Style Ideas
15. For each item you make, demonstrate how to style it. How do you wear it, or style it in your home, for example?
16. Take one product and show three ways to style it.
17. Day, night. Summer, winter. Work, casual. Contrast two opposite ways of styling your goods.
Social Proof
18. Share your customer reviews and testimonials.
19. Reshare your customers' posts that feature your products.
20. Featured in a magazine, on a blog, in the news, on TV? Tell the world!
21. Show your product "out in the wild" on store shelves of your retail partners' shops and being used by your customers.
22. Create a customer profile of someone who's bought something from you. This works especially well for returning customers who've bought from you on multiple occasions.
23. Received an award? Toot your own horn and celebrate!
---
Rainy Day Sunshine, a maker in Alberta who sells stickers and crochet cup cosies, combines three ideas from this list in just one TikTok video: They thank a customer for their purchase and review (No. 33), they share a testimonial (No. 18) and they show behind the scenes (No. 34).
---
The Business
24. Share your business values. People like to know what you stand for and will support businesses that align with their own values.
25. If you have a team helping you out, tell your audience about them. Show the whole gang and talk about how team work makes the dream work….
26. …then do a little profile on each member. Don't have anyone else on payroll? Studio cats and supportive friends and family members are totally fair game.
27. Keep customers informed about your policies, such as shipping info and whether you accept returns.
28. Make announcements. Will you be selling at a local market? Is there a cutoff date for holiday orders? Having a sale or offering a giveaway? Keep your customers informed about important happenings in your business.
29. Through content marketing and social media, you are in direct contact with your customers. Take advantage of it by doing some customer research. For example, ask questions about what products of yours are their favourite…
30. …ask what other types of products they buy…
31. …and find out what they wish there was or what they think is missing in your product category.
32. You can also get followers to assist in product design and development. Ask them to weigh in and vote on two different colours or styles that you're considering for an upcoming product, for example.
33. Say thank you. Did someone help you set up your booth or move your studio? Were you included in a fun collaboration? Have you received support from a mentor? Show your gratitude publicly.
---
In an Instagram post, Petal Pusher Studio of Stratford, Ont., thanked the organizers of the Stratford Makers Market for including the floral studio in its event (see No. 33 on the list) and teased their appearance at an upcoming Christmas market (see No. 28).
---
A Day in the Life
34. Show yourself doing the various things you do as part of your business. For example, packing orders…
35. …setting up then running your booth at a craft show…
36. …or taking a much-needed break. This behind-the-scenes look into your business is a great way to help your customers get to know you.
---
For an Instagram Reel, Idah of Sih'le Skincare in British Columbia shares a video of herself mixing the ingredients for one of her handmade soaps. (An example of both No. 10 and No. 34 on the list.)
---
Your Origin Story
37. Share the story of how your business got started.
38. Describe how you discovered and learned about your craft.
39. Tell your audience about the very first item you ever sold. What was it, what did it look like, who bought it, where did you sell it, do you still sell it? How did you feel when you made the sale?
40. Explain how your products have evolved over the years, from when you first started to current day.
41. Reveal how something unrelated from your past has shaped your business today in a surprising way.
42. Talk about how your schooling has (or has not) led you to where you are today.
About the Maker
43. That About page you have on your website: share that! If it's long-ish, you can even break it up into multiple posts.
44. Introduce yourself! People buy handmade because a real person is behind the items they buy — your customers want to know who you are.
45. Pay homage to your influences and share how they've influenced you. Was it someone who got you started in your craft? A family member who encouraged you from early on? A mentor under whom you apprenticed? A famous artist you admire? More than one influencer in your life: create a post about each person.
46. Reveal what inspires you and your work.
47. Give your audience an overall tour of your studio or workspace…
48. …then focus in on one area of your space for a mini tour. Like your yarn storage, for example.
Trending Topics
49. Identify trending posts like memes and Instagram's trending audio and create your own version about your business. That content creator trend we mentioned at the top of this article is a perfect example.
50. Pay attention to the news: if there's something making headlines that you can relate your product or business to, create a post around that. For example, if a new season of The Great Canadian Baking Show is coming out and you make polymer-clay earrings in the shape of pastries? Take advantage of the increased interest. (Just tread carefully around more serious topics)
51. Take advantage of seasonal trends. For example, if you make an autumnal-scented candle like pumpkin spice, be sure to post about it as soon as the leaves start to change colour.
52. Suss out the calendar for fun holidays like World Animal Day and Sleepover Day and create a post around any occasion that's relevant to you.
53. And don't forget your standard calendar holidays like Valentine's Day and Christmas.
Do you have any other content ideas? Share them in the comments!