Markets are the lifeblood of many maker businesses, which often do most of their sales at these shows. To take full advantage of this vital sales channel, it's important to create a space that draws customers in. Because let's face it —if they just walk on by, they're not going to buy.
To gather some inspiration for your next booth design, we walked the floor at Toronto's One of a Kind spring show. Here are the booths we liked and what we liked about them, plus the Best Booth Design Winners as selected by OOAK.
Blazing Bomb's shop-like setup
With a black-and-white checkerboard floor, a faux subway-tile wall and a prominent cash desk, Blazing Bomb's booth looked like an entire bricks-and-mortar shop was plopped into the middle of the show floor. All these elements, plus store-like shelving and signage, came together to create an immersive environment for shopping the Bowmanville, Ont., brand's bath and body products.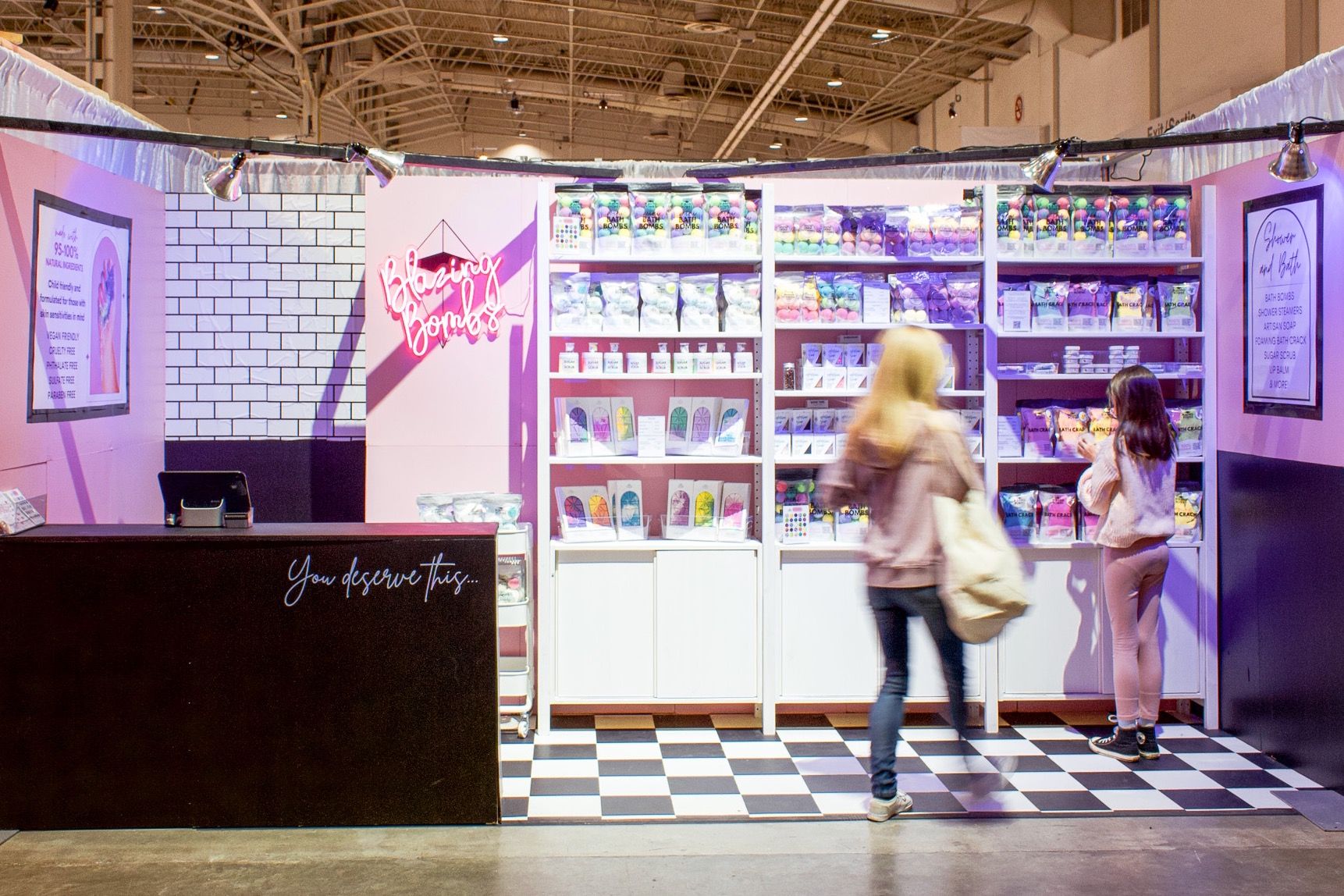 Little Grapefruit's pared-back display
Toronto-based baby-shoe maker Little Grapefruit let its product stand front and centre at its OOAK booth. White beadboard created the welcoming feeling of a farmhouse interior and was the background to three columns of shallow shelving that displayed every SKU of shoes, providing shoppers with a quick look at the entire line of colour options at a glance. Plus, we're convinced that any display of products in a rainbow of every hue invites users to contemplate "which one do I want?" instead of "do I want one?"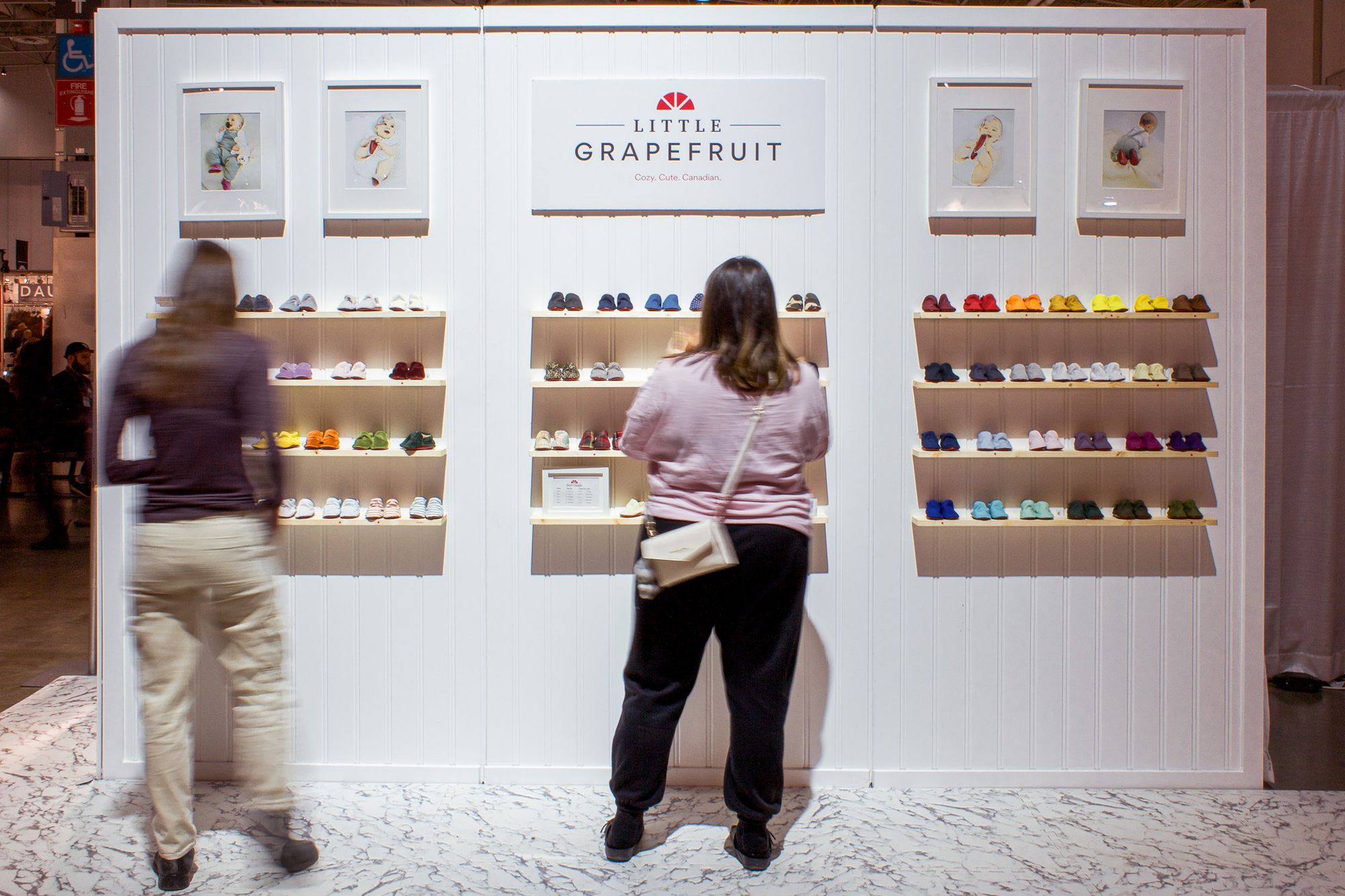 Malleable's custom consultation area
Consumer shows are mostly for grab-and-go sales, but ethically conscious Toronto-based jewellers Malleable specialize in a lot of custom work. To facilitate one-on-one consultations and allow buyers to discuss and order a custom engagement ring or other one-of-a-kind piece of jewellery, they set up a conversation area. Comfy chairs and a coffee table provided a semi-private area to select stones, take measurements and choose designs.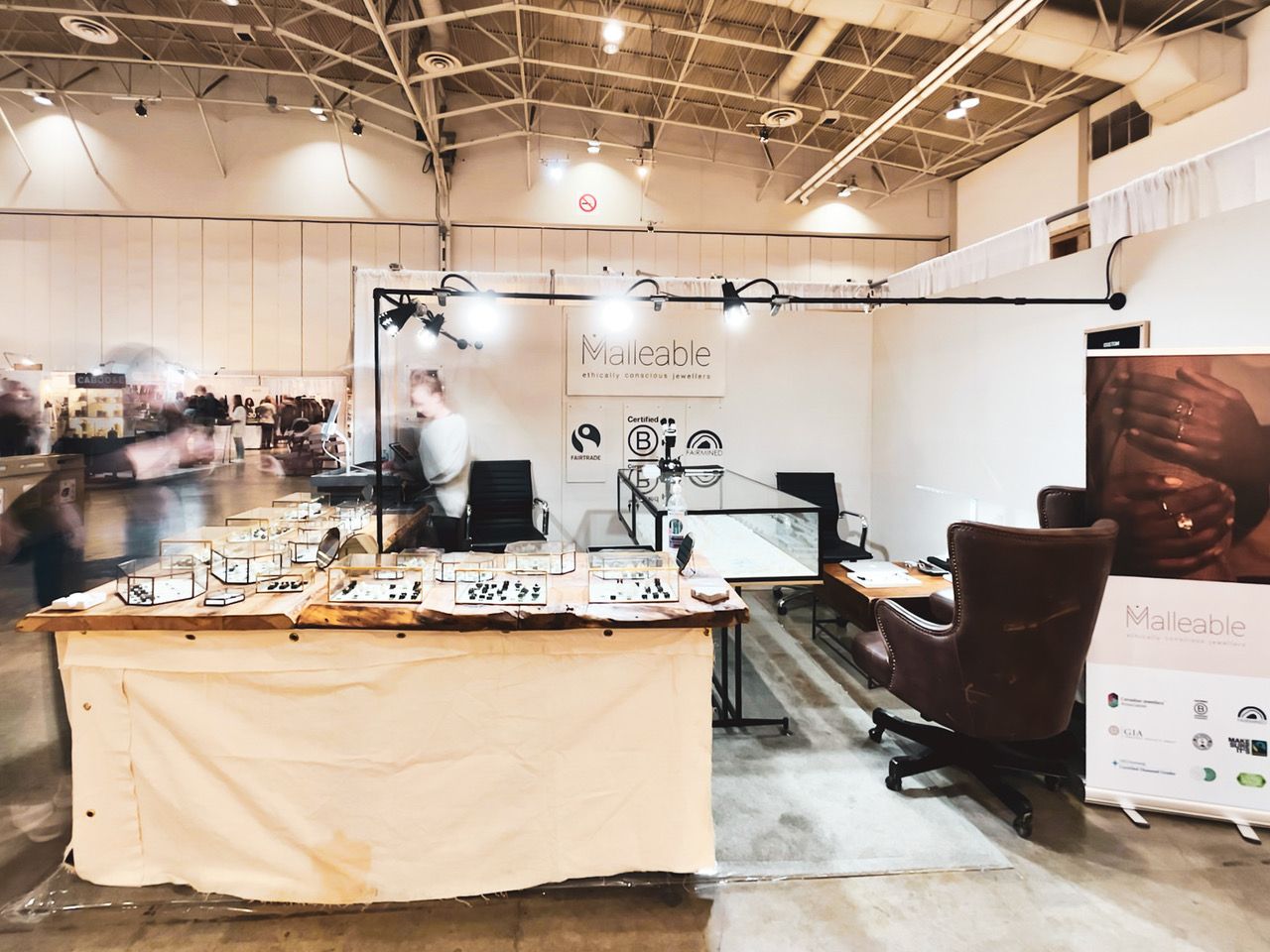 Lohn's impeccable lighting and finishes
Hard tiled surfaces aren't a typical sight at a craft show, making Lohn's colour-blocked cash desk a stand-out feature. Also a draw: the well-lit display shelves, which added an enticing glow to the back corner of the space and helped the products stand out. The thing we want to emphasize most though, is that even though the owners of this Mississauga, Ont., company DIY'd this setup, it was finished to a very high level — no frayed carpet edges, no visible wiring, no crooked tiles, no creased signage. This attention to detail is key to presenting a professional appearance.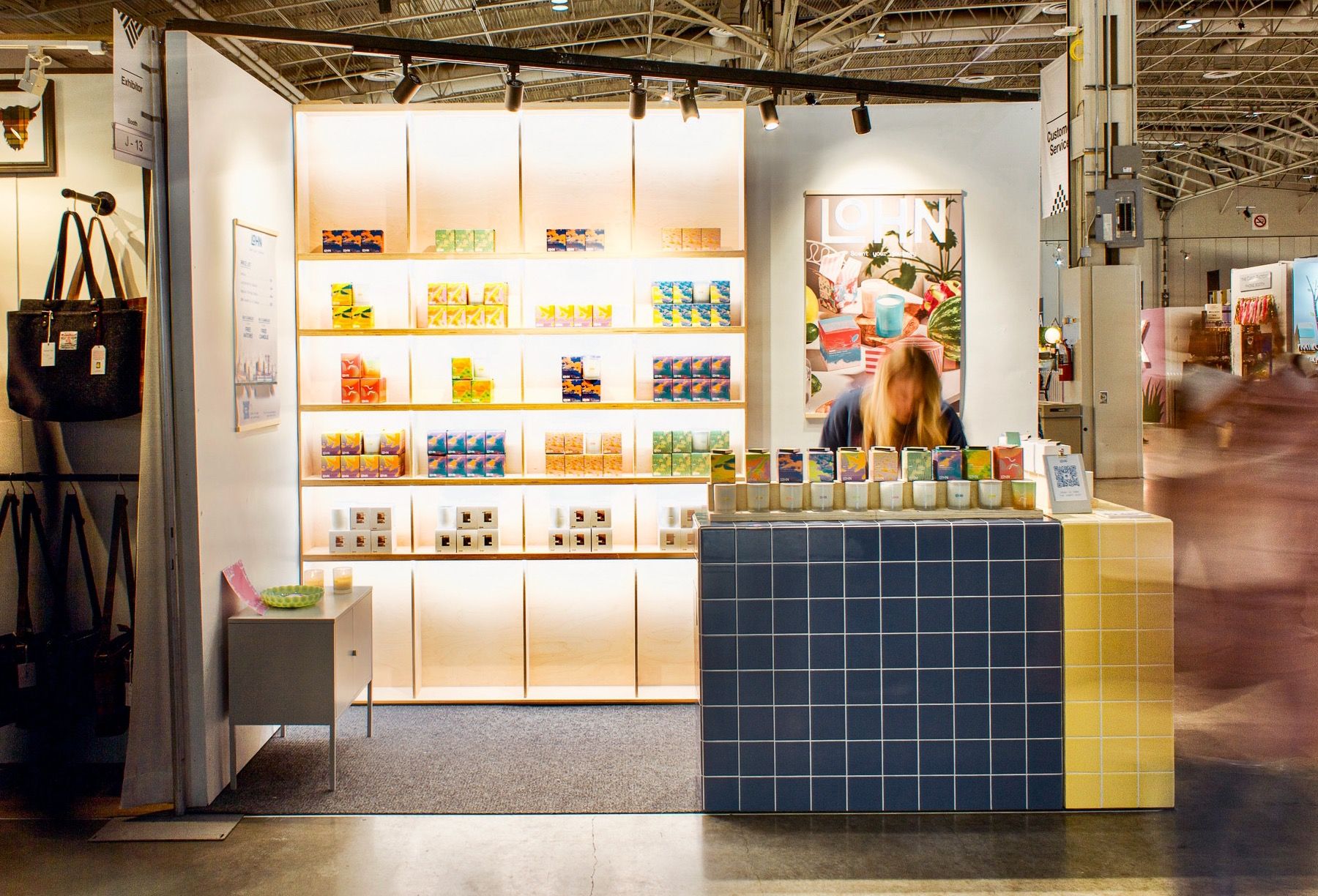 Leaf and Root Co.'s green wall
Surprise is an excellent way to catch the attention of passersby, and the unexpected delight of seeing a plant-covered wall inside an exhibition hall did exactly that. From Barrie, Ont., Leaf and Root Co. used faux greenery to cover the walls of its booth, creating a verdant, highly textured and quite unique backdrop for its canvas planters. It's a design that garnered a Best Booth award in 2022.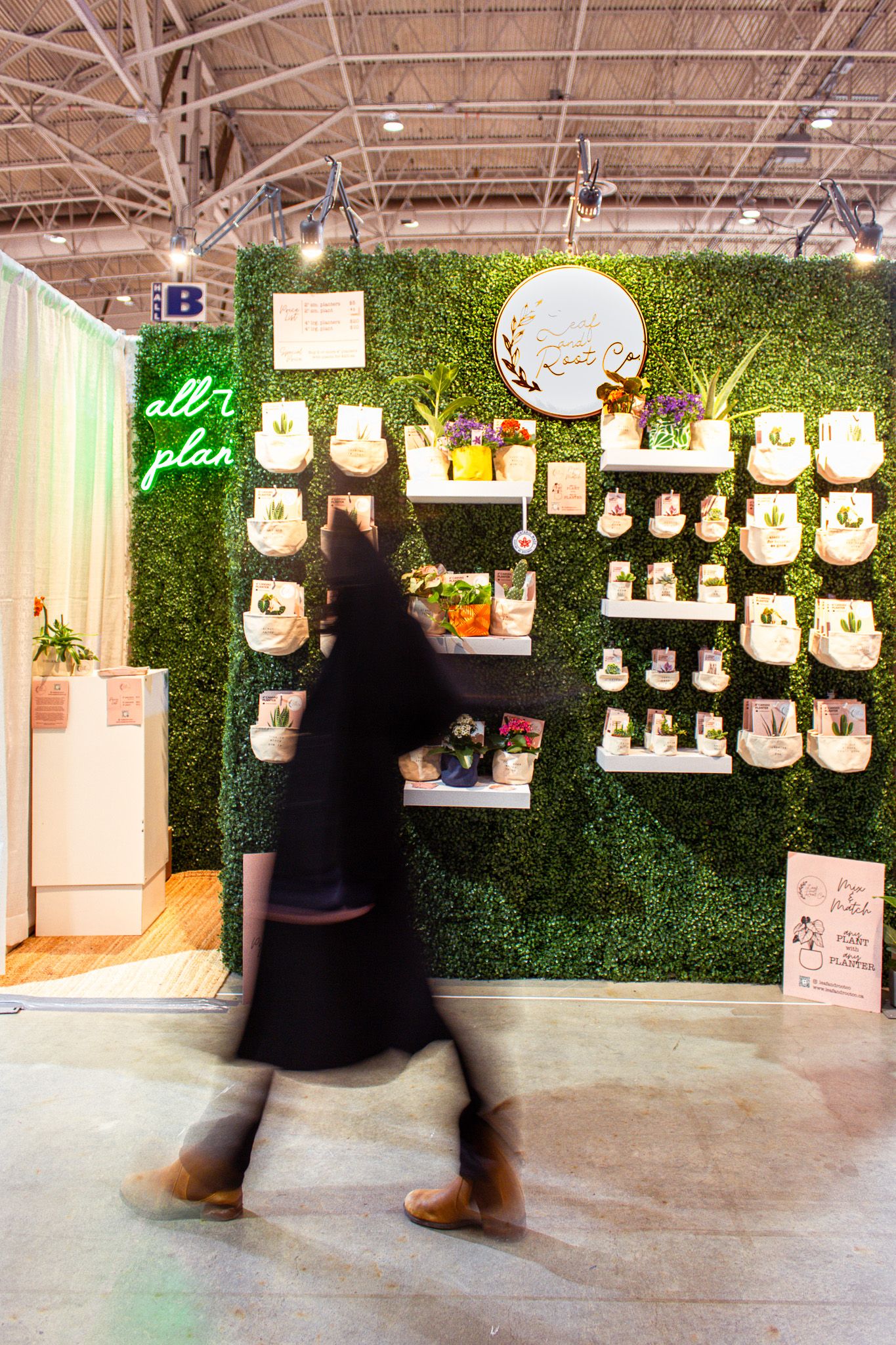 Out on a Whim Greetings' Great Wall of Product
It's hard to miss a giant wall of robin's-egg blue. That was the backdrop of Out On a Whim Greetings' display of cards and stationery goods, along with an adorable peekaboo cash window reminiscent of a lemonade stand. What we love about this booth setup is that this Collingwood, Ont., company brought their product to the front edge of their space, combating the dreaded tendency of show visitors to hang back without stepping into a booth. (Leaf and Root Co., above, employed a similar tactic.)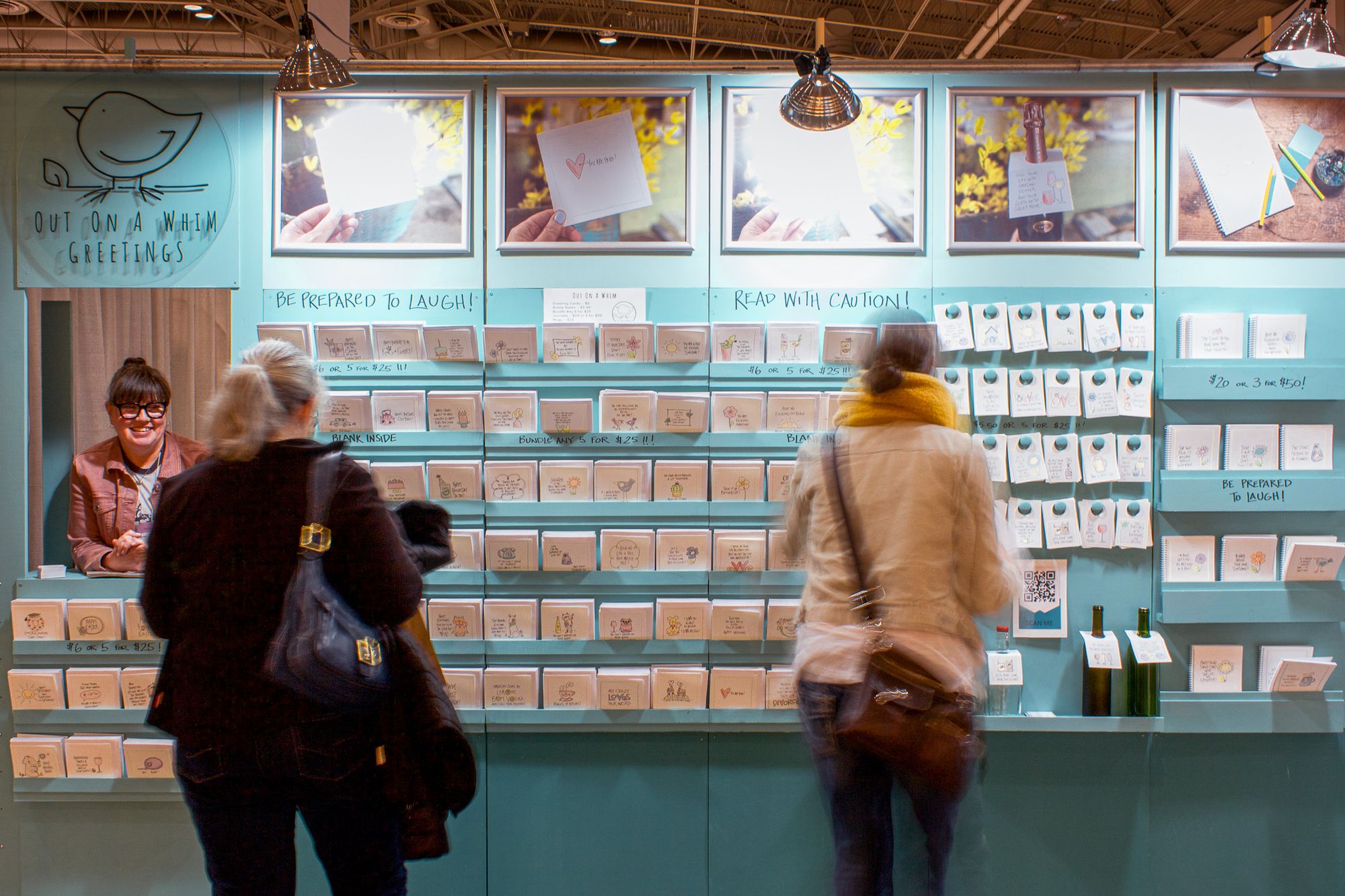 Tom Poirier's on-site demonstration
In the middle of Tom Poirier's booth sat his loom. It was neat to see the tool the Parrsboro, N.S., artist uses to create the luxurious towels on display, but the true magic happened when he sat down and started weaving: The activity always draws a crowd. While an on-site demo isn't practical for every craft (can you imagine glassblowing?!), we think more makers could take a page from Poirier's book and use photos, video and tools on display to clearly illustrate how their products are handmade.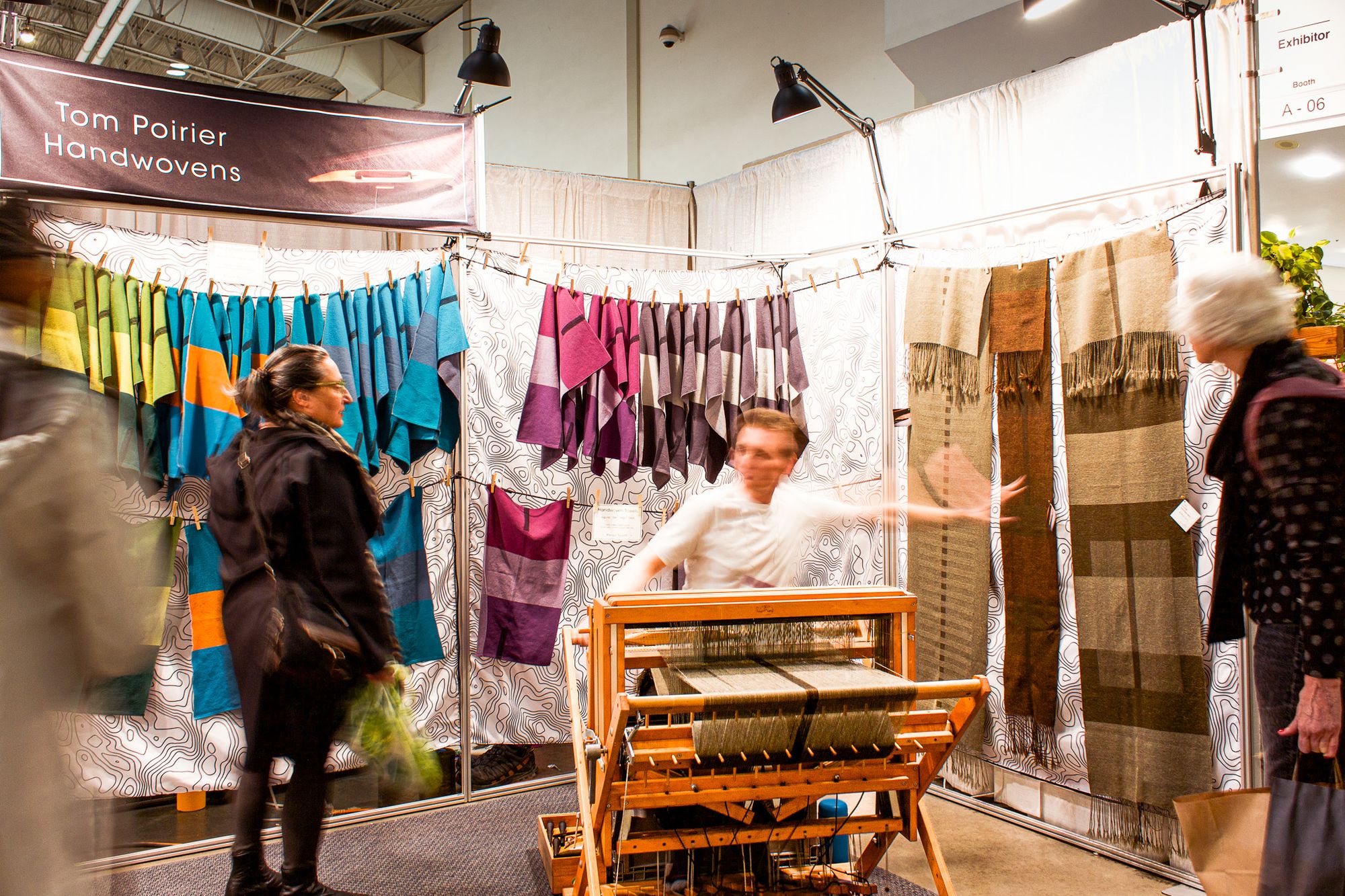 5 award-winning booths
In addition to the seven booths we liked, OOAK handed out awards at its spring 2023 show for Best Booth Design. Judge Ani Nersessian of visual merchandising consultancy VM ID, selected the winners based on brand representation, layout, shoppability and lighting. Here's who took home the honours and what Nersessian liked about their designs.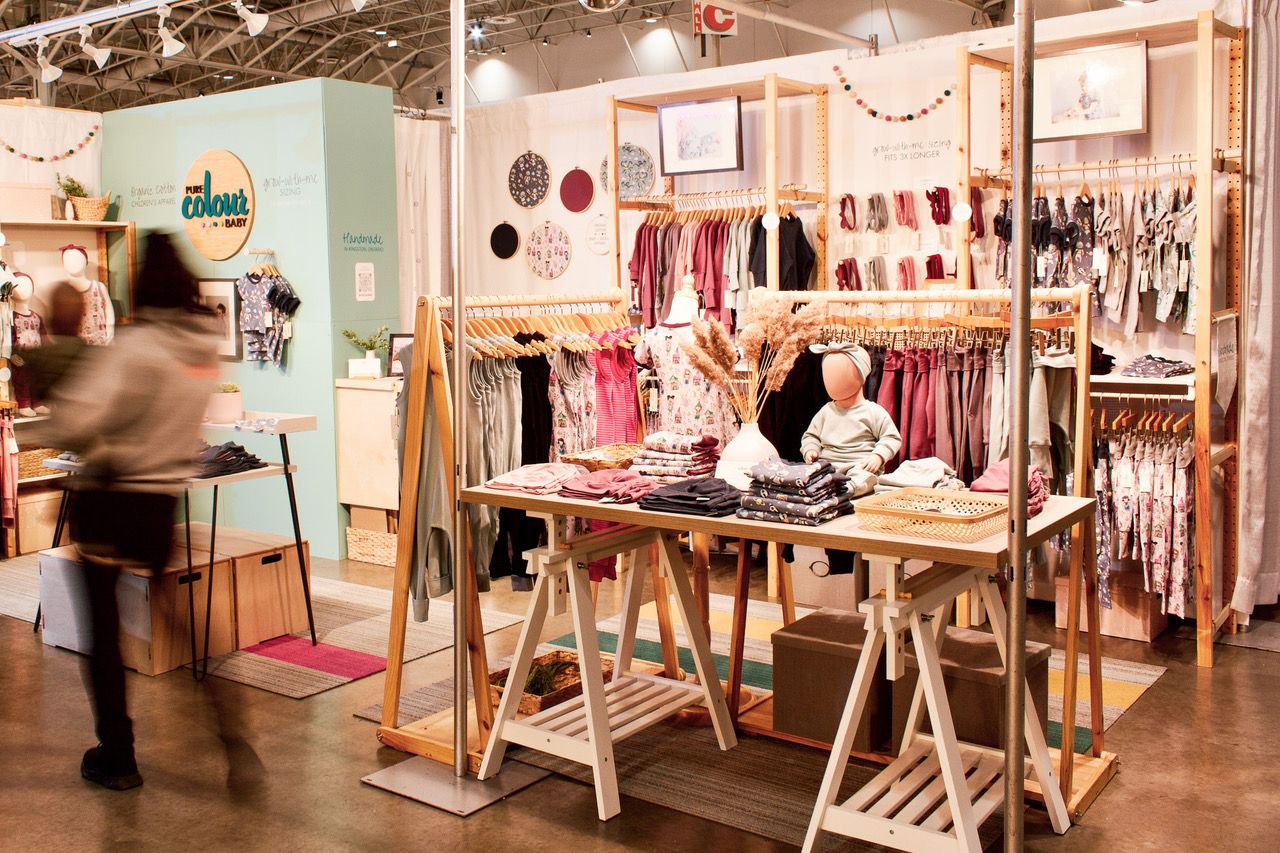 Given the name of this Kingston, Ont., baby clothing company, it's no wonder colour was the big story for this winner of the Heavyweight category. The brand palette carried through the entire booth, creating a cohesive backdrop for the clothing and making it memorable as a brand. Also noted: Easy shoppability, with distinct zones, wide walkways, clear sightlines and products placed together to make it easy for customers to build outfits.
Another children's clothing brand, this Toronto-based company won in the Middleweight category. The booth design placed the brand name at the centre of attention on the back wall, framed by a minimal display rack of clothing below it and merchandising displays on the side walls that drew the eye into the booth toward the name. Custom-made lighting tracks created a distinctive ceiling that made for a well-lit space.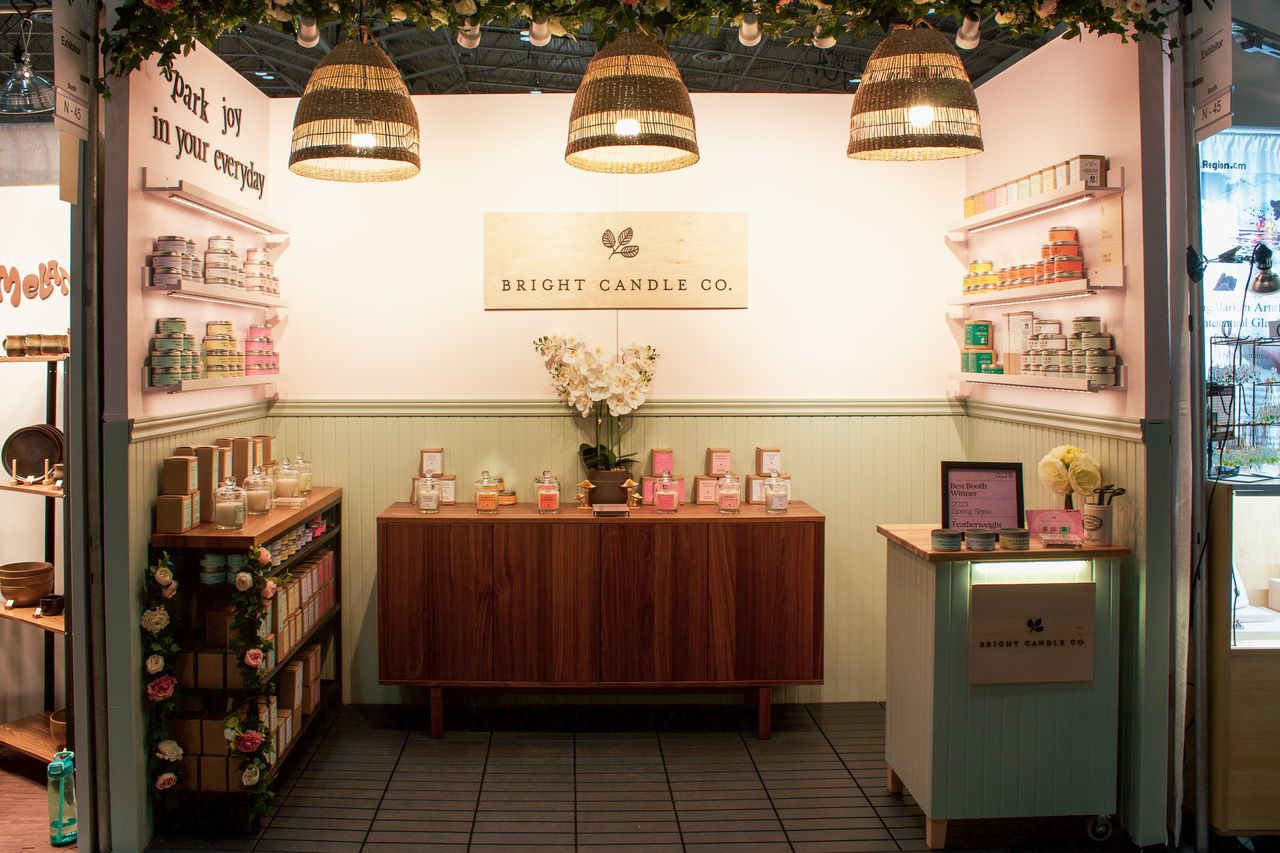 This Toronto-based candle company nabbed a spot in the winner's circle in part by placing its smelling stations along the back wall of its booth, which helped draw customers into its space. Also playing a big part was the lighting; track fixtures hidden by a garland of florals and a trio of woven basket pendants created an attractive romantic ambiance.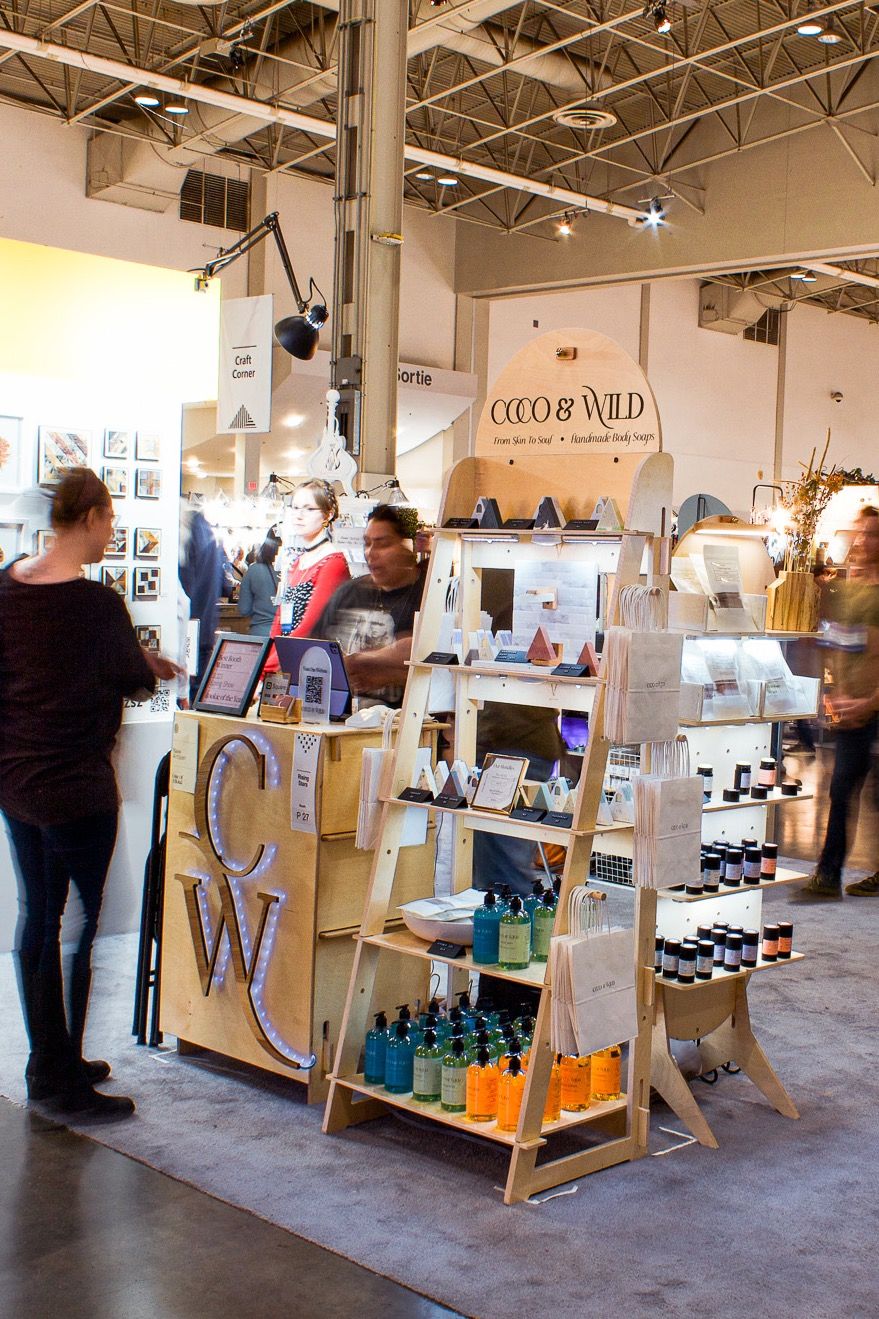 This Hannon, Ont., bath and body brand won the Rising Stars category with a custom pyramid display stand that was visually appealing from all sides. Product was arranged in colour groupings from smallest at the top to largest at the bottom, and the back-lit logo on the cash desk was eye catching.
In the Marketplace category, this Markham, Ont., ceramics artist won with a tabletop display that used varying heights to draw shoppers' eyes to the different products and to frame the maker behind the table for easy conversation with customers. The use of plants also helped by softening the product materials and putting their use into context.
Photography by Curtis Saretske except where otherwise noted.
May 17, 2023 — This story was updated to include the name of Ani Nersessian, who sellected the Best Booth winners for One of a Kind.
---