It felt like it happened overnight, right? One day, Instagram was a peaceful land of organized flat-lays and calm, cozy living room scenes. The next, it was hyperactive and noisy, the photos replaced by videos and then Reels, the platform's answer to upstart TikTok.
Instagram's trends and preferences next year are anyone's guess. But currently, it's all about Reels, which are being promoted to users over everything else. And if you're struggling to crack the code, you're not alone. Creating video doesn't come naturally for many of us — especially if we're camera shy and think we need to be on-screen.
Your business doesn't have to be on Instagram. But if you choose to be, it's worth putting in some time to get it right. To gather some useful tips, we chatted with two business owners who've found success with Reels. Here's what they had to say.
"I realized, Instagram is overwhelming"
Toronto-based crochet artist Aynsley Grealis of Knotted Neon had an epiphany when she realized Instagram had stopped being enjoyable. "I was like, I don't even want to look at it," she says.
The thing is, the platform is her main source of audience and sales, and the only social media she uses. So she had to figure out how to shift her mindset. "I find ways to have fun with it," she says. "I know that's sometimes hard, especially with this constant demand to be producing content. But you have to have fun and be yourself, right? That authenticity is what people love online."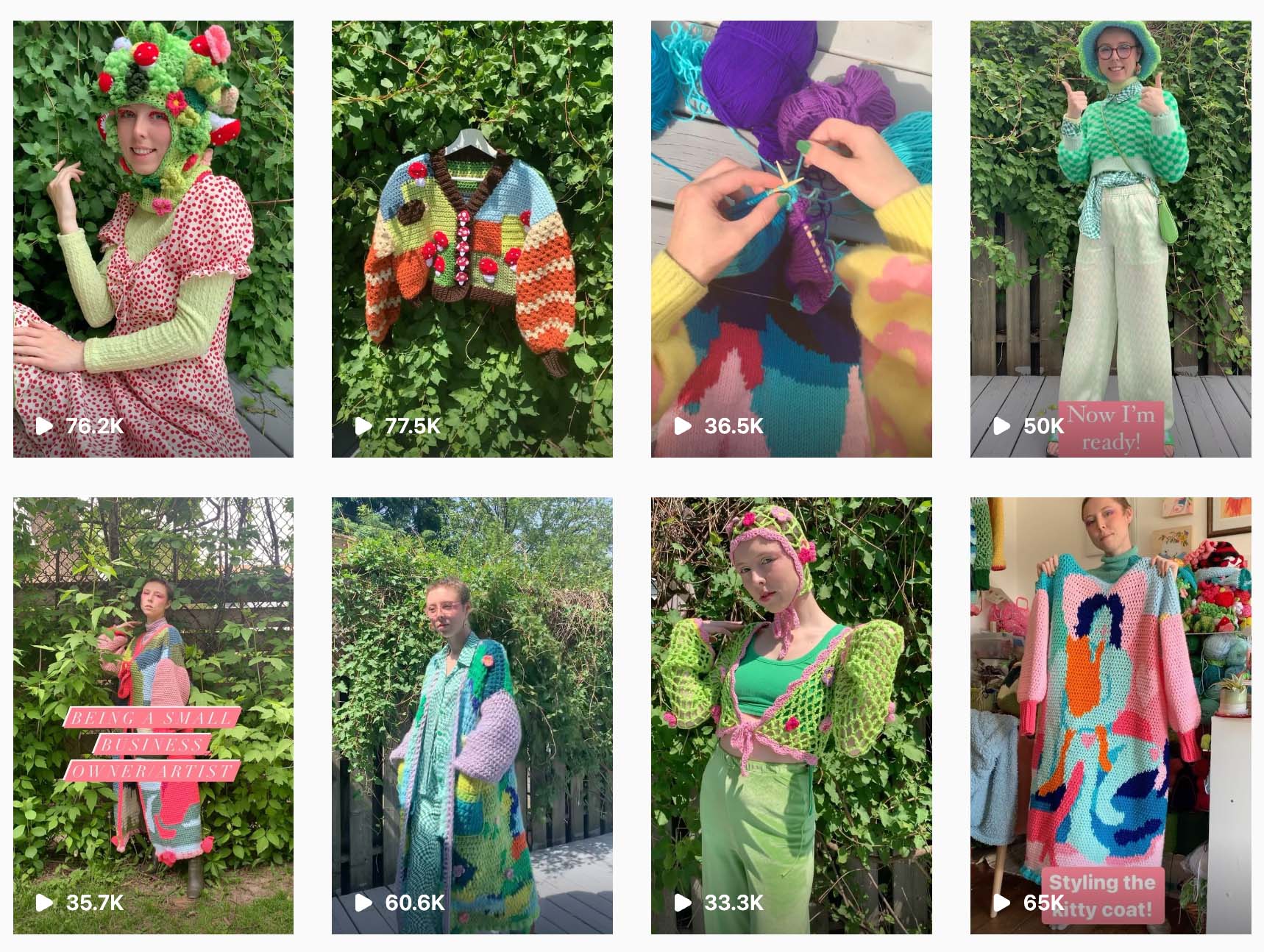 While the algorithm can be a big mystery — "sometimes I feel like either it gets popular or it doesn't," she says — Grealis does try to pay attention to feedback and lean in to what her existing followers are interested in. "I try to provide them with content that is actually helpful or of interest," she says. "I ask, 'What do you want to see?' People have amazing ideas and know what they want."
That said, she does try not to let her Instagram engagement affect her design process. "As you post similar things, you realize that there's less interest because it's less exciting and new," she says. "But if I'm going to sit here and spend hours making something, I want to make sure it's something I enjoy."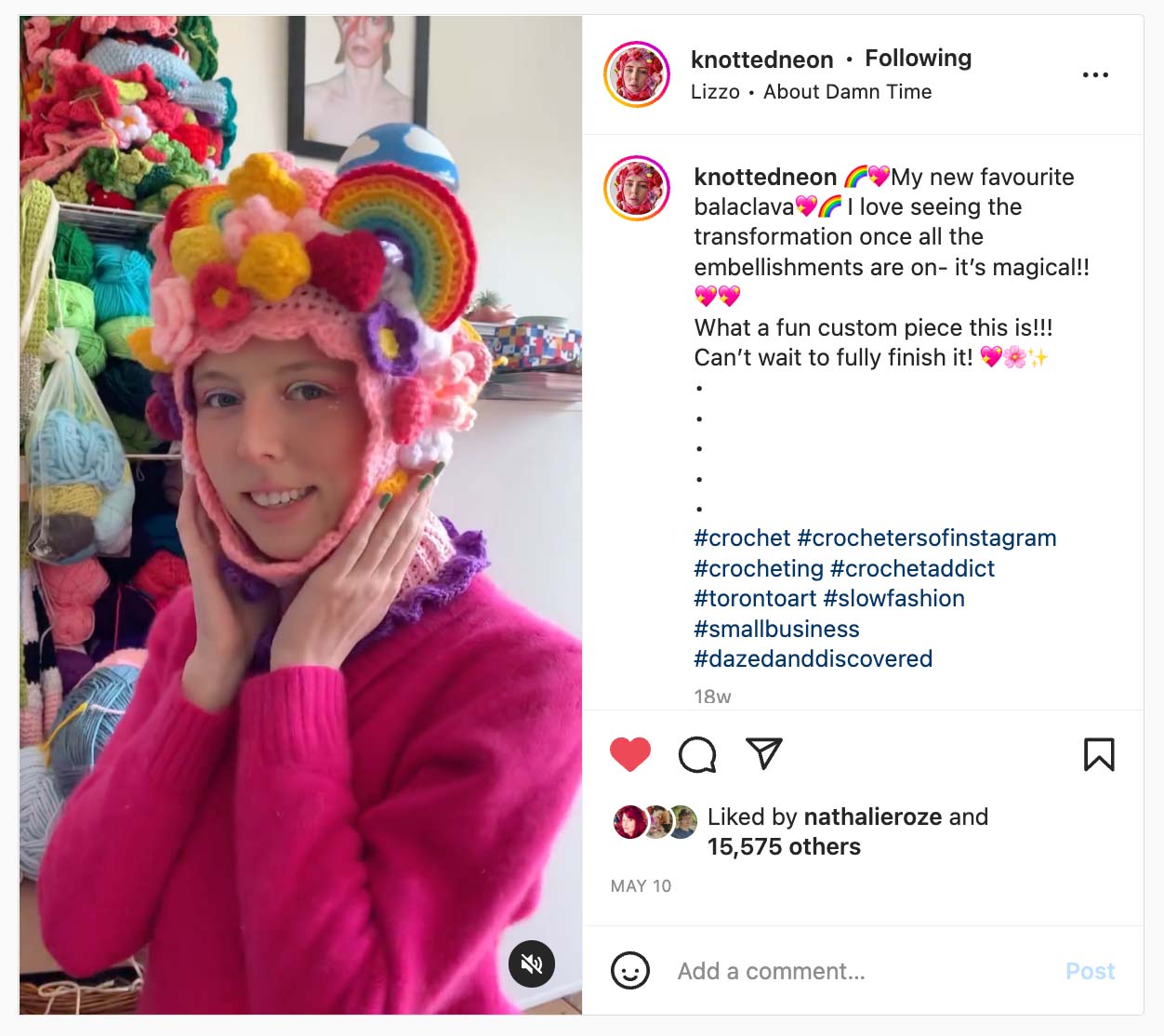 Grealis's crocheted clothing and accessories are eye-catching and colourful and, like all fashion, well-suited to video, so in some ways, it's not surprising she's found success with Reels. But she notes that having a niche can be limiting, too. "Sometimes it's hard if you're not as excited by that particular thing, because you have cornered yourself in," she says. "Recently I've been trying to introduce some new things I'm interested in, versus always focusing on what my business is. Because you have to have fun with it and be authentic to yourself."
When it comes to advice, she is quick to repeat the mantra of trying to have fun — but she also points out that creating this kind of content is difficult, even for those accounts that make it seem effortless. "It's important not to be too down on yourself," she says. "It's hard. It's not easy. It really isn't."
"I'm very camera shy"
Muriel Corbierre of Cocotte & Co Creations in Oakville, Ont., doesn't love being in front of the camera."It's very rare that I'm going to show my face on social media," she says.
That and the fact that she finds it harder to explain things in English, which is not her first language, meant that a lot of popular Instagram Reels styles, trends and templates were off the table for her.
But that doesn't mean Corbierre gave up on video. Instead, she got creative within her boundaries and started putting out Reels that put her products in the spotlight: how-tos and how-it's-mades that showcase her colourful fabrics and demonstrate the skill, care and effort that go into making her bags, pouches and other sewn goods.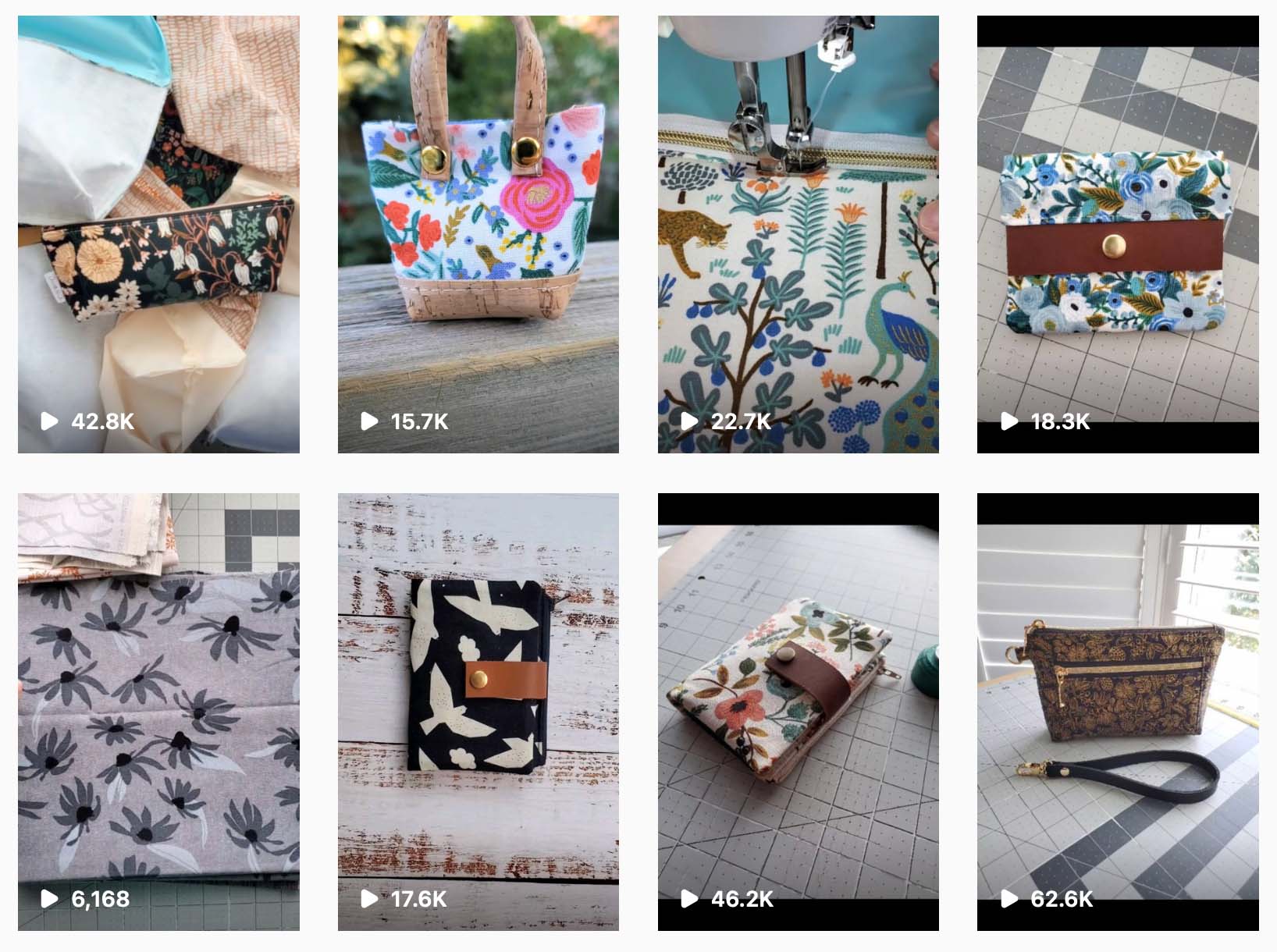 One factor on her side: Corbierre tends to switch patterns regularly rather than sticking with the tried-and-true, which means she has a steady stream of new content to film. "I'm not someone who will make the same thing over and over again," she says. "I think that helps with my social media."
It was experiments on TikTok that got her started with video. She began using her TikTok videos on Instagram and noticed they were getting more traction than her "normal" posts. While personally, Corbierre prefers old-school Instagram, she recognizes that it's video content that performs these days and has adjusted her strategy accordingly. "You have to play the game," she says. "When I realized that my Reels were showing more to people, I made a point to have a couple of them a week."
That said, she does continue to mix them up with still photos, both for the look of the grid and to please her earlier followers. "My initial followers like pictures," she says. "But I'm attracting a lot of new followers with the Reels."
One effective type of content for Corbierre is process videos, which have the added value of showing how much effort sewing can be. "I'm trying to show people that yes, what I'm making is expensive, but it doesn't take just an hour to make," she says. "You can't make a bigger batch." One of her top performers? A two-second sequence of topstitching part of a bag. "It's been viewed 200,000 times," she says. "If you show your finished product, it tends not to be viewed as much."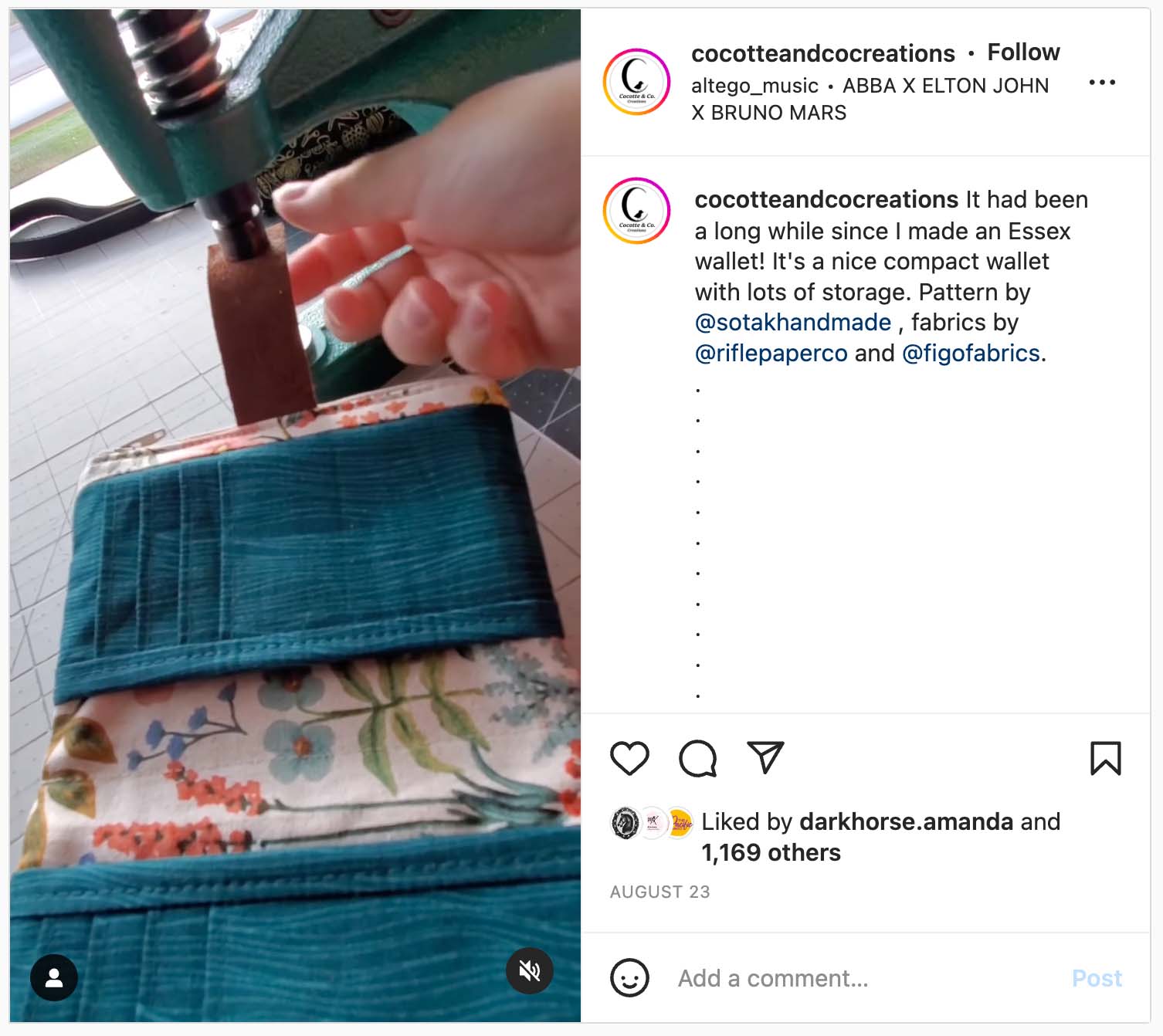 On the other hand, she doesn't recommend showing all the details of how your products are made. A demonstration, for instance, might show how she attaches a zipper rather than all the steps of sewing an entire bag.
Corbierre points out that the most successful videos are hard to predict, and often don't correspond with the amount of effort put in. "Sometimes it's just a simple video sewing one thing, with music, and you get a lot of likes," she says. "And sometimes you make a whole tutorial that takes a lot of editing and you get barely any views." The key? Posting regularly and trying new things. "It's not the amount of work you put in, it's just being there," she says. "After a while you see what works and what doesn't." (Using trendy music doesn't hurt things, either, she adds.)
To get enough content without having it take over her life, Corbierre has processes and schedules in place. For one thing, she'll often set up a tripod over her shoulder and have it filming her sewing all day. "Once a week I will make a video on the making of something new," she says. "This kind of video takes maybe an hour."
By filming and photographing as much as possible, you'll always have the raw material on hand for making a video. Doing this helps you learn what will perform, too. For example, when Corbierre works a market, she will do a pan of her store, set it to music and post, with great success. "If you don't record it, you won't have it for your posts," she says.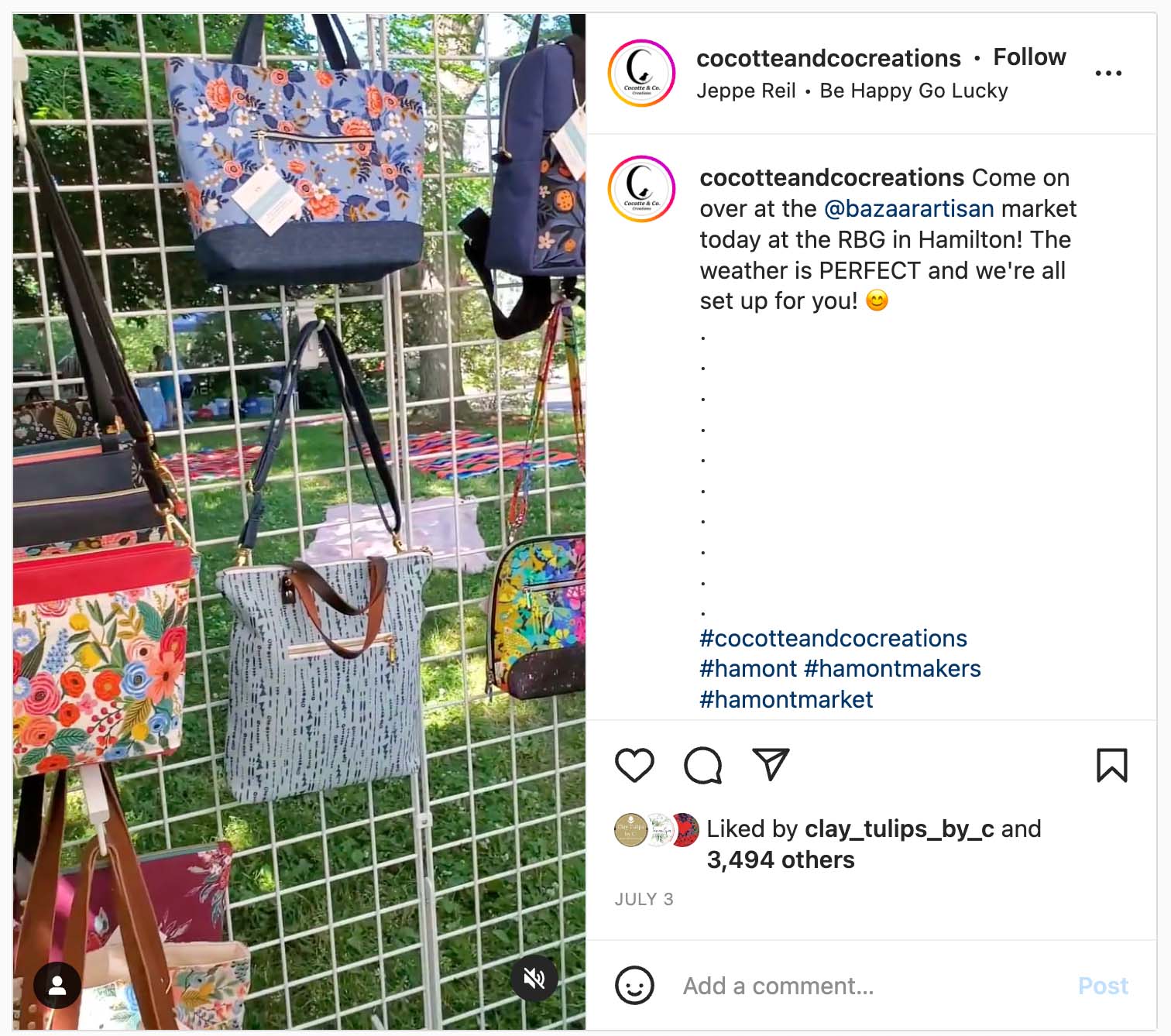 She's quick to mention that it's not just the quality of the posts that matters when it comes to success on Instagram. Other aspects of the process are major factors, too. One example is hashtags, which are helpful in reaching new people. "I try to have at least five new ones per post every time, because Instagram will stop showing your posts if you use the same hashtags over and over," she says. "I learned that the hard way."
She aims for 20 hashtags per post, a mix of general hashtags with large numbers of views — things like #bag and #style — along with niche terms. And while some of them come off the top of her head, she's not shy about exploring Instagram to find hashtag ideas. "Say I made a cross-body [bag] and I want to show it, I go on the search bar, type 'crossbody' and then look at the posts," she says. "I look at the ones that got the most likes, and I look at the hashtags they used."
Corbierre also believes it's extremely important to cultivate relationships with people who comment on your posts. Responding within the first hour is ideal, she says, but she doesn't want to be on her phone all day, so she'll check in every couple of hours, reply to comments and go and comment on other people's posts. "When you get a core following of people who are active on your account, it helps," she says. "If you have comments on your posts, Instagram and TikTok will show them to more people."
The idea is to nurture community — not just because the algorithm likes it, but because it's valuable on the human level and for inspiration, too. "It's important to have a balance in how you use social media, and not to just go sell, sell, sell," she says. "That doesn't work."