I spend a lot of time on Workshop's Instagram, getting to know Canadian makers and their work. And as an admirer of both beautiful fabric and Indigenous beadwork, I was extremely excited to come across the beadwork-inspired designs of Kaija Heitland, a Métis artist who lives and works in the Vancouver area, on the unceded territories of many First Nations.
Heitland's fun, colourful fabric collection includes berry and floral-inspired motifs like raspberries, blueberries, roses and poppies, all sold direct from her website alongside beaded jewellery, paper products, moccasin vamps and more.
I was curious how Heitland got started on designing fabric and what tips she has for Workshop members, so we got on the phone for a conversation about her Indigenous Nouveau journey. Read on for more, and comment below to let us know what product we should feature next.
(Interview has been edited for length and clarity.)
Workshop: How did your business start?
Kaija Heitland: I've been in business as Indigenous Nouveau for about one year. I started it as an avenue for me to present some of the work that I've been doing for my investigation into my own roots, my own reclamation, my own self-awareness of my Indigenous identity.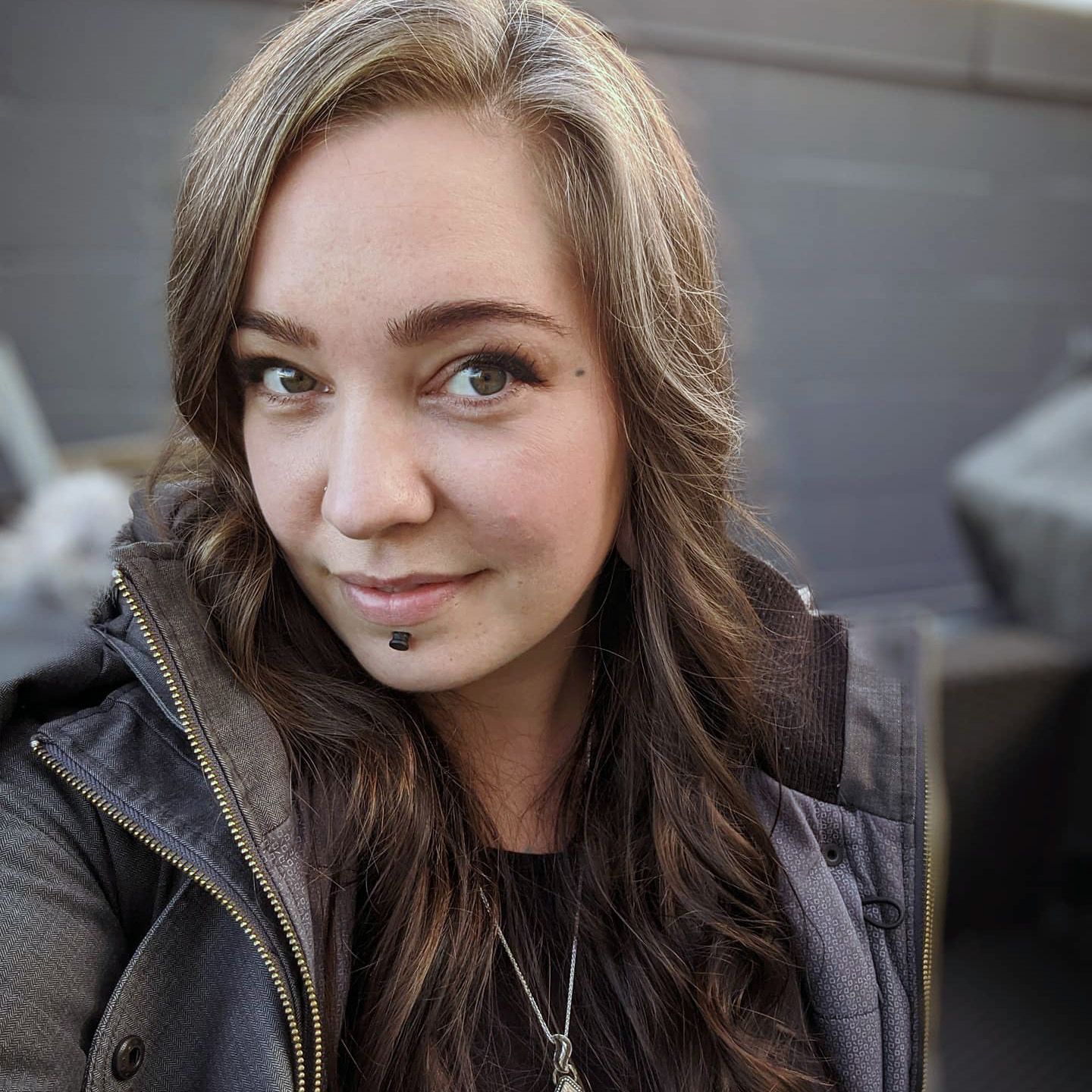 I really believe that art is the ultimate mediator. It transcends language and politics. Although there's a place for those things within art, art exists outside of that. And by having these mediators, you can tell your story without all that added baggage.
When it comes to Indigenous art, it was really important for me to show the work that I was doing on my own self-acceptance when it came to all my roots. When you look at my work, it's not really traditional Métis or Ojibwe or Cree art. It's a mix of both my Métis roots and my Scandinavian roots. Because I truly believe that being half of something, or part something, doesn't make you less than, but makes you twice as much.
W: What products did you begin with?
KH: I began with my own beadwork and quill work, and I started with a line of beadwork-printed leggings and yoga pants that were all completely manufactured and printed in Canada.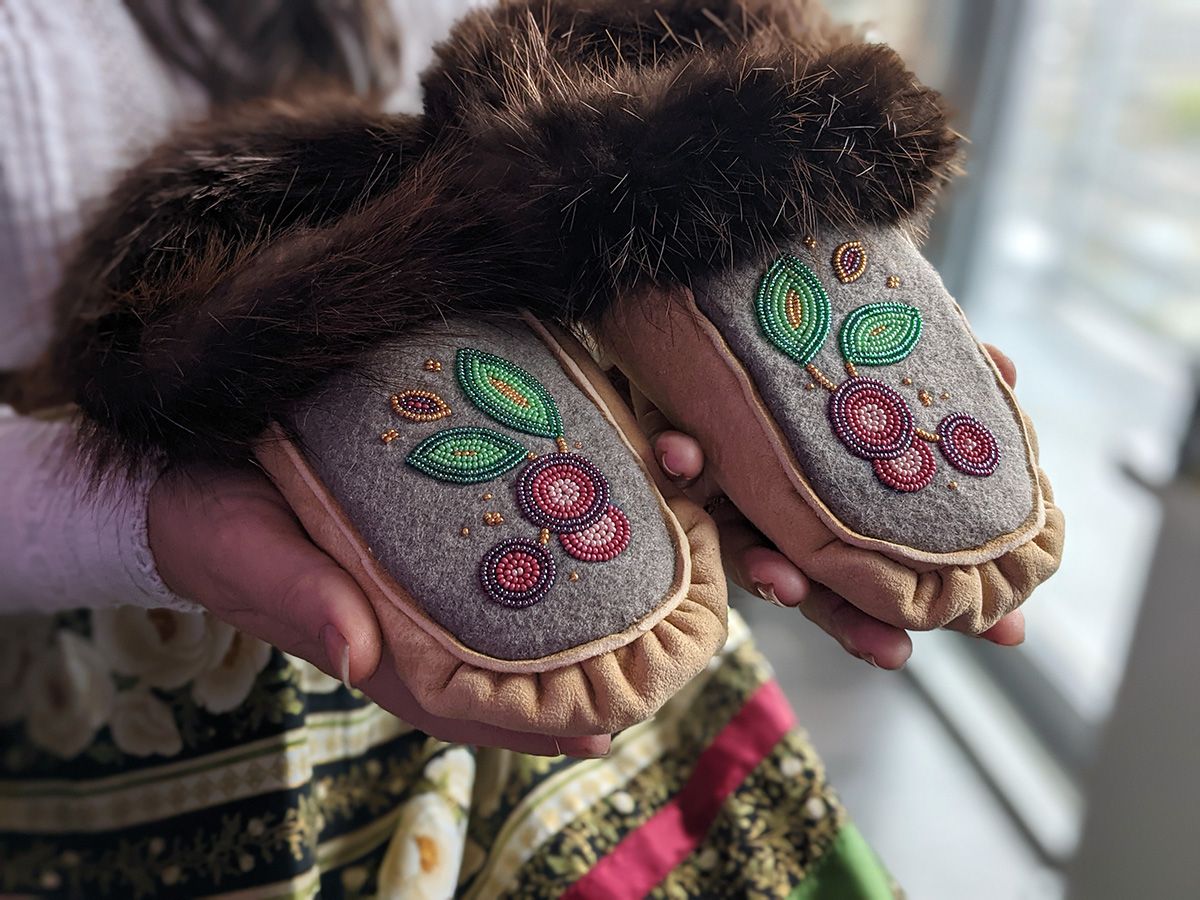 Supporting local sustainable industry was really important for me because I saw so much of the Indigenous arts industry outsourcing, especially when it came to things like clothing and coffee mugs that you usually see in Indigenous gift shops. There are very few industries that actually produce products like that in Canada. So it was really important for me that everything that I had for sale was either made by me or made by companies that I've connected with in Canada to support that local infrastructure.
W: How did the fabric collection begin?
KH: I was already making ribbon skirts, ribbon aprons and traditional pieces of clothing. And I decided that I wanted to design everything from the ground up, including the fabric. I had a really hard time finding any Indigenous fabrics that were produced in North America. And for me, especially making regalia, I couldn't feel good about using fabrics that were either not designed by Indigenous artists, or were produced outside of where we're from, because that started to devalue the whole piece itself.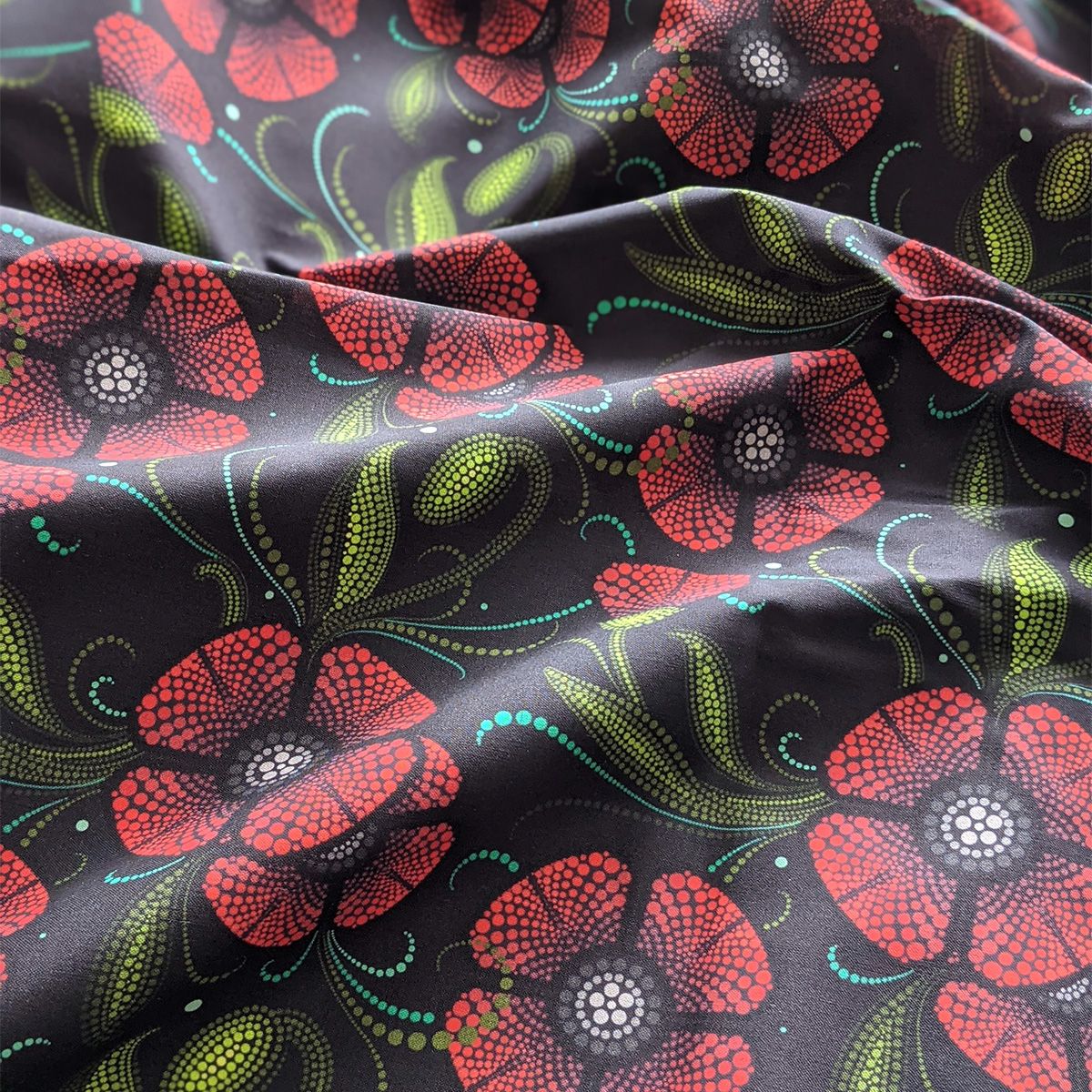 Most of the companies that produce Indigenous fabrics buy designs from Indigenous artists. The companies themselves are not Indigenous. Then they get the fabrics printed overseas, ship them back to North America and sell them quite inexpensively. That's not what I wanted to do. I understand that my fabrics are a little bit more expensive, but I have spent a huge amount of time making sure that they're produced ecologically with organic fibres in North America and are printed and manufactured in North America.
I wanted to produce something that was completely North American, to represent our tradition. So I started designing fabric that was not nation specific. All my fabrics are nondenominational. What that means is they do not belong to the design language of any specific group. But they're completely inspired by my own tradition, of both sides of my family.
Art's a unifier. It's an equalizer. And that's what I want my fabric to be.
I wanted the fabric to be used by everyone. I wanted everybody who has the ribbon skirt in their tradition to be able to make a skirt from my fabric, and not have it represent a specific group, because the ribbon skirt itself is such a unifying piece of common heritage. So many different nations use the ribbon skirt as part of their traditional regalia. And I wanted my fabric to be accessible to everybody. Art's a unifier. It's an equalizer. And that's what I want my fabric to be.
I had never designed fabric before. But I just decided that I could do it. I have an extensive graphic design background, as I've been a tattooer for 15 years. And I have a lot of experience with working on the iPad and doing graphic art on the computer. I just looked up a couple of online tutorials on how to do the repeating pattern and figured it out. It's definitely my background in graphic design and tattooing that allowed me to have a sense for pattern.
W: How did you decide on your first designs?
KH: The first fabric I did was strawberry medicine. I wanted to start with traditional food plants because that was a commonality that we all share, Indigenous and non-Indigenous. I wanted to use themes that already had cultural inheritance for many different people, because a huge part of reclamation and reconciliation is Indigenous food sovereignty. Our foods are such a strong part of our identity and of reclaiming our heritage and our place in the world.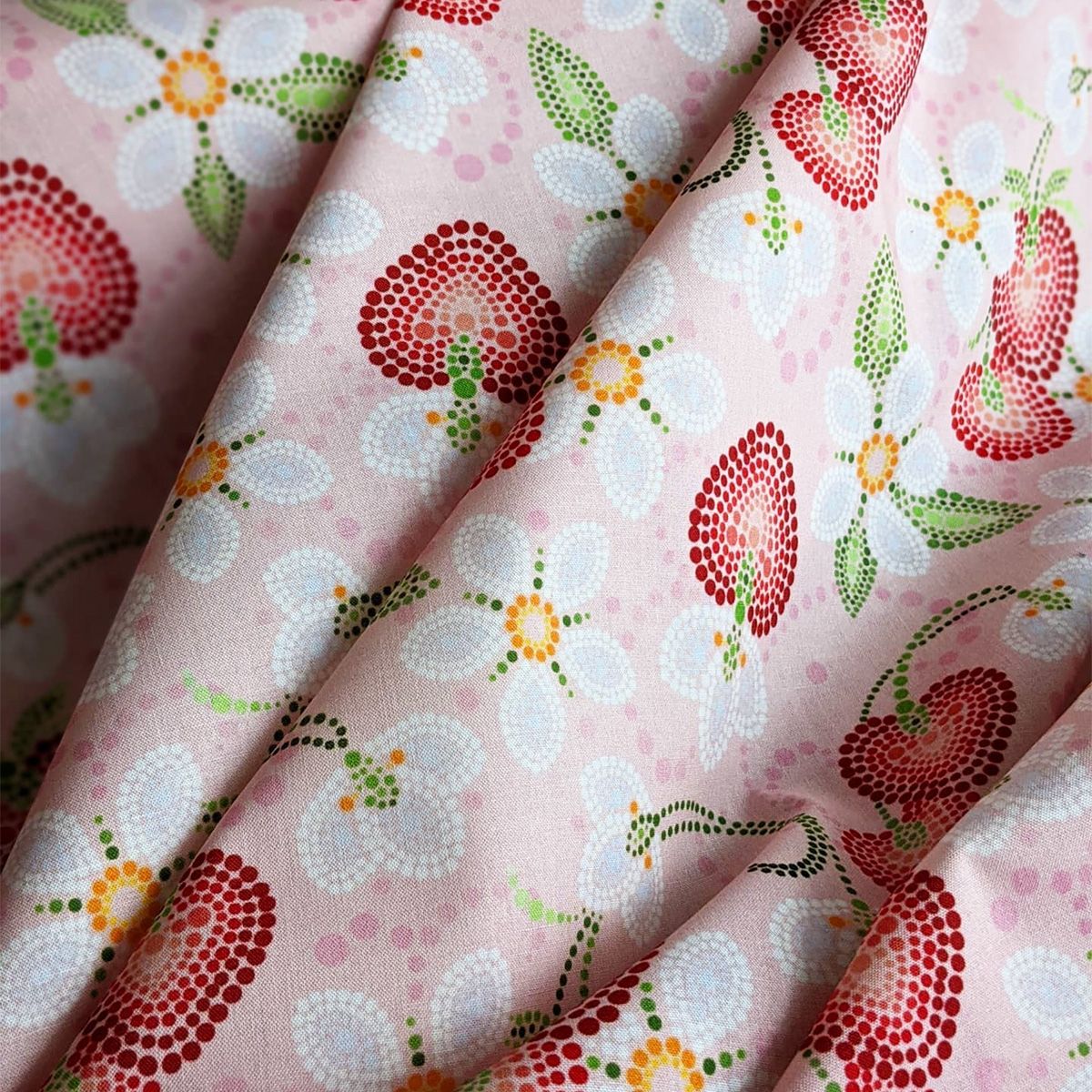 W: What was the reception like when you released the first design?
KH: People were extremely excited. Nobody had been doing fabric like this at that point. The fabric industry for Indigenous prints has really developed in the last couple of years. I'm really excited to see how much people are getting into it. There's a lot of different drop-shipping sites where you can design a fabric and people can buy directly from the company. And there are a lot of different designers out there putting out incredible work. But at the time, there weren't a lot of options for beadwork patterns in fabric. So it got a really good reception.
W: Did you already have a customer base to market to, or do you think you were reaching a new group of customers with the fabric?
KH: I had my original following from my beadwork and my yoga leggings. But this type of product reaches a different clientele. I wanted to start to cater to creators and makers, and I wanted to see my fabric in other people's work. I wanted to see my designs being used by other people to empower themselves and be part of their own reclamation when it came to making their own regalia and investigating their own identity and heritage.
W: You were originally thinking about ribbon skirts and regalia. But have you seen people making other things that you were not expecting?
KH: Absolutely. People are making tote bags, people are making beautiful '50s-style dresses. People are upholstering their chairs, because I offer a number of different kinds of canvas now. I offer seven types of fabric, and others upon request. It's pretty exciting.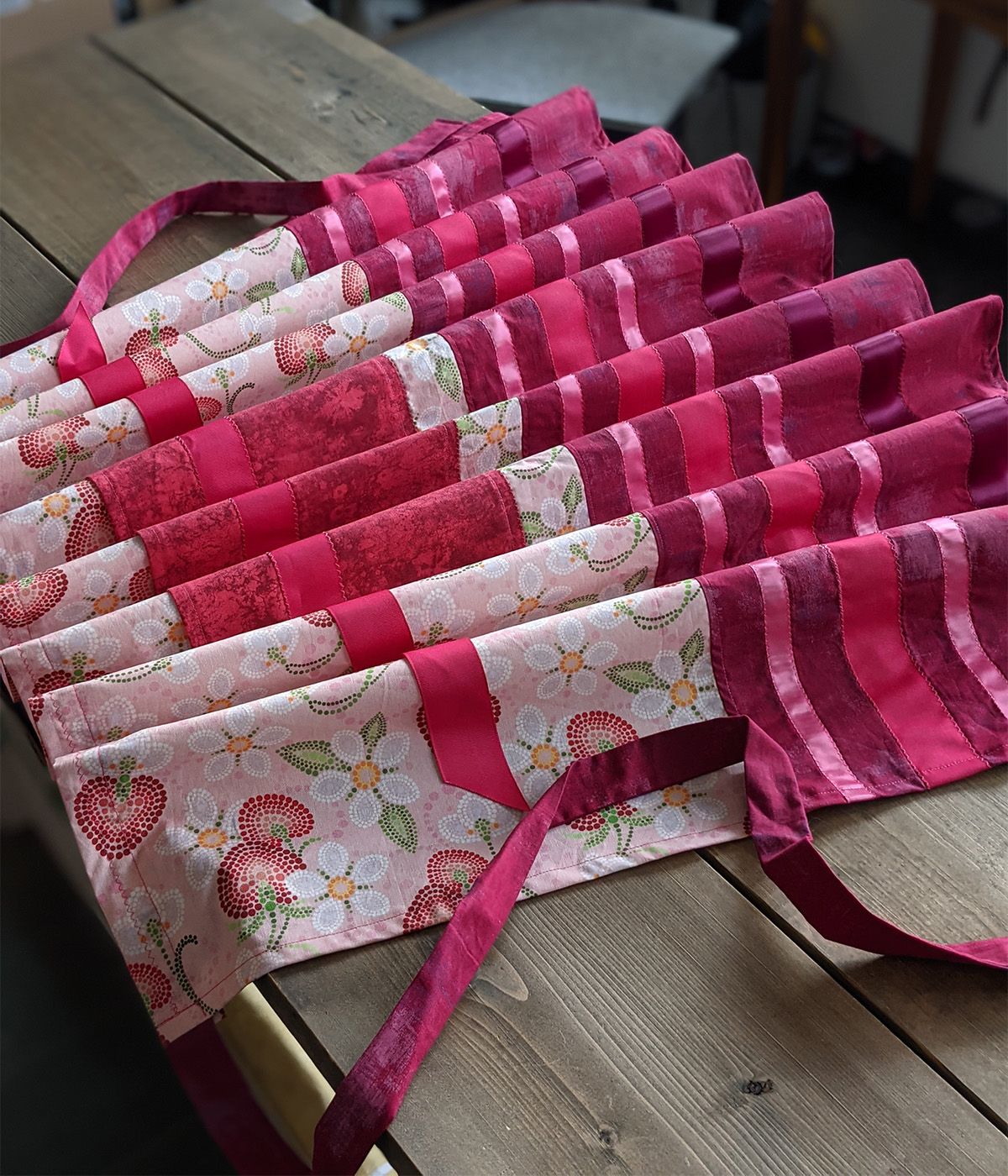 W: Was there anything that surprised you about designing and creating fabric?
KH: The one thing that really surprised me was how expensive it is to produce fabric on your own. There are a lot of options to make it cheaper, but none of those options included having a North American factory. My fabric is a little bit more expensive. But it's because it's a different product. It's designed, manufactured and processed with the intention that it is from here, including the plants that the fabric is made from.
I think that people really respond to the amount of effort that you put into things.
I think that people really respond to the amount of effort that you put into things, once you explain the inherent value in producing a product like this. I believe that it's my responsibility to provide this, even though I don't make as high of a profit margin on my fabric as almost everything else I produce. I strongly believe in the process and the ethics behind what I'm producing.
W: Do you have any advice for other illustrators who might want to get into designing fabric?
KH: If you want to just produce a fabric and have people use your design, there are a lot of companies that will print your design on demand and get your fabric out there. But it depends on the scale that you want to do it at. The least expensive way to do this is actually to create massive bulk orders and ship it out yourself. But the overhead required for that is extremely high, because you have to purchase all the fabric yourself and assume all the risks.
For people who want to just get into designing fabrics from the ground up, go online and take a couple of classes on how to design repeating patterns, and then have some test prints done with a drop-shipping company.
It's very easy to design fabric on a tablet or computer. Having an idea of what you want your fabric to look like overall is a good first step. Looking at the overall spread of the fabric once all the pieces are put together is really important, so that you don't get any distinct lines in it.
W: Do you have any future dreams or goals with your fabric collection?
KH: The fabric itself is a vehicle for creativity and reclamation. I'm extending that into my next project, which is to provide ribbon skirt kits for Indigenous individuals, accompanied by lessons on the history and evolution of the ribbon skirt, as well as traditional teachings of the ribbon skirt.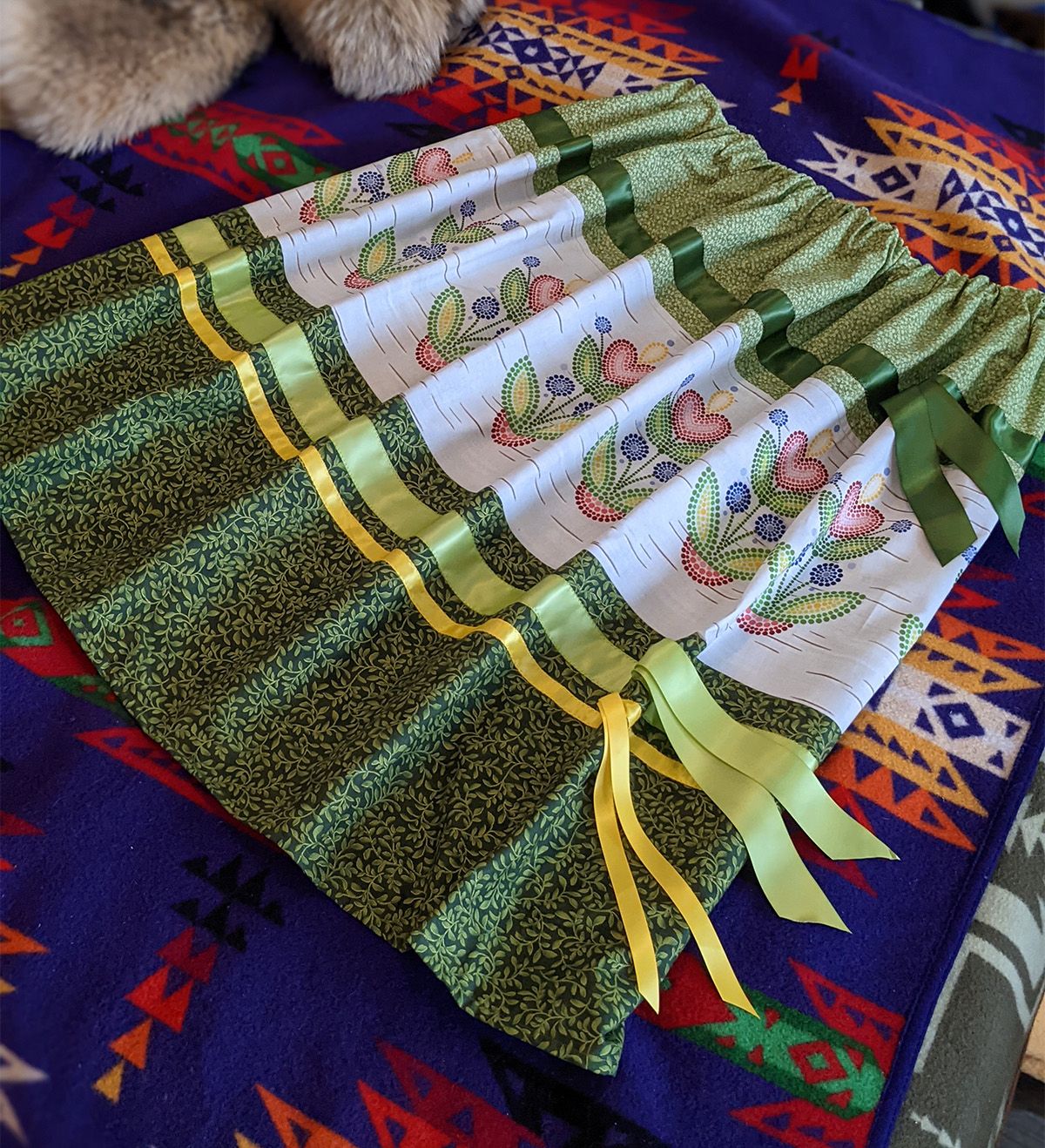 These kits, and this education, is intended to illuminate similarities between separate Indigenous groups that all share the same pieces of traditional clothing, as well as to identify and acknowledge the origins of the ribbon skirt and the contribution that settlers made to this traditional garment. Through evolution, just like beadwork, it's become Indigenous as we see it today. But it is not Indigenous in origin. So by talking about the history of it, it speaks to how art can become a mediator for reconciliation by recognizing the fact that we all share in this common heritage.
Thanks to Kaija Heitland for taking the time to speak with us, and for use of her photos. You can see more of her products and her work on the Indigenous Nouveau website and on Instagram.
Who should we speak with next? Let us know in the comments!