If you're a needlework fan, you probably know Diana Watters. The Toronto-based designer has made a name for herself for her fun, colourful kits featuring everything from nature and animal scenes to fruit and florals.
Late last year, she introduced a new set of kits featuring elaborately decorated rooms. Each is part of a murder mystery series — complete with characters and clues — that will end in a contest and grand reveal to cap off the year. Here, Watters shares her inspiration, how it all works and what's going to happen next.
Workshop: How did your business get started?
Diana Watters: I got back into cross-stitching six or seven years ago, and there wasn't much on the market that was colourful, modern and on trend. And I was like — I can do this. I used to be an interior designer, and I worked for years as a designer.
I officially started my business in 2017 when I opened my Etsy shop, and then in the spring of 2018 I started doing craft shows. Summer 2018 is when I went full-time with the business. It's been a wild ride in the best possible way.
Sea to Sky was one of the first patterns I ever designed. I think I had nine or 10 that I put on Etsy. I started with instant download patterns and quickly realized that kits were the way to go. Then I started slowly adding to the roster. Over time I've discontinued quite a few of the originals. But sea to sky is still one of my bestsellers.
It started with fabric kits, and then I did these laser-cut wood kits that are super cute. I've slowly added to both of those lines over time. I love the laser-cut wood kits because they're an amazing entry point for new cross-stitchers and for kids—the holes are really big, the patterns are quite a bit simpler. And they're great for people with vision challenges. But really, my heart lies with the fabric kits.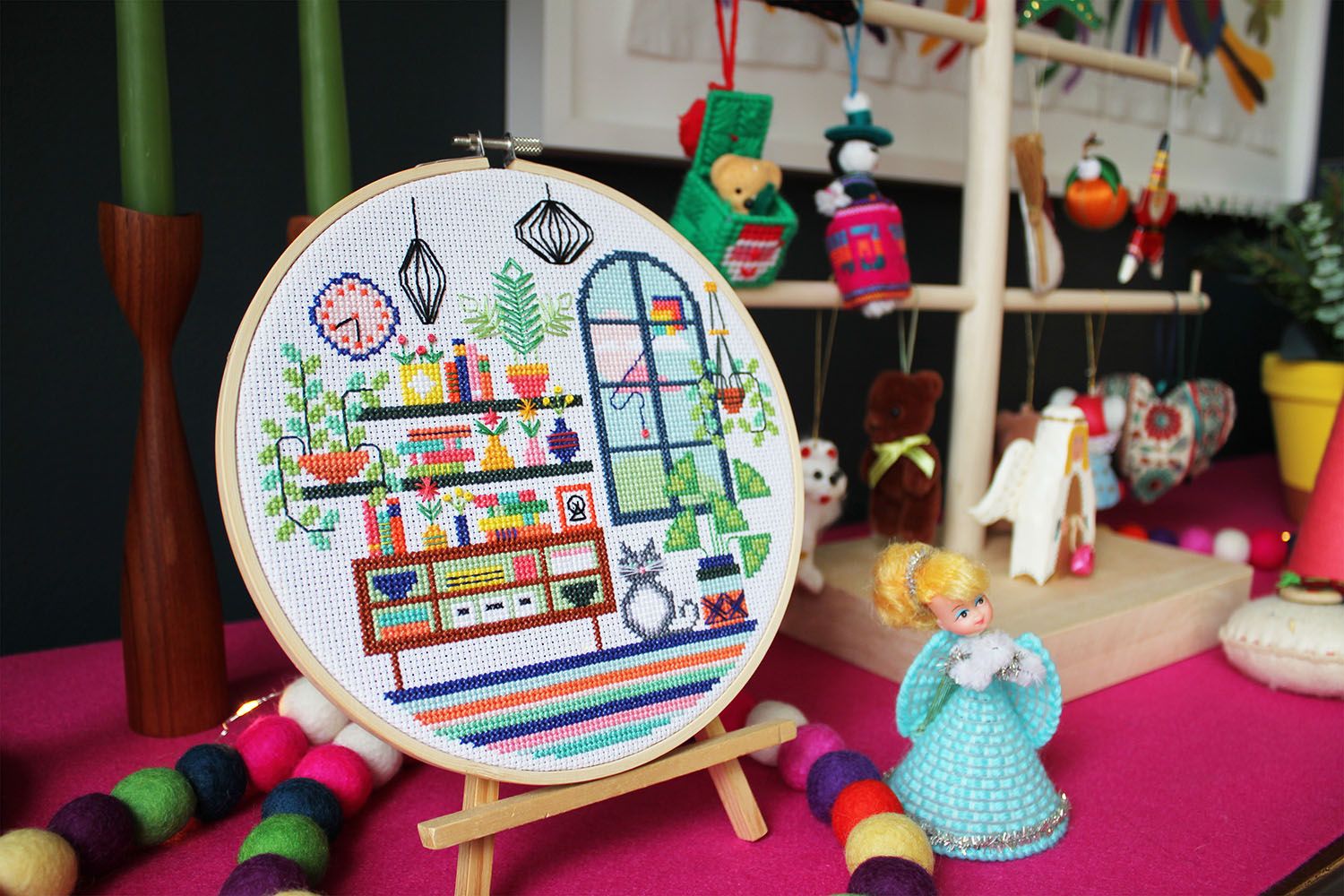 W: How did the murder mystery kits come to be?
DW: I knew I wanted to make a line of larger kits. Since the pandemic started I've sold lots of the smaller kits, but I got feedback from my customers saying, 'Oh, your kits are amazing for beginners,' but they move on to other makers who have bigger kits. I realized I was missing an entire demographic of people who wanted juicier projects. And I was obsessed with true crime podcasts.
I've always wanted to do a big series. So I used my interior design skills. I was like, this is an amazing opportunity to design dream rooms that I love that no one's going to tell me I have to change. So I got to play. It was really liberating to make these patterns because it's all of my favourite things in one pattern, plus a mystery. Each murder mystery kit comes with a character card that tells you about the person who's in that room.
I started working on the first room, Lunas Living Room, in the summer. It took me a while because I had to map out what was going to happen with all the rooms, who the characters were and what the storyline was going to be. I started it in July, and I didn't launch it until just before Christmas. And then the second one came super fast. Now I'm working on the third one and that's going to come out for the spring One of a Kind Show at the end of March.
W: How much pre-planning is involved?
DW: Someone asked, 'Do you know what happens? Who did it?' No, because I don't know the characters yet. The second room is Davys Den, and I thought Davy was going to be a very different person than who came out. I didn't really have a plan for what the room was going to look like. I just start working with it. I pick a colour of fabric. I pick a palette of thread. And I get on Pinterest and look at some stuff that I think is interesting in terms of style. So I know what the next room is going to be but I don't know who the character is.
W: How will the murder mystery roll out? What connects the patterns?
DW: There's a clue in each of the patterns — you have to try and find the clue. The last two rooms will be released in the fall and then right before Christmas. And so for Christmas, I'll do a big thing where you have to tell me the who, what, when, where, why. I'll drop a few clues on that, and then whoever gets them right first will win the big grand prize. I'm not totally sure what the prize is yet. It'll be something juicy.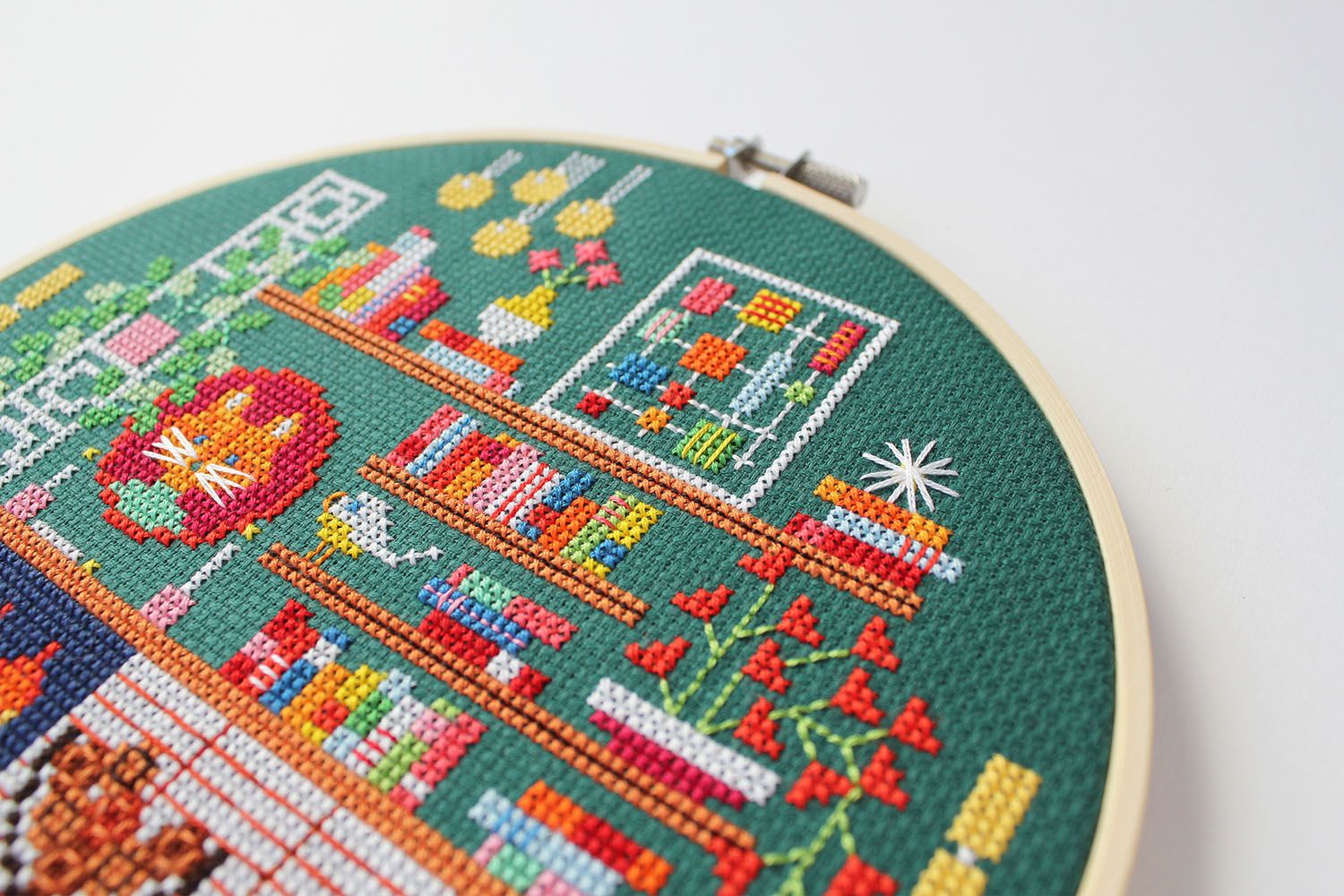 W: I love that this is sort of half planned and half spontaneous.
DW: I always find if I over-plan, that's not where the good stuff lies. The really interesting, good things lie in allowing myself the freedom to follow whatever intuitive path there is for the project. If I over-plan, that crushes the creativity a little bit. I call it the faucet. I'm either all-on creative and I can't stop the ideas from coming, or it's a total dry spell and I don't have any ideas. But the faucet is totally on. So I'm able to get lots of really good ideas right now and I'm letting myself follow those thoughts as I go without putting a ton of restrictions on myself.
I feel like the new kits are a symbol of the development of my style as a cross-stitch pattern designer. I really feel like I've hit my stride with these. There's this thing that happens when I cross-stitch, when I know I've got a good pattern going or a good thing going. I feel this amazing energy about it. And it doesn't always happen. But when I designed these patterns, I felt that awesome energy around it.
W: And what happens next?
DW: I'll have to think of something, a new series. Something different to do in 2023. Unfortunately I'm going to be phasing out my wood stuff, because the Baltic birch plywood comes from Russia and it's crazy expensive. The prices went up in the fall, and they just jumped again to this astronomical price. So I won't be continuing with those.
I have to work to find a way to provide kits for younger people and people with vision issues. That's a really big thing that I get comments on all the time. Customers are like, oh, I used to love to cross-stitch, but I can't do it anymore because I can't see the holes in the fabric. So coming up with something that's still fun that they can engage with, but that isn't quite as taxing visually, is the key.
I actually designed a set of plastic canvas needlepoint coasters and a little retro napkin holder — it's a postmodern Palm Springs bungalow. So that's going to be a little shift. Not necessarily away from cross-stitch, but just something a little bit different.
Thanks to Diana Watters for taking the time to speak with us, and for use of her photos. You can see more of her products and her work on her Etsy shop and on Instagram.
Who should we speak with next? Let us know in the comments!