If you're into embroidery, you know Kiriki Press. Owner Michelle Galletta has been in business for about a decade now, selling her adorable animal doll kits alongside necklaces, hoop art and supplies at both markets and retailers.
One aspect of Galletta's business for a number of years has been her sampler club, a popular subscription business that sent quarterly embroidery kits to fans near and far. As she phases out the sampler club to focus on new projects, we thought it was a good time to get her perspective on the pros and cons of the subscription model and her advice for others who want to try it. Here's what she said.
Workshop: How did you get the idea for the sampler club?
Michelle Galletta: A high school teacher who ran an after-school club asked if I was interested in teaching her art students embroidery. At that point I just had the doll kits, and I couldn't wrap my head around how I was going to teach them to do stitches. So I thought, why don't I put together a sampler that has all the stitches from the dolls they chose.
Basically, that's how it started. It was a necessity thing to make this one sampler, and that ended up being my beginner sampler. And then I made an intermediate one as well. I threw them up on social media, not thinking too much of it, and I got this amazing response from people asking if I was going to sell them as kits.
I'd heard over the years that people were intimidated to jump straight into the dolls. It was a good opportunity to offer them a different product. Then I thought, it would be cool to have something that they could frame afterwards: teach them all the stitches around the outside, and then they could put together all their skills on the inside. A couple samplers into that, I realized I could mail them.
I had always wanted to do some sort of subscription model, but it wouldn't work with the [larger-sized] kits because shipping, especially in Canada, is so ridiculously expensive. Once I had a kit that fit in an envelope, I was like, okay, this is what I'm going to offer. My goal was to have 10 subscribers.
I ended up getting a great response from that first sampler and decided to include a little bonus pattern as a thank-you for the first people to take a chance on this new product line. Then that was so popular that I was like, oh, I should do this with each one.
Funny story: We screen-print everything. [Each piece of fabric] has to be [cut to a] a specific grain, or else it's stretchy and we can't print on it. My fabric company sent some to me in the wrong format. I had thousands of pieces of fabric that I couldn't use for my dolls. When I made the sampler, I thought, we could cut off the end piece, or I could use it and have an extra design. This mistake that the fabric company had made inspired me to make this additional bonus design. And I think the bonus pattern was really what sold the sampler club. Because I always offer the samplers as wholesale and to other customers, but if you don't sign up by the deadline, you don't get the bonus pattern.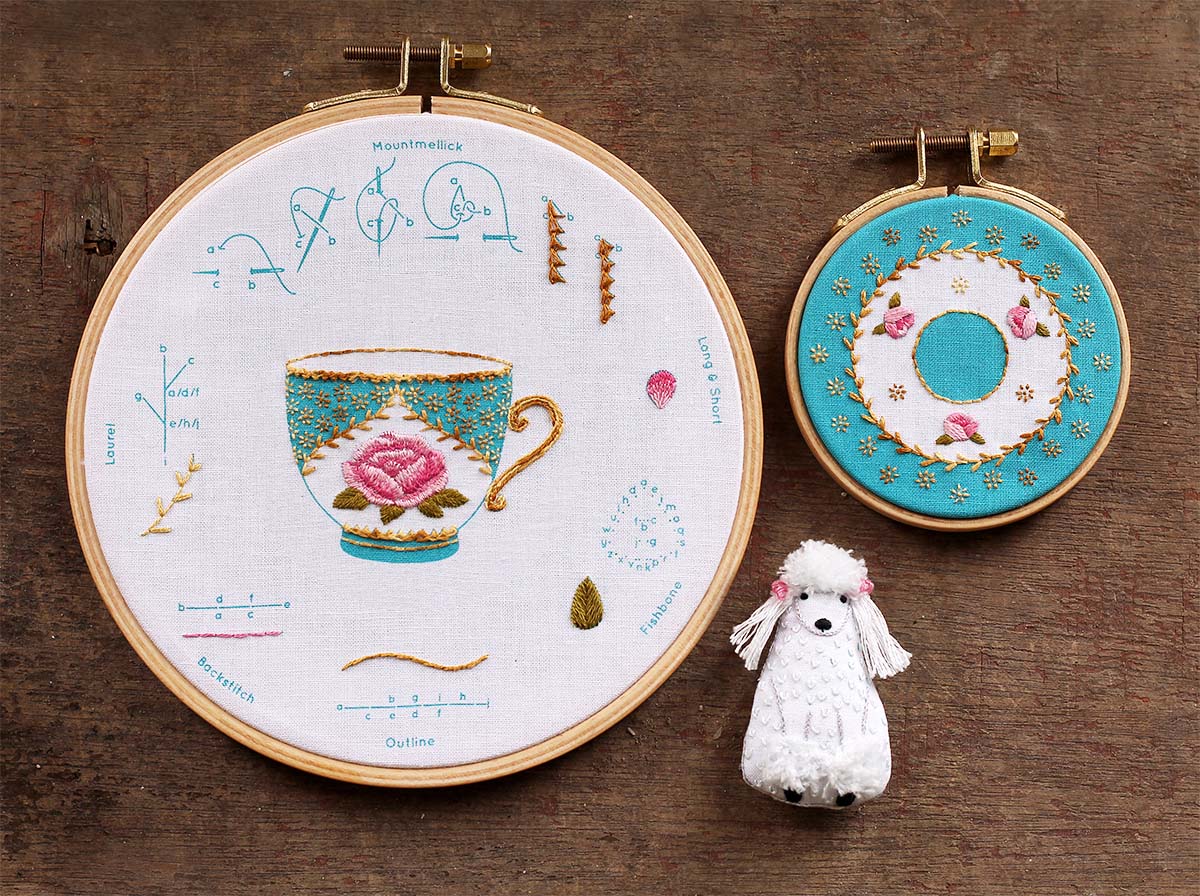 W: One of the ones I did was that little bear with the popsicle. [Editor's note: you can see it in the main image above.] And like, no one's going to buy an embroidery kit that's just that bear with the popsicle, right? It's too little — how would you possibly price that? But it's an adorable extra thing.
MG: Exactly. And I mean, we do all of the printing in-house. So it's a very quick process if I have to test out patterns and turn it around in a short amount of time. If I was sending these off to someone else to print, I don't think it would work.
W: At what point did you launch it as a quarterly club, and what made you choose quarterly?
MG: I originally had it as bi-monthly, so six a year. And that was way too much. I was finishing one and having to begin the next one right away.
Also, as I kept on making them, they started getting more and more complex. And I was pushing myself further each time and including a bit more floss. I think I shot myself in the foot with how much floss these patterns ended up needing because I can no longer send them as lettermail to the U.S. and internationally.
I ended up going to quarterly when I realized they were getting too thick, and I raised the price per kit but lowered it overall to make it more attractive. I started at $72 [USD, or $12 per kit] for six samplers, including shipping. Then I went to $60 U.S. dollars for four [$15 per kit], which gave me a buffer to cover the shipping cost.
W: Did you find you got a lot of people that would sign up for a year and then fall off again? Or did you have a lot of retention?
MG: I have quite a bit of retention. I've got quite a few people that have every single one. Sometimes people would take breaks and then come back.
I didn't know what the response would be when I switched it in July [2022] — it was the first time I offered samplers as a one-off, as I was phasing out the subscription. That was probably the best response I had in terms of purchases, having it as a one-off instead.
I would definitely recommend doing [a subscription-based product]. I mean, I did it in a bit of a half-assed way in all honesty. I never had an automatic subscription app. We kept track of everything with spreadsheets, which I wouldn't recommend because it gets confusing, especially when people resubscribe too early by accident. And once I went to the one-off for the last three samplers, I found that that was a huge boost in sales as well. Instead of $15 U.S. per sampler, but you had to buy all four, I bumped it up to $20 and let them purchase it as a one-off.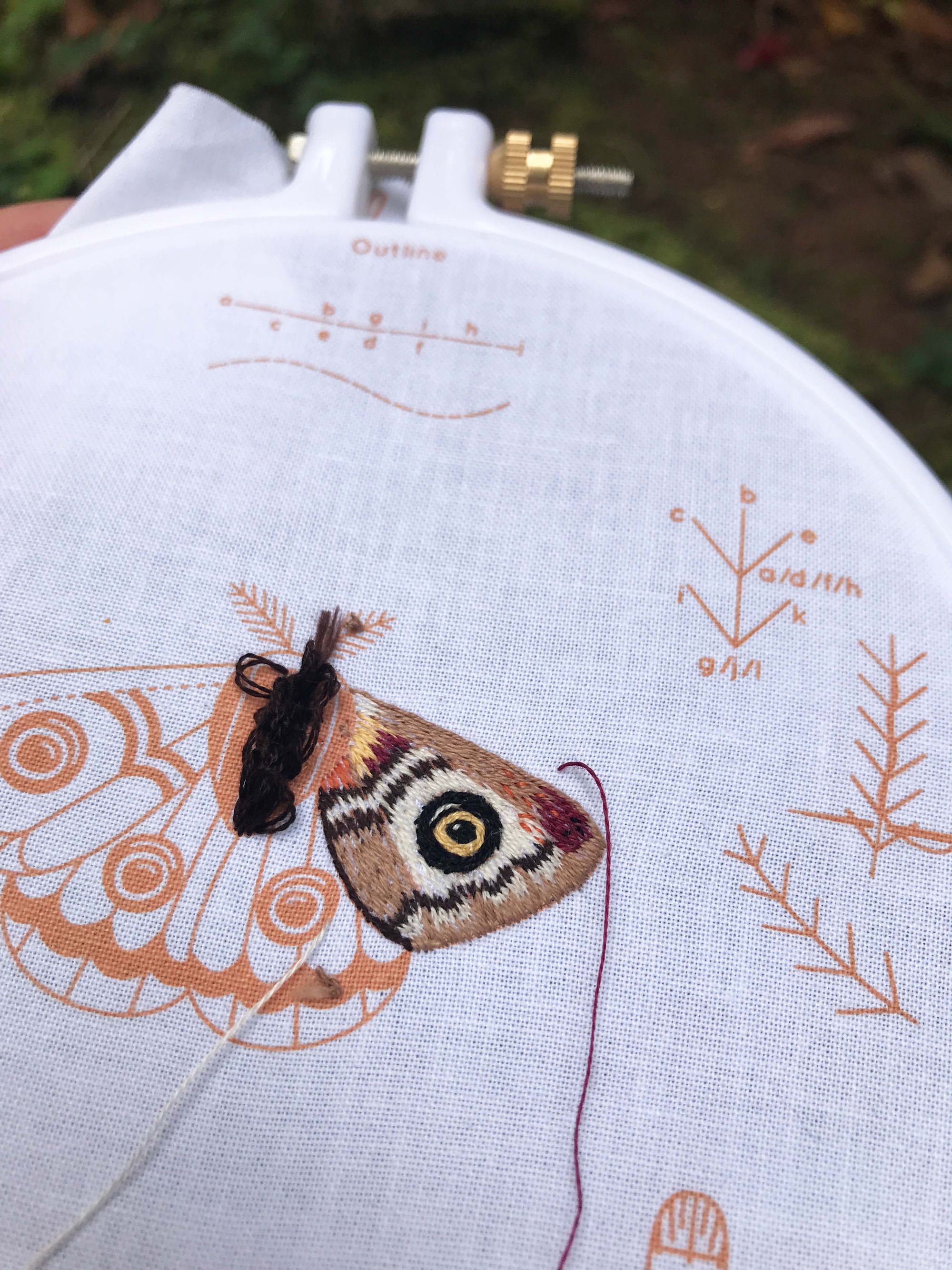 W: Do you think that having the deadline helps with sales?
MG: Absolutely. It's always the same — I usually give four or five days for the deadline. The first day is the most sales, and the last day is the second-most sales. The deadline really gets people. It's the FOMO, right? Especially because there's that bonus. I'll always be able to sell the main patterns, but I'll never release the bonus patterns again.
People ask me all the time, can you bring that bonus pattern back? Maybe eventually I'll do something that's inspired by it. But I don't want to come out with the exact same thing. I wanted them to be limited edition.
W: You've had your business going for quite a number of years, and you have a good social media and newsletter following. How important was that to growing this?
MG: My newsletter is definitely where the sales come from. Through social media alone, I don't think it would be possible to have collected as many subscribers.
W: What else did you learn from running the sampler club?
MG: I was really surprised by both how much I hated running it and how much I loved it.
I ended it because it was starting to affect my mental health. I would spend six weeks stressing out about it, worrying that I wouldn't have a good idea and that I wouldn't be able to pull it off. And then six weeks developing it. So I was constantly stressing and creating, stressing and creating. I never came out with samplers that I wasn't proud of. But that took a huge toll on me. It was a lot of pressure. And the more subscribers I had, the more I would feel that pressure. It was a bit of a double-edged sword.
I would have people sometimes emailing me to cancel their subscription. I remember when I came out with my knit sweater pattern, someone emailed asking me to cancel the subscription because if she'd wanted to make a knit sweater, she wouldn't have signed up for an embroidery subscription.
I would say 99.9 percent of my customers are the loveliest people on Earth. I'm eternally grateful — the maker community is just the best. But I always take that stuff to heart. I was always in fear, what if people don't like it?
If someone wants to start a subscription product, I suggest having at least two to four designs or issues ready to go before launch. That way you have a buffer to generate and execute new ideas.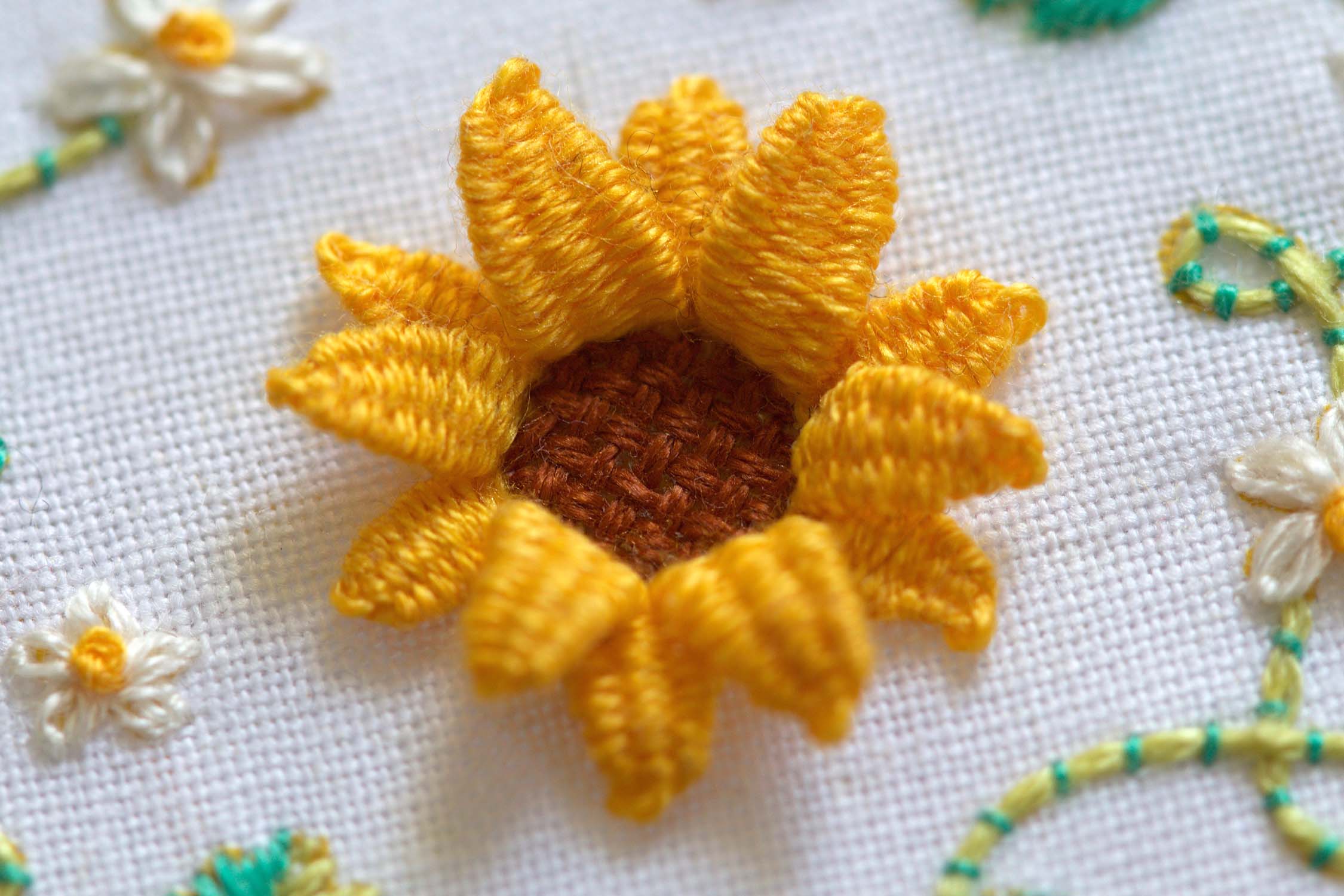 I learned so many amazing things. It was a deep-dive exploration of stitches that — even as someone who stitches pretty extensively — I'd never seen. I went down YouTube rabbit holes watching videos in foreign languages trying to figure out how to recreate these stitches, and going to the reference library looking at books from the 1800s. I was pulling inspiration from embroidery traditions across different cultures, eras and styles. It was such a cool learning experience for me.
I still intend on making samplers. And I still want to offer them with bonuses. I just can't do it on a deadline anymore. When I went to that one-off model, that showed me that I could pop in and out of doing this without holding myself to a place where I had to do it. Now I feel so liberated that when I come up with a solid idea, I can just execute it and put it out there and no one has to receive it. If they don't like it, I don't have to hear about it. They can choose not to buy it. So I think I'm going to enjoy this new model going forward.
W: You've got a new big project coming up, don't you?
MG: Yes — and something else just presented itself at the same time.
I've been renovating a live-work space for the past two years. We're finally moving in, which is really nice. I have this little brick-and-mortar store in a commercial-residential area of Toronto that I'm going to turn into a needlework design shop. I'm originally a printmaker, so I want to be able to have some fine art prints. I'm slowly getting into a jewellery practice as well. So I have these other parts of my creative practice that I'll get to showcase in this little tiny space, which is essentially just the front room of my house. [Editor's note: There will be a pop-up at the shop on June 10 and 11, and Galletta expects to have the shop fully open sometime in the fall.]
And then a studio in the same building as mine, just across the hall, just opened up. I've been needing a workshop space — I used to run workshops in my studio and it's impossible to do it now. It's such a full-on production space. So I'm going to have a workshop space again and start offering artists' residencies as well, because there's a little bedroom, bathroom and kitchen. [Editor's note: Galletta is now accepting applications for residencies starting in fall 2023.]
Eventually I would love to bring people in and collaborate with them. One of the big projects that I want to do going forward is producing kits for other people. I think it would be cool to be able to host someone and work collaboratively on something.