Less than two hours southwest of Toronto, as you drive toward the shores of Lake Erie, the roads pass by fields of corn and ginseng, past farmhouses and barns. It's a typical Southern Ontario landscape: pretty enough without being remarkable. About 10 minutes before you hit Simcoe, in Norfolk County, there's a tree-lined country road, the kind you might imagine appearing in a bucolic coming-of-age novel.
This pastoral setting is where you'll find the Apple Hill Lavender Farm, home to Melissa Schooley and her business Raging Bowl Pottery. An aubergine carriage house hosts a boutique where day-trippers can shop handmade porcelain alongside home and body-care products made with lavender, and other artisan wares. Behind the shop is the barn, which houses the pottery studio.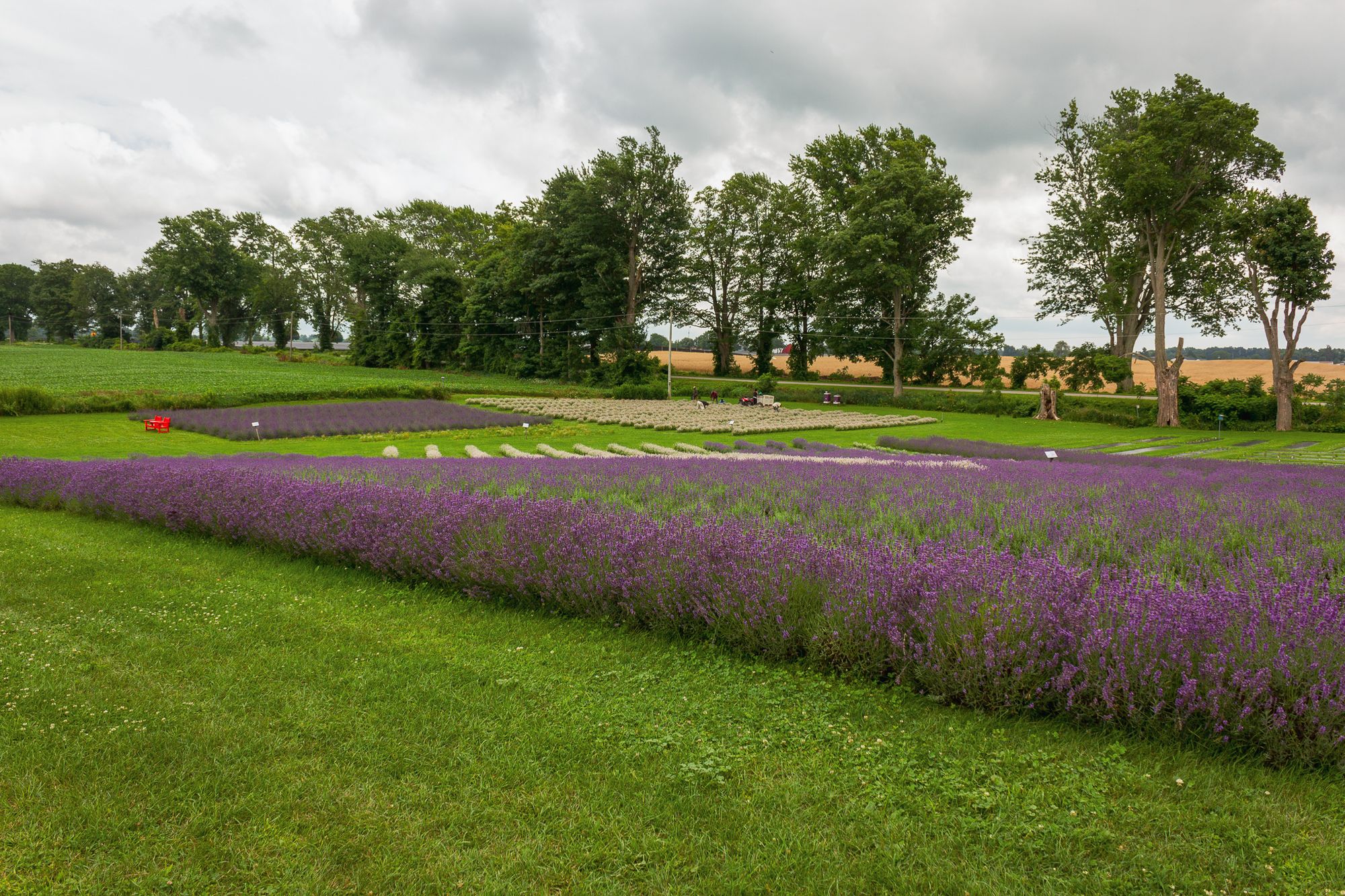 Schooley is the fourth generation of her family to work and live on this farm, and she leans into that history in her marketing materials and when speaking with shoppers. Besides producing lavender and being the backdrop for The Raging Bowl, the farm continues to operate as an apple orchard.
"We play up that part of our story," says Schooley. "We invested in keeping our barn looking like a barn. We have large old trees on the property, so it's very lush and green here. We spend hours every week doing landscaping to keep it looking pretty. And we make sure we tell our story to everybody. We play into the stereotype of the family farm." It plays well to the city crowd whose "jaws drop" as they get a peek into the "family farm experience."
This savvy approach to business is typical of Schooley, who's been operating The Raging Bowl since 2005. Thanks to an upbringing on the farm that had her selling apples from the age of nine, the mentorship of former bosses and 16 years making and selling pottery, Schooley has acquired a wealth of knowledge about how to run a handmade business.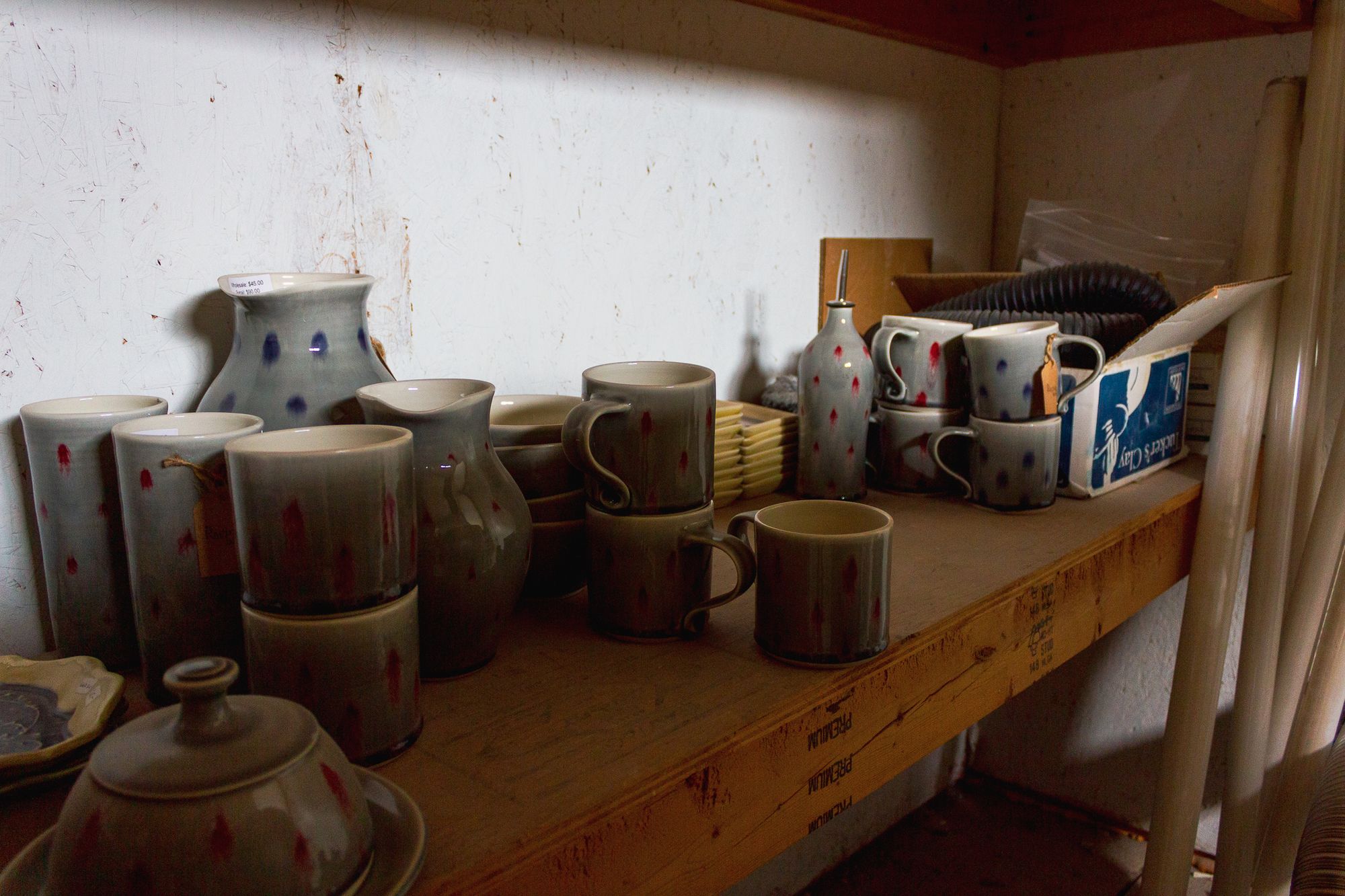 The mugs pay the bills
"I am the owner of the Raging Bowl Pottery, and I make handmade porcelain — beautiful objects for everyday use." Schooley easily rattles off her tagline when asked to describe what she does. Her smooth response is delivered with the confidence gained from honing the exact phrasing over many years.
Schooley primarily makes functional pieces like dinnerware, serving sets, bowls, teapots, platters, pitchers — and a lot of mugs. "Mugs are my bread and butter," says Schooley. "Those pay the bills."
The popularity of mugs — not just for Schooley, but for many potters — is because they're an item that nearly everybody uses on a daily basis. "It's an easy purchase to justify," explains Schooley, who says that if it weren't mugs, she'd be making some other small, lower-priced item like a soap dish. "There are the objects that I want to make, and the objects that I need to make," says Schooley. "You have to find a way to love the things that you have to make."
"You have to find a way to love the things that you have to make."
As Schooley develops new products, she tries to find a way to offer items at various price points. "I always need to find a way to have an object that's more accessible to a larger group of people — something that a lot of people could purchase so that it helps bring in the money."
Unfortunately, sometimes that can mean letting go of work that she loves if it's too expensive to produce or it doesn't sell. "I've had lines of work that I fell in love with that the market was just like, 'Nah, we don't care for that,'" says Schooley.
For instance, in 2012, Schooley introduced a line of red pottery. She and her husband, Dan Caron, had spent three years developing the glaze and built an entire body of work around it. "I was in love with it," says Schooley. "It was stunning. It was the kind of work I wanted to be making." But it didn't sell. "I can't really make work that's not going out the door," she says.
Oddly enough, five years later, around 2017, the red line started flying off the shelves; although Schooley had stopped producing it, the remaining pieces had remained available to buy. "And now I'm like, do I make it again?" asks Schooley. "Do I just let it fade away? Was I just ahead of the time for the aesthetic? I don't know."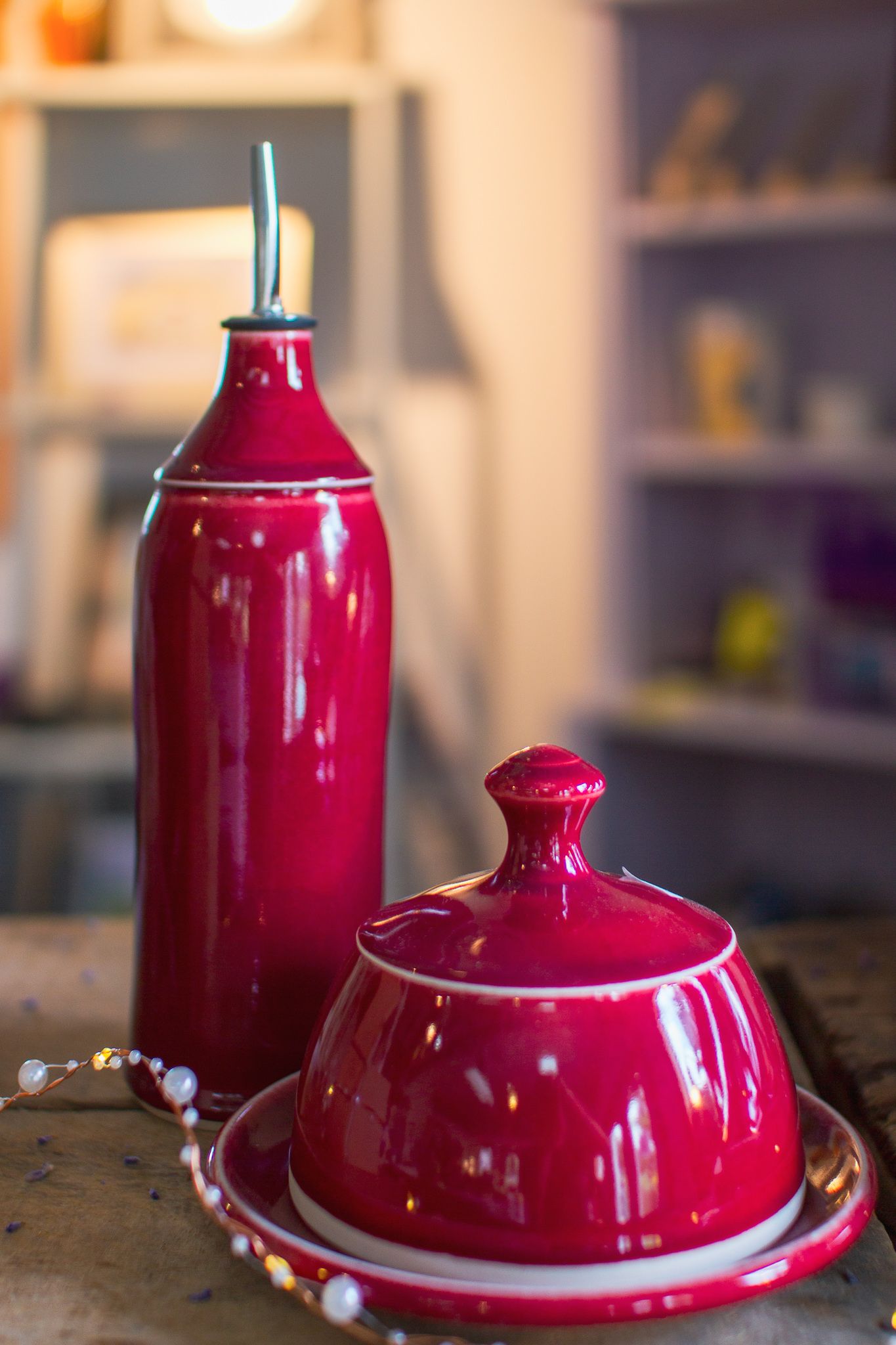 To figure out whether to resurrect old work, Schooley looks closely at the sales numbers and at what might be causing the uptick. "Are people buying it because there's only a few of it on the shelf and that's what's catching their eye? Because there's just a few pieces, and it's different than everything else?" says Schooley. "Or are they buying it because that's the current trend in kitchen decor?"
In comparison to the red line, Schooley tells the story of a series of blue-glazed pottery from 2009 that was slow to move in the beginning, but sold more and more as the years went by. "I'd look at these two lines of work — one just sat there for years and now it's moving, and the other one has been a slow build," says Schooley. She viewed the increased sales of the red line as just a blip, and decided not to make the pieces again, whereas the blue line had potential to continue selling. Says Schooley: "That's probably still going to continue to do well for the next few years."
Know thy customer
This thoughtful consideration of product development is informed by countless face-to-face interactions with customers. Schooley logs many hours in the boutique at Apple Hill Lavender Farm selling her pottery, and in non-pandemic times, she also travels around Ontario, participating in craft shows throughout the province.
"It's really important to be in front of the customer," says Schooley. "You can't just put your stuff on a shelf somewhere and let someone else sell it. You have to be there to see customer reactions, and you have to hear what they're saying about the work." In her shop and when she does craft shows, Schooley watches customers closely and listens to what they're saying. "They might really be drawn to stuff, but they don't buy it. So I can see that they want to buy it but there's something that's holding them back," says Schooley. "I can see they might be like, 'I love this but it's just a little too small.'"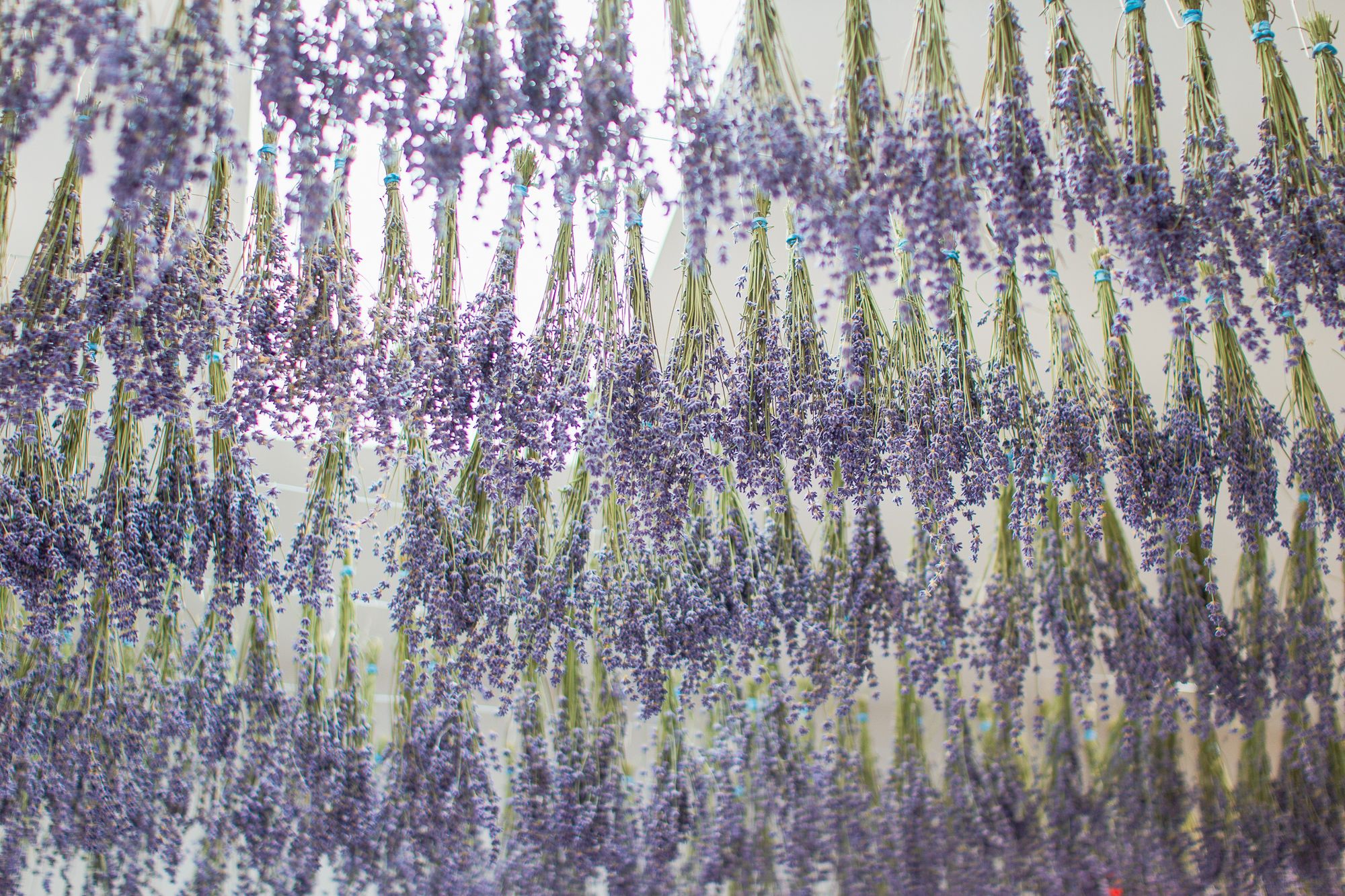 By observing who was reacting to and buying her work over the years, Schooley learned that her customers tend to be middle-aged women. She's now strategic about searching out shows and opportunities to get her work in front of this demographic.
In Normal Times, Schooley's most profitable show is in Ontario's Muskoka cottage country. "There's a lot of money up there," says Schooley. "So that's definitely a crowd I want to get involved with." Other shows she does are mostly in the Hamilton and Niagara region, which is where she's found her market to be.
Not her market: Alberta. "I tried a show in Edmonton once," says Schooley. "It was… an experience. I went there thinking this was going to be a spectacular show. What I found was an audience that was not at all receptive to anybody from Ontario. They would come and ask you where you're from. And I would say I was from Ontario, and then they would put their eyebrows up and walk out of the booth." After the costs of the booth fees, shipping her wares to Edmonton, her flight and the hotel, Schooley made all of $30. "Yeah, that was a bit of a learning experience," she says.
If Schooley were to travel long-distance to a show again, she now knows to do her research first. "I would need to go to the show first, and have a look at it and see who's there. Who are the other vendors? Who are the shoppers? I would need to see firsthand — Is this my market? — to know whether or not it's worth it. I would need to do a lot more research, which would definitely involve taking a year to go there and see it in person before I committed to doing the show."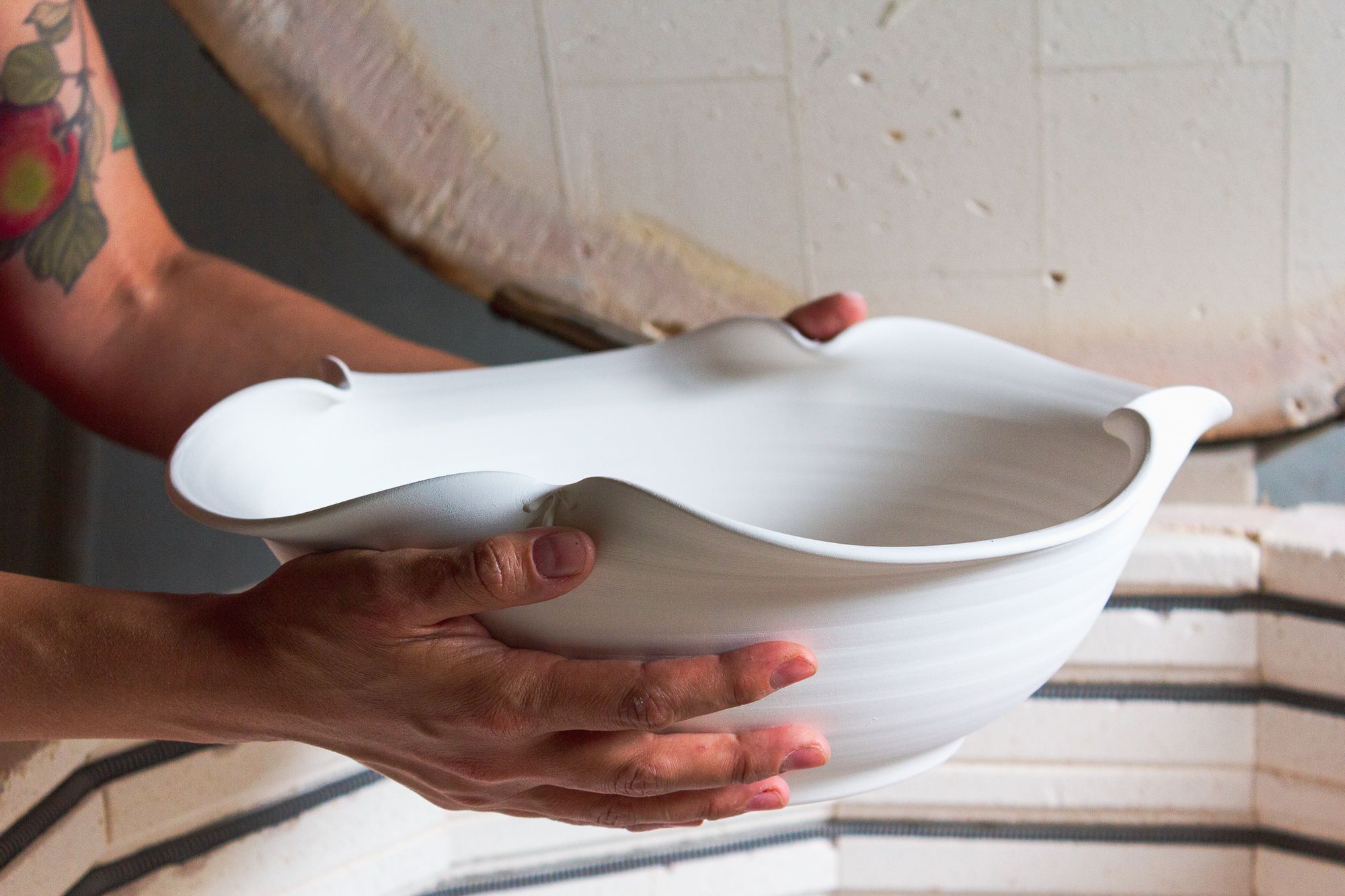 Lots of eggs, lots of baskets
Revenue for the Raging Bowl is roughly 20 percent from retail craft shows, 30 percent from direct to consumer (online sales and the boutique on the farm), and 50 percent wholesale. This split meant Schooley was in a good position to weather the COVID-19 pandemic.
In the spring of 2020, Schooley watched as craft show after craft show notified its vendors that they wouldn't be running that year — meaning a loss of $12,000 in potential sales for the Raging Bowl. "That was terrifying," says Schooley. "But you can't freeze, you have to do something. So you pivot, and many eggs, many baskets. Without craft shows, I had time to focus on online sales and pick up there what I would lose by not doing a craft show."
Diversifying her revenue streams was a lesson Schooley learned when the economy tanked in 2008. "That happened at a time when my business was just finally, really starting to roll," says Schooley. "The brakes slammed on. I learned a lot from that experience."
Back then, Schooley was selling both wholesale and at craft shows, and she watched as some of her friends who sold only at retail shows didn't make it out of the downturn. "If I hadn't had the wholesale to hold me up, I would have totally been screwed," she says. "A diversified income stream is really important. If something falls apart somewhere, you build out something else to prop you up while you're figuring out how to replace what just fell off the map."
While some may think of selling wholesale as giving away your products for half price, Schooley says it's important to look at the entire financial picture. "It costs money to go to a craft show, it costs money to sit in a booth, it costs money to turn lights on, it costs money to buy the gift bags and the tissue paper," she says. "And that's the other 50 percent of your price tags. So if someone else has taken care of those costs, you're getting 100 percent of the wholesale value of that piece."
Schooley also views selling wholesale as a form of marketing. "My work is branded," she says. "All people have to do is look at the bottom and Google me. The next thing you know, I've got people buying from my website because they found me through a shop."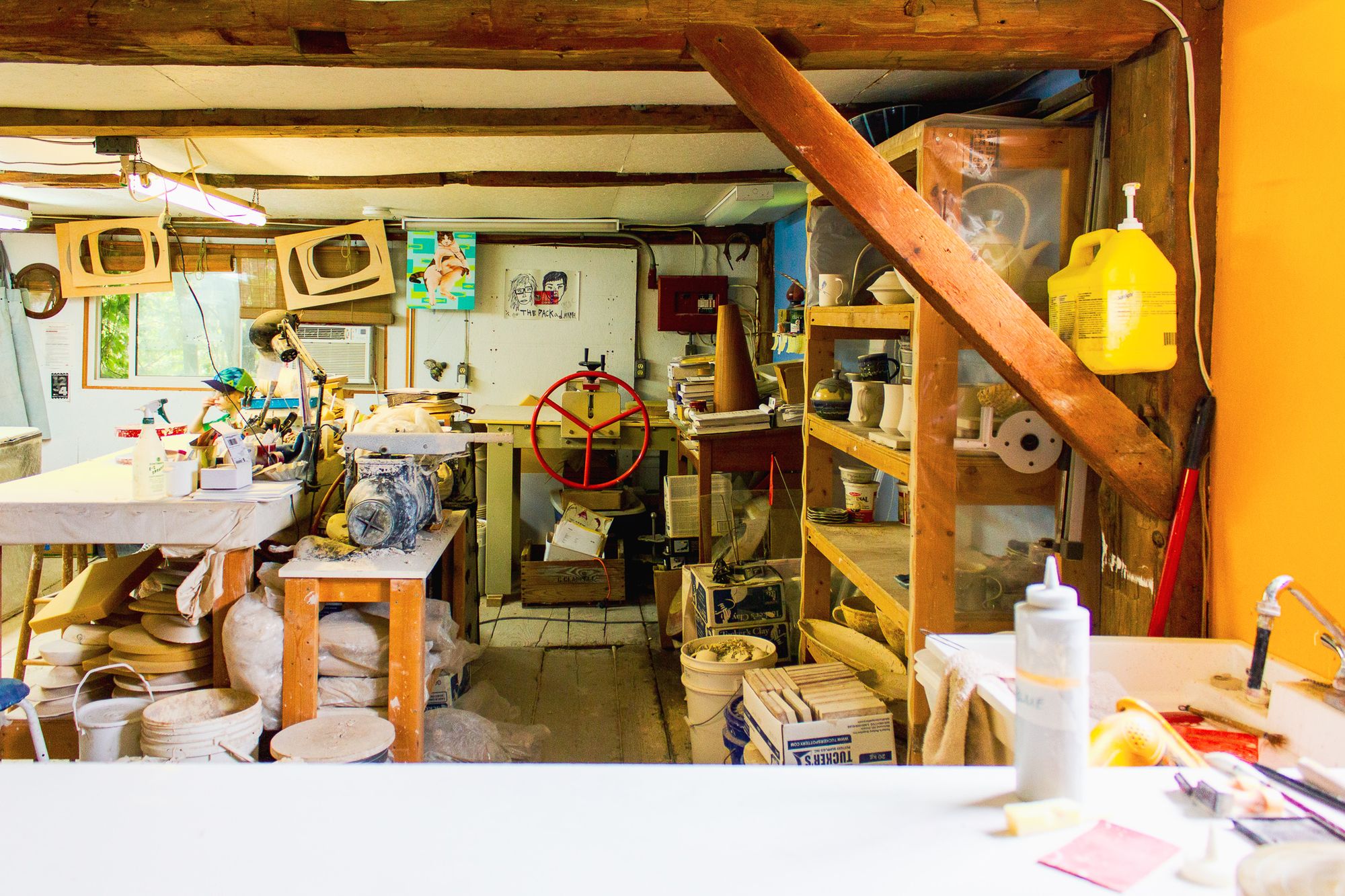 A little help from her friends
While some makers can take many years to make the leap to full-time, Schooley acknowledges that she was able to get her business up and running in only two years after she graduated from Emily Carr Institute of Art and Design (now the Emily Carr University of Art and Design) because of support from her family. In addition to providing her with studio space on the farm, they invited her to move back home and live rent-free. "I could take what money I made and invest it in my business."
Another source of support: the local potter for whom Schooley worked and who mentored her, teaching her about business. "She'd been potting for 35 years at that time," says Schooley. "She was very familiar with the market, how business worked. They certainly don't teach you business skills in art school. So that was a huge lifeline."
Nowadays, when Schooley gets stuck — either with a business conundrum or a technical problem with creating her pottery — she reaches out to other potters. "It's important to have friends in the in the maker community that are doing what you're doing so that you can bounce ideas back and forth," Schooley says.
For hands-on help, Schooley hires summer students in the shop ("so that I'm not tied to being in the store") and is looking into hiring a bookkeeper. "Paperwork drives me crazy," she says. "You can easily spend 25, 30 percent of your time keeping caught up on emails, replying to customers and doing your HST returns."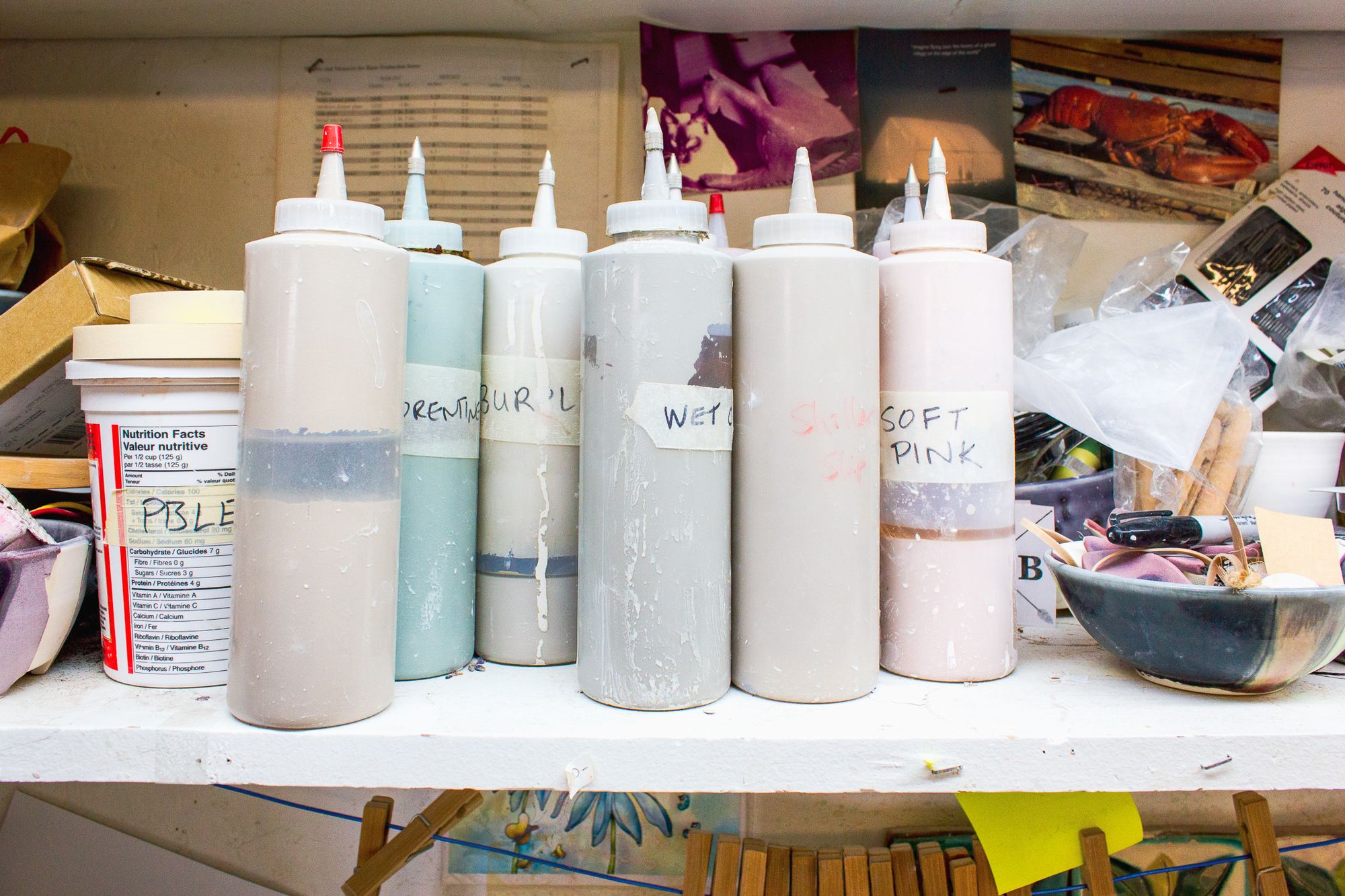 The biggest source of support, though, is Schooley's husband, Caron. "I couldn't do it without him," she says. A sculptor and maker whom Schooley met in art school, Caron helps keeps both businesses running. "Because he's skilled with materials, it's been no problem for him to learn how to trim a mug, to mix a bucket of glaze. Having that extra set of hands around that knows how to work with different materials has been of huge value." Caron also takes care of the grounds and equipment, spearheads production of some of the lavender products and, perhaps most importantly, provides emotional support. "I dragged him around to craft shows, even though he hates, hates going to them. He was there as my moral support."
With this network of people helping her out, Schooley has managed to build and maintain a business that financially supports her and Caron. "I've been blessed that I've had lots of people in my life that had experience that I could lean on," she says.
It sounds to us like Schooley is living the good life: The business of her dreams operating on the picturesque farm where she grew up, supported by friends and family. What could be more idyllic?
---
Photography by Curtis Saretske