The world of eco-friendly packaging can be overwhelming: so many choices, and how do you know you're making the right one? So when we spotted on Instagram that Vancouver-based jewellery maker Three Sisters by Emma uses compostable stickers, tape and labels for shipping, we wanted to hear more about where owner Emma-Love Cabana sources her supplies and get her tips for others on how to get started on their greener packaging journey. Here's what she had to say.
Editor's note: While all products and services we feature in this story are independently selected, some items use affiliate links. This means that if you click these links and make a purchase, we may earn a commission. You can find out more in our privacy policy.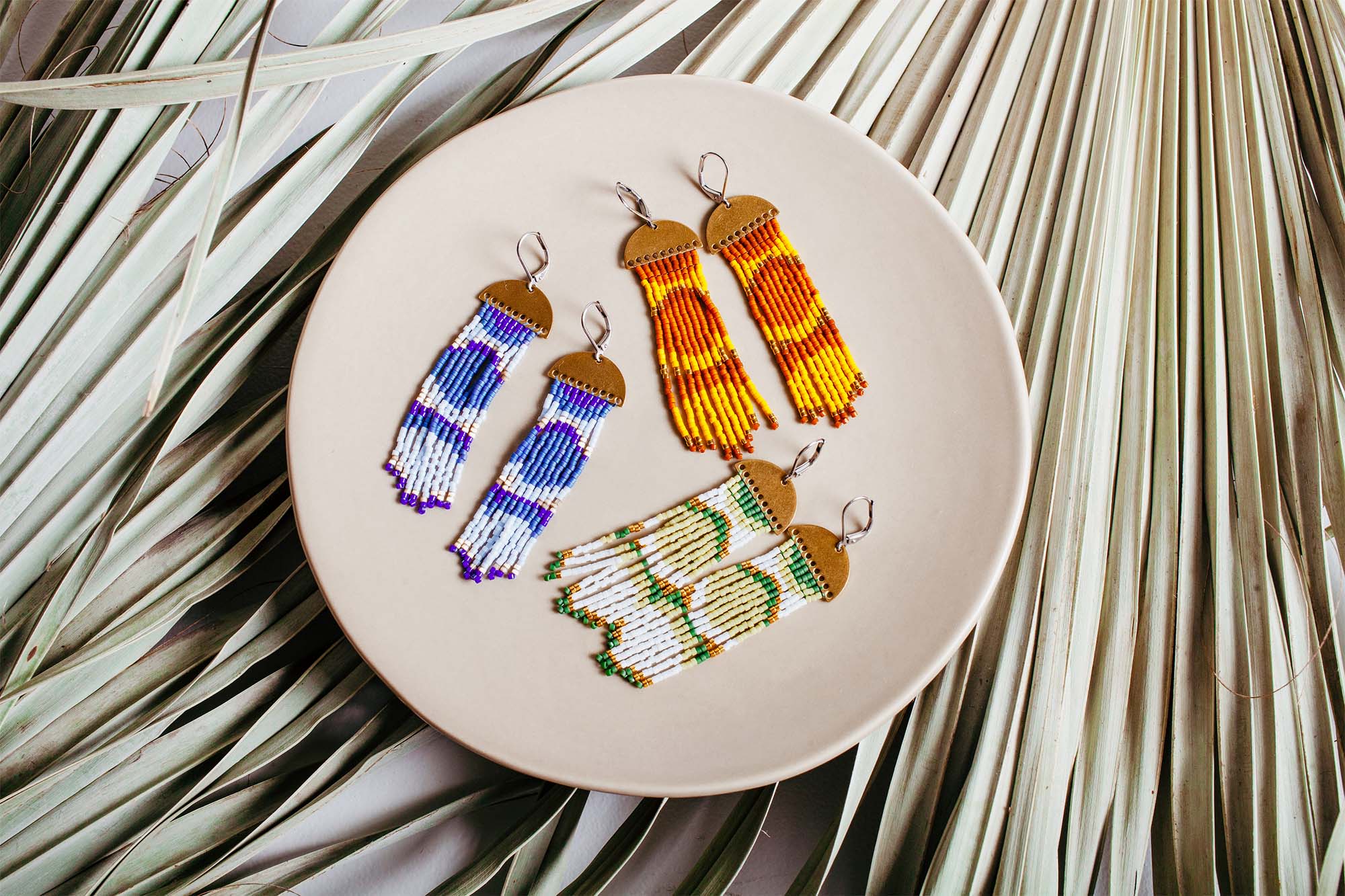 Workshop: Tell us how your business got started.
Emma-Love Cabana: I learned how to bead in 2017. It was something I'd wanted to explore for so long. I had just moved to Vancouver, I didn't know anyone and I finally had the time and financial resources to explore it. I dove in fully — I think I watched all of Grey's Anatomy learning how to bead.
I spent a couple of years beading every day and finding my style, and my sisters encouraged me to start selling [what I was making]. I started and fell in love with doing photo shoots and creating collections. I put together a collection in 2019 and launched it. In 2020, when the pandemic came along, I was working an office job and decided, I can't do this Zoom thing. Let me see what I can do with my business. I've been doing it ever since then.
[Beading has] been an amazing medium for me to explore my [Métis] culture and have a creative output for how I see the world, walking around the forest in Stanley Park looking at flowers and trees and animals, and walking downtown and seeing the architecture. Threading all of those things together has been really fun and a great way to meet people as well.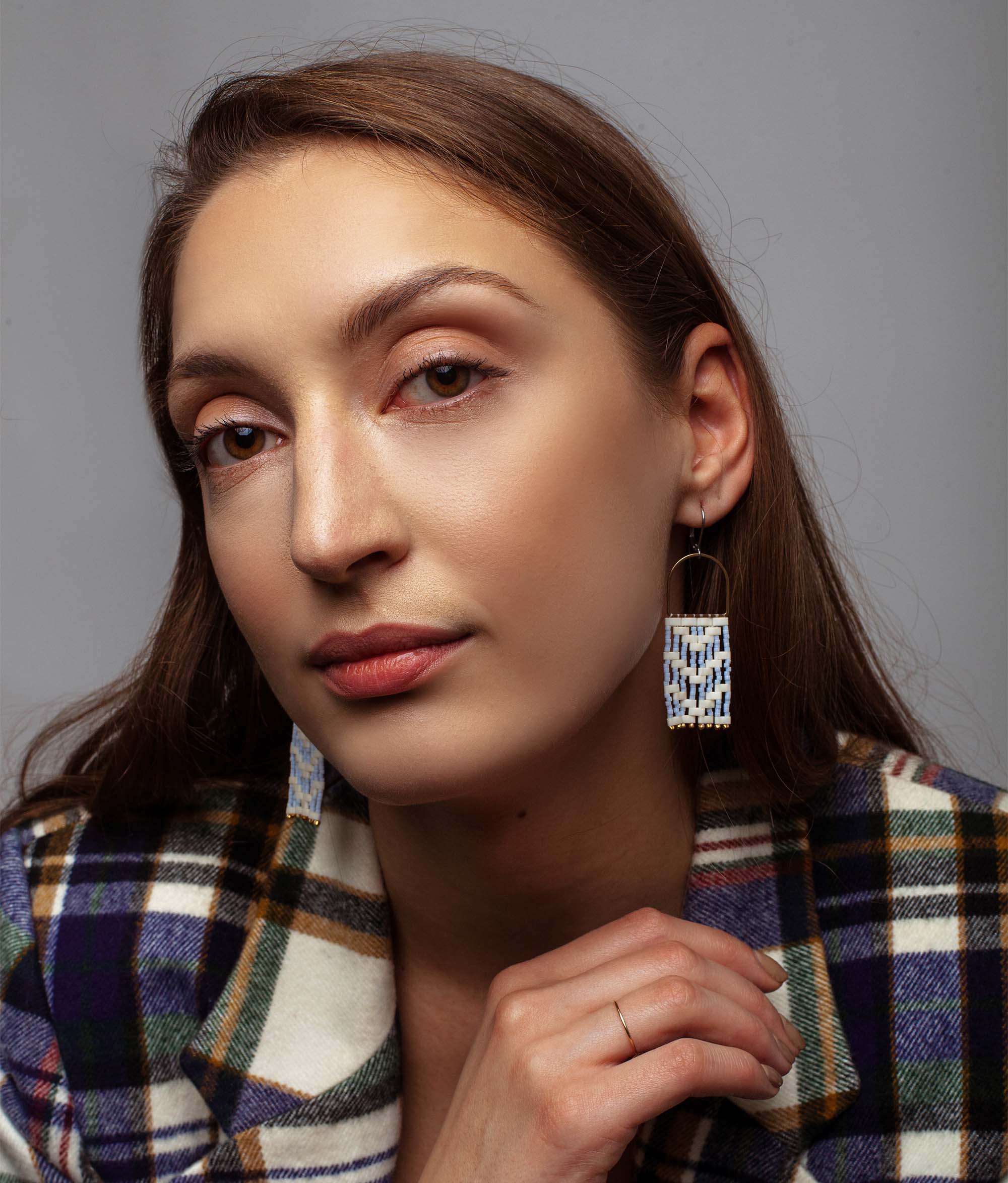 W: At what point did you start thinking about packaging?
EC: I feel so awful receiving packages in plastic mailers because I'm like, what do I do with this? I have to throw this plastic out or find somewhere to recycle it and it becomes labour on my part. Immediately my brain is overwhelmed. I thought, I can't do this with my business. I want to have a positive impact. The point of my business is sharing culture and building representation and having authenticity in the marketplace. And part of my authentic self is trying to reduce, reuse, recycle and respect the Earth.
I thought okay, at least cardboard boxes are recyclable and reusable. At first, I wasn't taping them. And then the person at the post office was like, you gotta do something here. This isn't working. So I found compostable tape, stickers and shipping labels.
It's important to think of all the details. We want to try and minimize the impact on the environment as much as possible, and packaging is one important way to do that. It also shares a message with the customer. I want people to know that what they're getting has a heart behind it and has been thought through every step of the way.
W: Where are you sourcing your materials?
EC: There's one company called Better Packaging — that's where I get my shipping labels from. They also have compostable bags. No Issue is the one I get my compostable tape and stickers from.
W: How have your customers reacted?
EC: People really like it. They appreciate that it's recyclable and compostable. And I think it does relieve a burden. When you get boxes or tape piling up, it's not a good feeling. I think anything to lighten that load helps people in a small way.
W: Do you have any tips for other makers who might want to make a move toward more eco-friendly packaging?
EC: It's easy to get overwhelmed because there is so much out there and it's easier and less expensive to not do anything. But even taking little steps — like if you have stickers, maybe replace them with compostable stickers. You don't have to do everything all at once, and it doesn't have to be a huge financial burden. Start small and build up to it. And if you're looking from the economic point of view, it will add more value to your product. It's a good way to do business.