About
Black & Smith is an artist's studio and shop near Hamilton, Ont., that focuses on high-quality, unique work made by Canadian artists. Everything in the store is handmade to last — these are timeless pieces that are meant to be passed down to the next generation. "I try to have a curated collection of heirloom objects that people are going to have in their life for a long time," says owner Emma Smith.
Before opening the store, Smith (who co-owns the business with partner Jesse Black) would host holiday pop-up sales, inviting other makers to sell their goods alongside her own pottery. In addition to carrying regular stock in the store, she's continued this pop-up tradition, putting on a series of rotating exhibitions, each one along a theme. "We have the work for only a month, and I display it more like a gallery show," says Smith. For example, a vase-themed show allowed Smith to bring in 15 ceramics artists she didn't usually carry. "It was fun for me, because there's so many artists I'd love to have in the shop and it's hard to do that when you only have a certain amount of space."
Otherwise, Smith carries a mix of makers whose work is always there and others that rotate in and out. "I'm always trying to make sure that there's new work for people to see."
While Smith buys some products like soaps and some jewellery wholesale, most pieces in the shop are carried on consignment. "If the work doesn't sell, I don't feel like it's stuck here," says Smith, explaining that many makers will swap out their stock every few months. "It helps keep the shop fresh."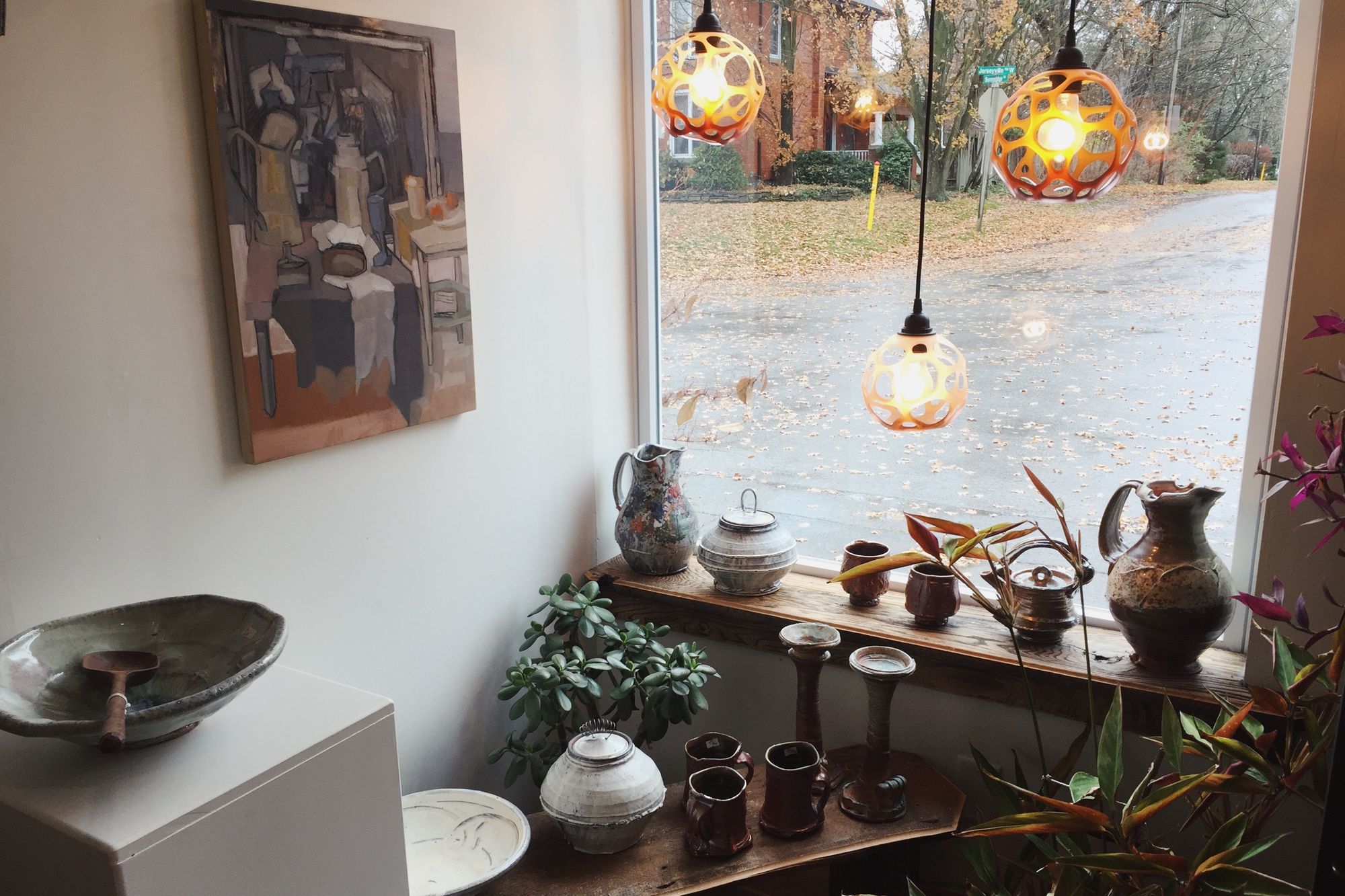 In the shop
In store, you'll find tableware made by Smith herself as well as pieces from about 50 other Canadian artisans. A few of the makers on the roster: Stefanie Dueck of B.C., who creates hand-forged bronze and stainless steel cutlery; KG+e, which is the duo of Kevin Gilbert and Erin Schwab, woodworkers from Alberta who handcraft vases, spoons and other kitchenware; Andrea Vuletin, a potter from Chatham, Ont., whose porcelain pieces feature intricate illustrations of flowers, birds and butterflies that are native to Ontario; and Clare Pearson, who makes one-of-a-kind sculptural silver jewellery.
How Black & Smith chooses which products to carry
Besides looking for high-quality, timeless pieces from across Canada, Smith wants everything in the shop to have a cohesive look. "I try to imagine the shop as somebody's home," she says. "All of the things that are here belong together."
She also leans into the idea of craft as art. "Someone's not coming in and seeing the same jug over and over and over again. Instead, there's a jug from this maker, but it's different from the one he had here six months ago."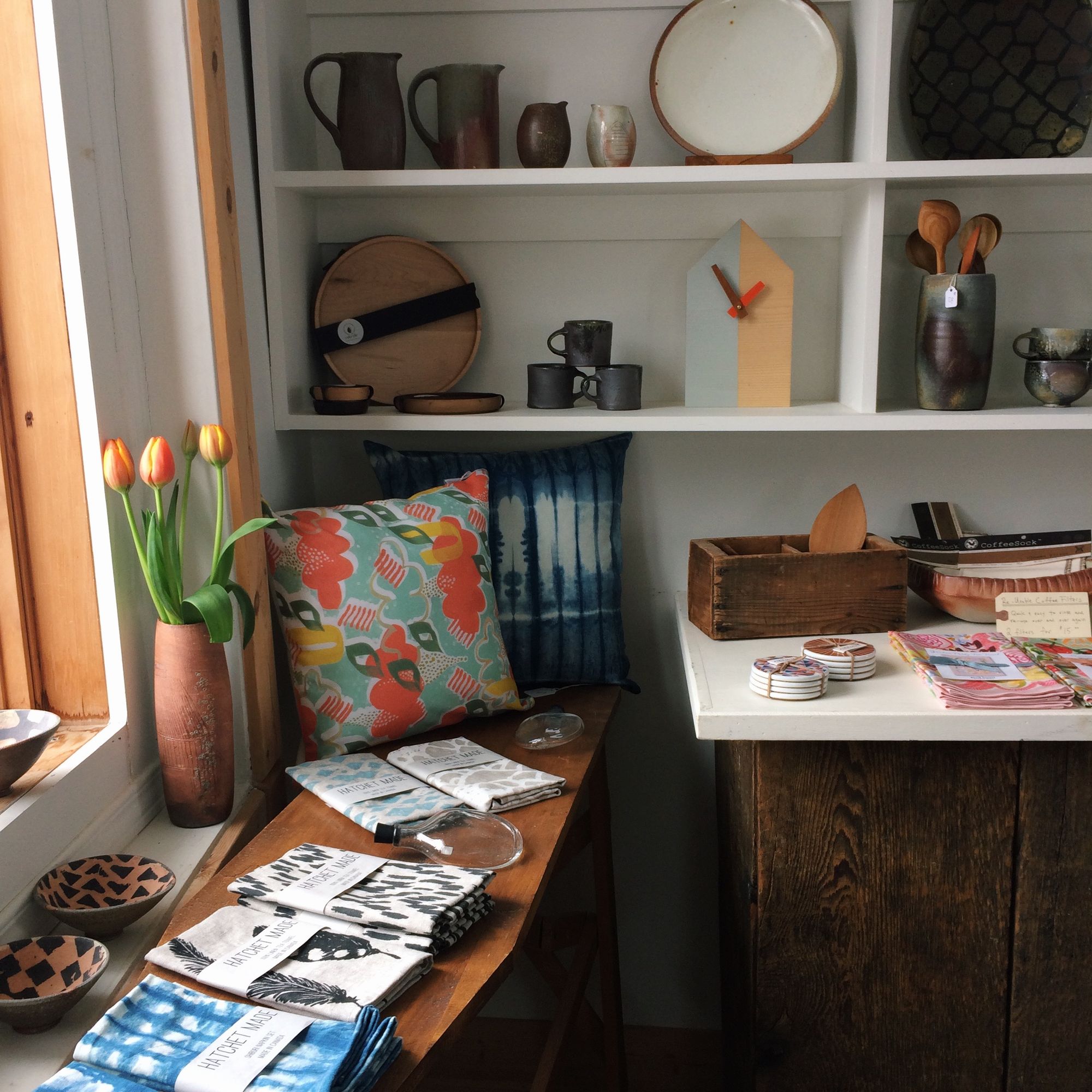 Why makers shouldn't get discouraged if a store says no
While it can be heartbreaking to have a shop decline to carry your goods, you shouldn't take it personally. There are many reasons why a store might say no, including lack of room. "We only have a certain amount of space," says Smith, "so I can't have all of the work that I want at all times." She keeps a running list of makers whom she'd like to carry — a wish list — and will reach out to them when the time is right.
Another reason you might hear No: the shop is stocked up on similar items already. "You can only have so many jewellers, or else you dilute the sales for the other jewellers in the shop," says Smith. "So as much as I would like to take on all the beautiful work that people are making out there, you can only have so much."
Don't be shy about following up if you don't get a response to your initial outreach. Smith says that sometimes, she genuinely doesn't get a chance to get back to makers. "It's not because I don't like their work. It's just because I've been busy." A friendly follow-up email a week or two after initial contact can be the little nudge she needs to spur a response.
Make it easy for retailers to buy from you
Smith appreciates when makers provide images and prices of their pieces when they contact her about selling at Black & Smith, whether with a line sheet, catalogue or just in an email message. "Sending high-quality photographs is super helpful," says Smith. "And then when they ship, also sending some information about the work is helpful as well."
Also good: allowing smaller initial orders. Says Smith: "When you're trying out something new in the shop, you want to make sure that it's a good fit." For a small retailer, a minimum order of $1,000 can be a lot of inventory to carry when you aren't sure yet if the product will sell. "It's a lot to commit to when you haven't worked with that person before."
Cultivate a relationship with the store
"I used to have an attitude, before I owned a shop, that I was doing the store a favour by having my work in their shop," confesses Smith. Now, she thinks of it as a relationship. "I try to help out the artists in the store, and they help me out by providing me with beautiful work and talking about the store." She appreciates when makers mention her store on social media and reshare her posts, and she tries to reciprocate to support them. For Smith, it's not just dropping off your wares and then forgetting about the store until you want them to buy from you again. "I've tried to develop personal relationships with everybody. We both want each other to succeed."
Keep the passion alive
"I think customers can tell when work was made with passion, when people are excited about what they're doing," says Smith. She's noticed with her own work that a new collection will sell before older pieces do. Though it may be in part because older work has been on the shelves longer, Smith believes the excitement a maker has for their new pieces shines through to the buyer. "I'm always trying to encourage both myself and other artists in the shop to keep pushing themselves and not be dissuaded from changing their work a little bit."
While some shoppers return wanting to buy a replica of a mug they've bought before, Smith has also had customers collect various pieces from the same maker. "They have 10 different mugs from the same artist, but they bought them over the course of that artist's lifetime. They just love to see the work evolving."
You can find Black & Smith at 2633 Jerseyville Rd. W., in Jerseyville, Ont., near Hamilton, and online at blacksmithcountrygeneral.com.
Have a question about selling wholesale? Pop it in the comments below or submit your question to our experts here.