We love our members, so every month we'll be featuring one of them on the site and in the newsletter. This month, our featured member is Jonika Griffin of Rest Simple (@shop.rest.simple) in Toronto, who gamely answered all our questions about her work and her life.
(P.S., not a member yet? What are you waiting for?)
Editor's note: While all products and services we feature in this story are independently selected, some items use affiliate links. This means that if you click these links and make a purchase, we may earn a commission. You can find out more in our privacy policy.
Workshop: Describe your business in 10 words or less.
Jonika Griffin: I've got four: Get comfy. Rest simple.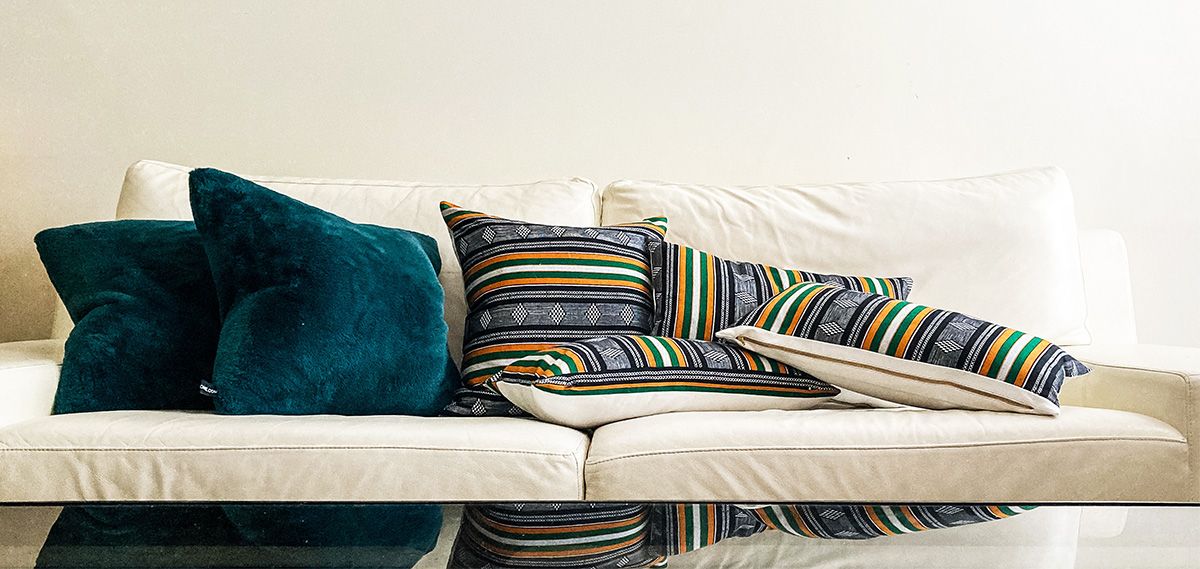 W: What was the first product you sold?
JG: It was a soft launch, like a test. I made this 20-inch pillow cover with a fringe with some extra material I had lying around. I thought it came out really nice. My husband was gushing over it. He's like, you need to sell this right now.
So I ended up packaging it up. I had my Shopify store set up. So I went through the entire process, printed out my packing slip, tagged it, put my barcode on there, added it to my inventory — I did the whole shebang. I put it in a box with my branded tape over the box, put it in my car and drove it over to my aunt's house. She lives in Pickering, 10 minutes away from me.
When I got to her house, I stood by while she opened it up. For context, she's not really an excitable person. She's not somebody who's going to gush. If it's ugly, she'll tell me — I trusted her to do that. So I give her the box. She opens it up in front of me in her kitchen. And she just had the biggest smile on her face. She's like, you made this? It looks so professional!
She ended up keeping it. And what made me feel even better about my process and what I'm trying to do, she called me a few days later. She said, she took the box and everything over to her friend's house. Her friend is also a sewer. Her friend took it out and inspected it and said she wanted to order some.
I said, this is the best feedback I've ever gotten. It's a complete stranger who doesn't know me and only saw my product. Yes, it was based off the recommendation of her friend. But that was really affirming, like I'm on the right track. The way that I'm presenting my product seems to work, to resonate. And I got some really honest feedback that I can trust.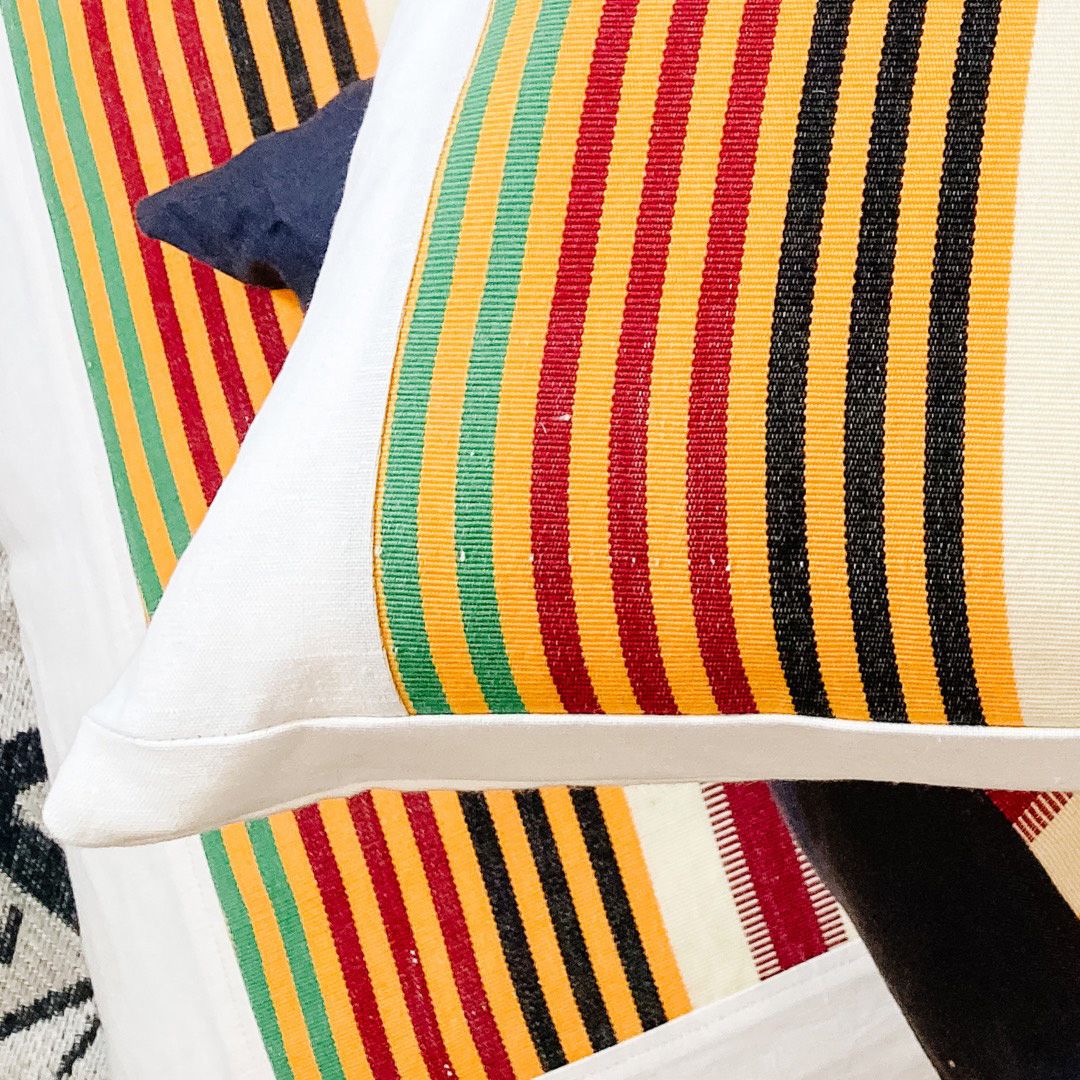 W: What's your latest innovation?
JG: I feel like sewing home decor is not necessarily innovative. But everybody has their own unique spin on what they want to see in the market, what they're not currently seeing. So I would say, I'm using statement fabrics. I'm using fabric that I don't see and that I haven't seen.
I'm one of those people that walks around stores. I would go in and take a look and see, okay, on the shelves we've got fuzzy throw cushions again, great. We've got throw cushions that have some little embroidered embellishments, that's wonderful, and little fringes on the bottom. That's really pretty.
But I was missing those pow moments, those bold fabrics that really spoke to my background and my culture. So I've been working with West African Ankara Dutch print fabrics as my main inspiration, and using them as the main panels for my throw pillows. And I feel like those make a statement. I'm also really inspired by using vintage material, upcycled material. I've been trying to breathe new life with those fabrics into my products.
W: What's something you've done in the past year that you're proud of?
JG: In the middle of a global pandemic, I learned I was pregnant. The stick showed that "+" sign in January 2021 and just the month before that, on December 1, 2020, I had registered my business in Ontario. Through my pregnancy, I learned how to take care of my body in new ways, which motivated me to learn how to "work smart," not just "work hard." I learned how to write a business plan (Thanks, Workshop Magazine!) and make to-do lists that didn't have me exhausted by the end of the day. I learned how I could turn Rest Simple from a passion project into a sustainable business so that I can create a legacy for my family.
W: What's something new that you've learned lately?
JG: Welting. You see it on a product and you're like, okay, that looks pretty simple. It's not.
I learned how to sew when I was really young. Our next-door neighbour had her own custom sewing business and was teaching out of her basement. She had this really nice studio and we'd go and take lessons from her. I also saw my grandmother sew, and that's really what inspired me to start this business: remembering her legacy and her joy in sewing and making pajamas and nightgowns and shirts and outfits for her granddaughters, because all she had was granddaughters.
And so I picked it up close to the end of last year. I bought my own sewing machine, set up my own sewing room. I wanted to immerse myself again, I wanted to make sure I understood the process, I wanted to feel comfortable putting fabric through a machine. Then I started saying, okay, raise the stakes, use fabric that you know you can't waste to make sure that you're doing this properly. So I'd find a tutorial on how to attach a zipper or a fringe to a pillow and I'd follow that to the letter and make sure that I don't waste my fabric. If I mess up, I'm ripping those stitches out. It took me forever, but it was worth it. Because that's how I learned.
So now I'm doing that with welting, or piping, and I feel like that's how I'm able to solidify these skills and make sure that it comes out the way I want it to look.
W: What's the most recent thing you've bought from another Canadian maker?
JG: There's this small fabric vendor that I came across on Instagram. I'd never purchased anything via Instagram before, but their content really spoke to me. It was Simplifi Fabric. They're a small family-owned business out of Iroquois, Ontario. And there was one post that spoke to me, this beautiful cotton jersey, a golden yellow with floral print on it, and I was like, this is the most gorgeous fabric I've ever seen. It came to the door, I opened it, I was super excited. It was just as beautiful in person as it was in the photo.
W: Where's your dream studio?
JG: It doesn't exist yet. It's something I've been thinking about for a very long time. And it's not just a studio — it would be a retail space, it would be a cafe, something very comfortable and welcoming, with products not just made by me, but where other makers that are making home decor and furniture can use the space as well. Not just to sell their wares, but to have people immerse themselves in a space that inspires use of those pieces in their own homes, like a showroom. It's something I've been dreaming about.
There's an area of Pickering close to the lake called Frenchman's Bay. There's this  little bay town, it's a marina. There are these very charming houses. There's retail spaces down there. It's got a beautiful view of the water and entrance to pathways along the lake. I would like to have a studio space down there. I feel like anywhere that's near water is inspiring and fun. And have a space that's a showroom, a cafe, you come in, you shop, you talk to the artisans, talk to the makers. If you want something custom, you can order it there and have a little consult and then go about your day. That would be a fun place to work.
W: What's one book, movie, TV show, magazine, podcast or album that you're loving right now?
JG: The TV show that I'm really into right now is The Good Fight. It's not just fun to watch, but it's nice to look at. The way they designed the set is incredible. And that's probably the reason why I continue to watch it. You know, the writing is what it is, it's network television, but the talent behind costume and set design is chef's kiss. It's so good. Just looking at the lamps that they use, the rugs, the textiles, the couches. You have this really expensive green vase with an orchid in it that Diane Lockhart picks up and moves from a sideboard to the window and the only thing I'm looking at during that scene is the vase. That's enough for me. It's fun to watch.