We love our members, so every month we'll be featuring one of them on the site and in the newsletter. This month, our featured member is Toronto bag maker Karin Edhlund of Förtrollad (@fortrollad.leather), who gamely answered all our questions about her work and her life.
(P.S., not a member yet? What are you waiting for?)
Editor's note: While all products and services we feature in this story are independently selected, some items use affiliate links. This means that if you click these links and make a purchase, we may earn a commission. You can find out more in our privacy policy.
Workshop: Describe your business in 10 words or less.
Karin Edhlund: I make timeless bags using leather and upcycled materials.
W: What was the first product you sold?
KE: The first product I sold was even before I set up my website and saw myself as a business. I was learning how to work with leather, and I started researching online how to make these braided bracelets called magic braids. I made a lot of bracelets and started wearing a lot of them, and my friends saw them and liked them. A friend of mine, she gave me a phone call — she's like, I want one of those. And I sold her a braided leather bracelet. It was super exciting — I was so happy. I got so much motivation to keep going. And I still sell braided bracelets to this day.
W: What's your latest innovation?
KE: It's a bag made out of upcycled cable knit sweaters that I thrift. The first one I made was from a cable-knit scarf I had lying around at home. I was going to hand it over to a thrift store, because I just didn't use it. But then I started playing around with it: I cut a little bit here and there, sewed it together and added leather straps, handles and trim.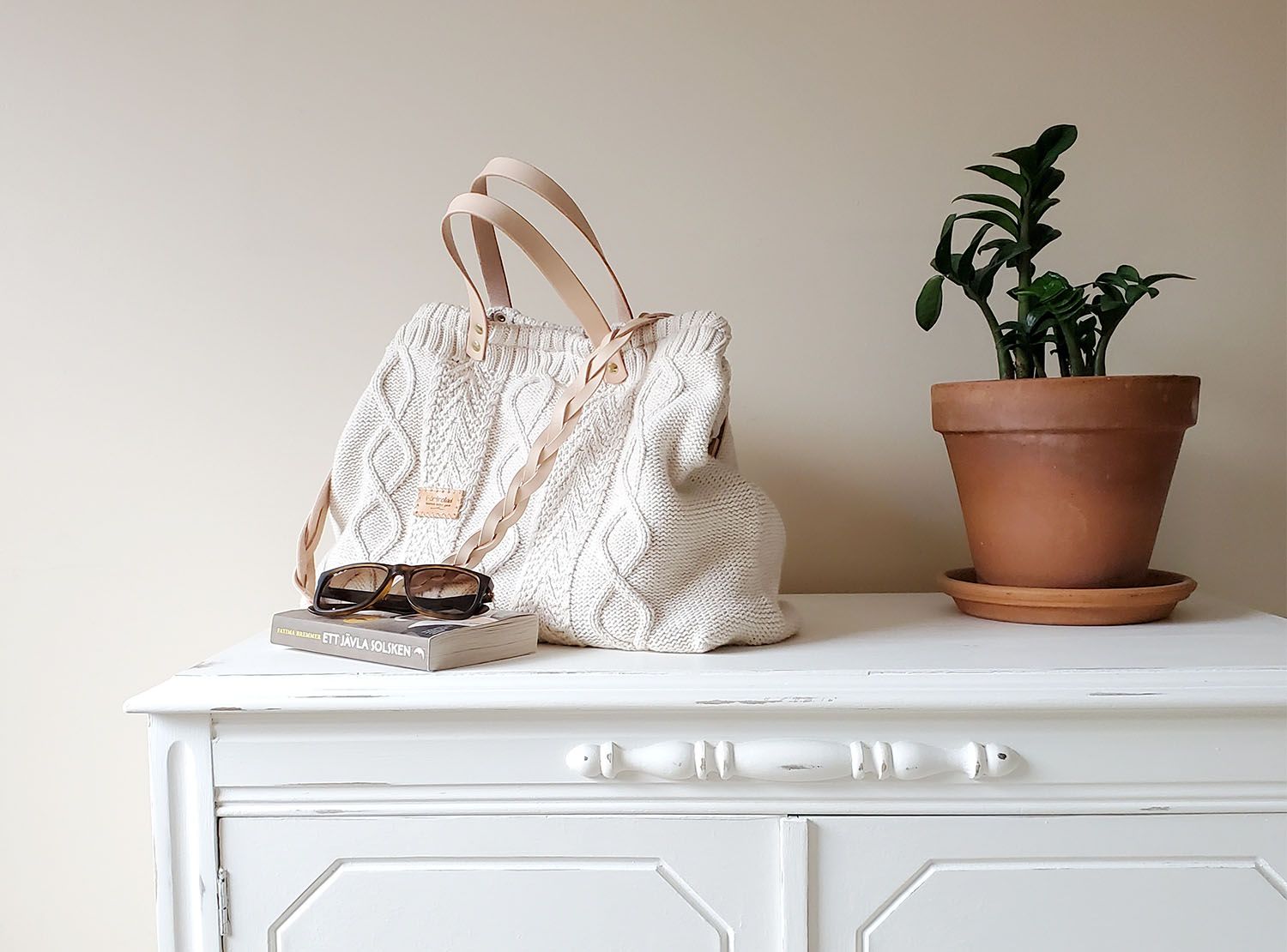 I posted it on Instagram and it immediately became such a popular thing. I got so much great feedback on it, and it sold right away. So I decided to make more of them, and they're still super popular. As soon as I have a shop update, they sell. It's a phenomenal product, and I'm going to keep making it as long as there's demand. It's super cute. It's a cozy cable knit sweater bag, like a tote bag.
W: What's something you've done in the past year that you're proud of?
KE: As an artist, to put yourself out there with your art, it's always scary. I remember when I launched my website, it was scary. When I launched my new Instagram account, it was scary. But last year I decided to really put myself out there and to have my products in a store. So I rent a little space at the Arts Market, which is a market for handmade goods and antique stuff in Toronto. I've been there since June of 2021. It was frightening, but I feel like it's a really great addition to the offerings of where I sell my products. So I'm very proud for doing that.
I also contribute a portion of my sales to plant trees. I've done that since I started my business in 2018. We planted about 400 trees last year.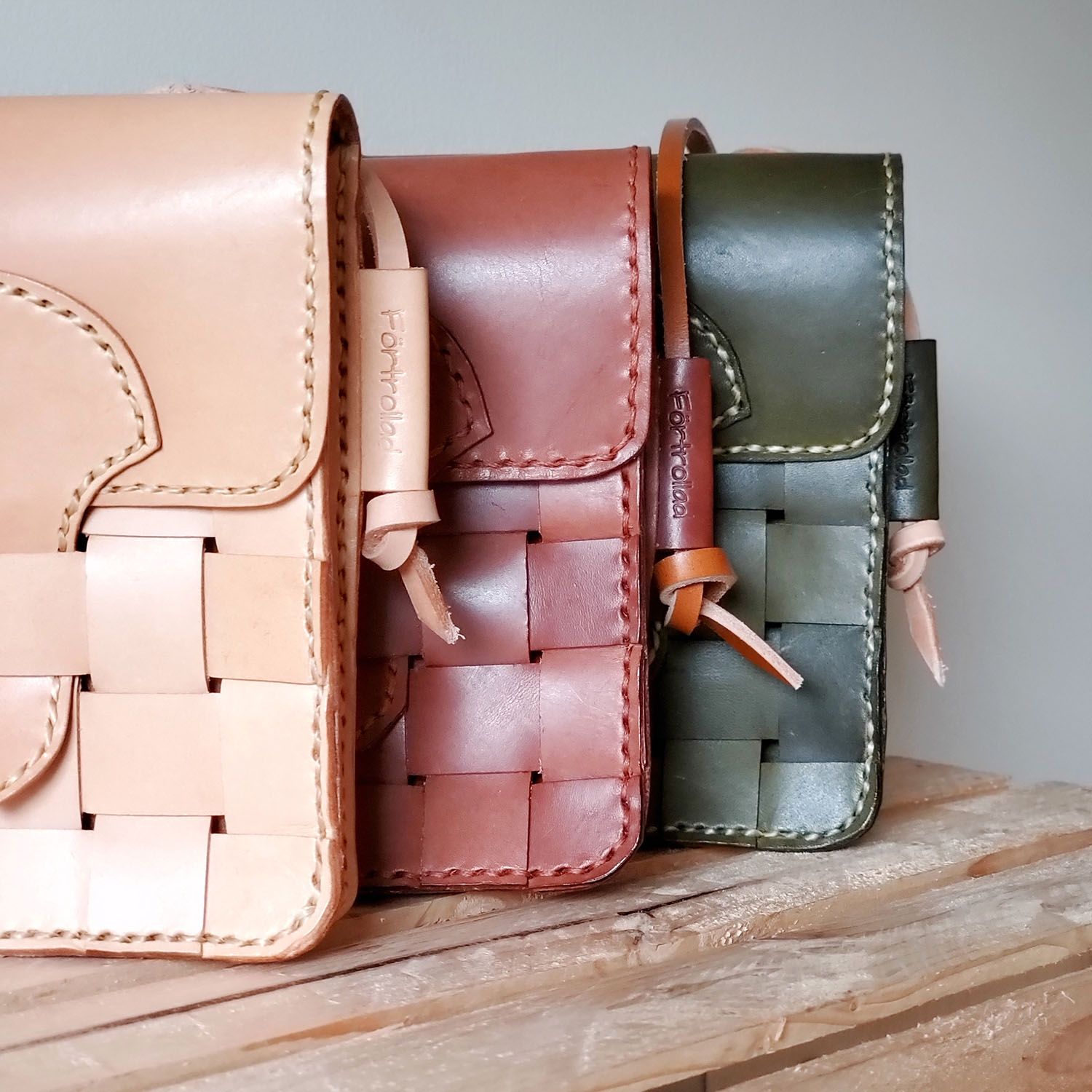 W: What's something new that you've learned lately?
I created this natural leather balm using three ingredients, which are almond oil, beeswax and cocoa butter. I've wanted to make a leather balm for as long as I've been working with leather, but I've never really had time to learn how to do it. So I took some time now during the pandemic, when it's been a bit quiet, to  research how it's done. I cooked up my first batch about a month ago and it turned out great: smells good, works so fantastic on leather. And it's all natural, so it's good for your skin.
W: What's the most recent thing you've bought from another Canadian maker?
KE: I follow so many local and Canadian makers on Instagram, and I want to buy everything. Most recently I bought a pair of silver dangle earrings from a metalsmith called Robin McGauley. They're fantastic. I'm so happy about them. And I always buy mugs, my favorite coffee mugs, from my friend who does pottery. Her name's Eleanor Stainsby, she has Stainsby Studios. I have tons of mugs and vessels from her.
W: Describe your dream studio.
KE: It would be a space surrounded by trees and nature, a sort of cottage in the woods, but still fairly accessible. Big spacious windows, floor to ceiling type. I would love to have a space like this shared with a few other artists that make different products, and also have a corner to sell our art where people could come in and meet us and hang out and buy our stuff. And also a little coffee shop in the corner. I would love a space where there are always things happening and everyone's working and doing what they love and people can come in and see this in action while shopping and sipping on a hot beverage. That's my dream.
W: What's one book, movie, TV show, magazine, podcast or album that you're loving right now?
KE: So don't laugh at me, but I've been in a mood where I feel like I need to watch something light and easy with lots of nature. So I've been powering through Heartland, and I'm now on season 11. It's a great show. It's all about horses and training and family life and love — you know, the good stuff — and it's so easy to watch.
I also have a podcast that I always listen to when I'm sitting in my home studio working, and it's the Goal Digger. I saw that another artist also was talking about that. I've listened to it for almost a year now. It's amazing. It's so inspirational when I'm sitting and working to listen to the host, Jenna Kutcher, talk about entrepreneurship and life.
Photos courtesy Karin Edhlund