We love our members, so every month we feature one of them on the site and in the newsletter. This month, our featured member is Edwin Fong in Markham, Ont., who illustrates and sells greeting cards via his business nutfreedoodles (@nutfreedoodles). Here, Edwin gamely answers all our questions about his work and his life.
(P.S., not a member yet? What are you waiting for?)
Editor's note: While all products and services we feature in this story are independently selected, some items use affiliate links. This means that if you click these links and make a purchase, we may earn a commission. You can find out more in our privacy policy.
Workshop: Describe your business in 10 words or less.
Edwin Fong: I hand-draw things alive and create punny greeting cards.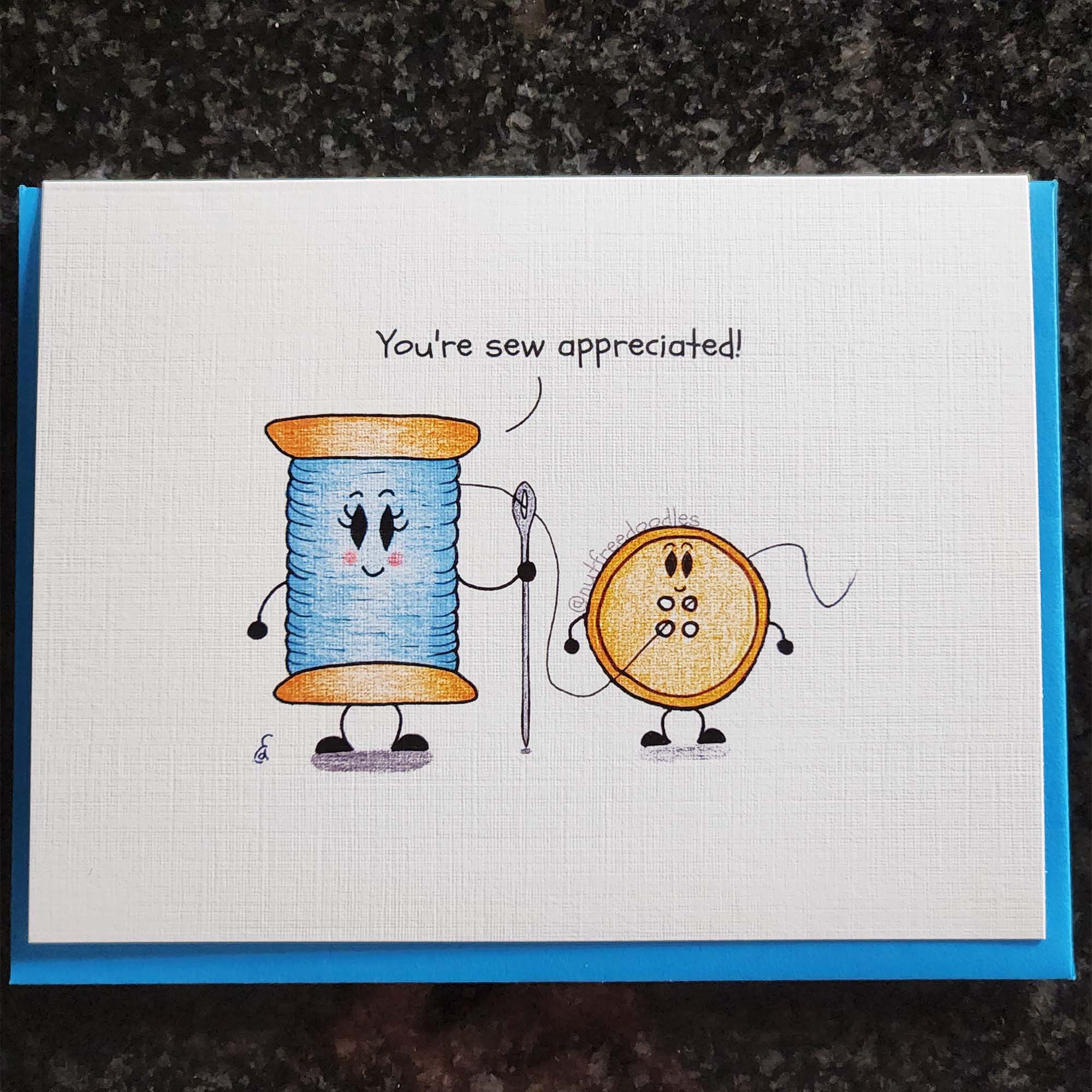 W: What was the first product you sold?
EF: It started when I bought cards from a friend. She saw my very early Instagram doodle sketches, and she encouraged me that, hey, you should try putting some of your punny drawings on a greeting card to bring them to life. She had been doing cards for a bit longer, so she took me under her wing, helped me to birth my first three relationship-themed cards to market and sold them through her Instagram.
W: What's your latest innovation?
EF: Innovation means different things to so many different people. Greeting cards, which is my main product, aren't something new. But they've become so mass produced and sometimes lack that traditional look. So my cards offer a fresh balance of that hand-drawn paper feel paired with happy, bright colours and topped with a punny punch. With every card, I won't draw it unless it's got some pun to it. That's my foundation, because I've always loved humour.
I've had people ask me, did you hand-draw each and every one of them? That's kind of cool, because at least there's some doubt. It maintains that quality feel.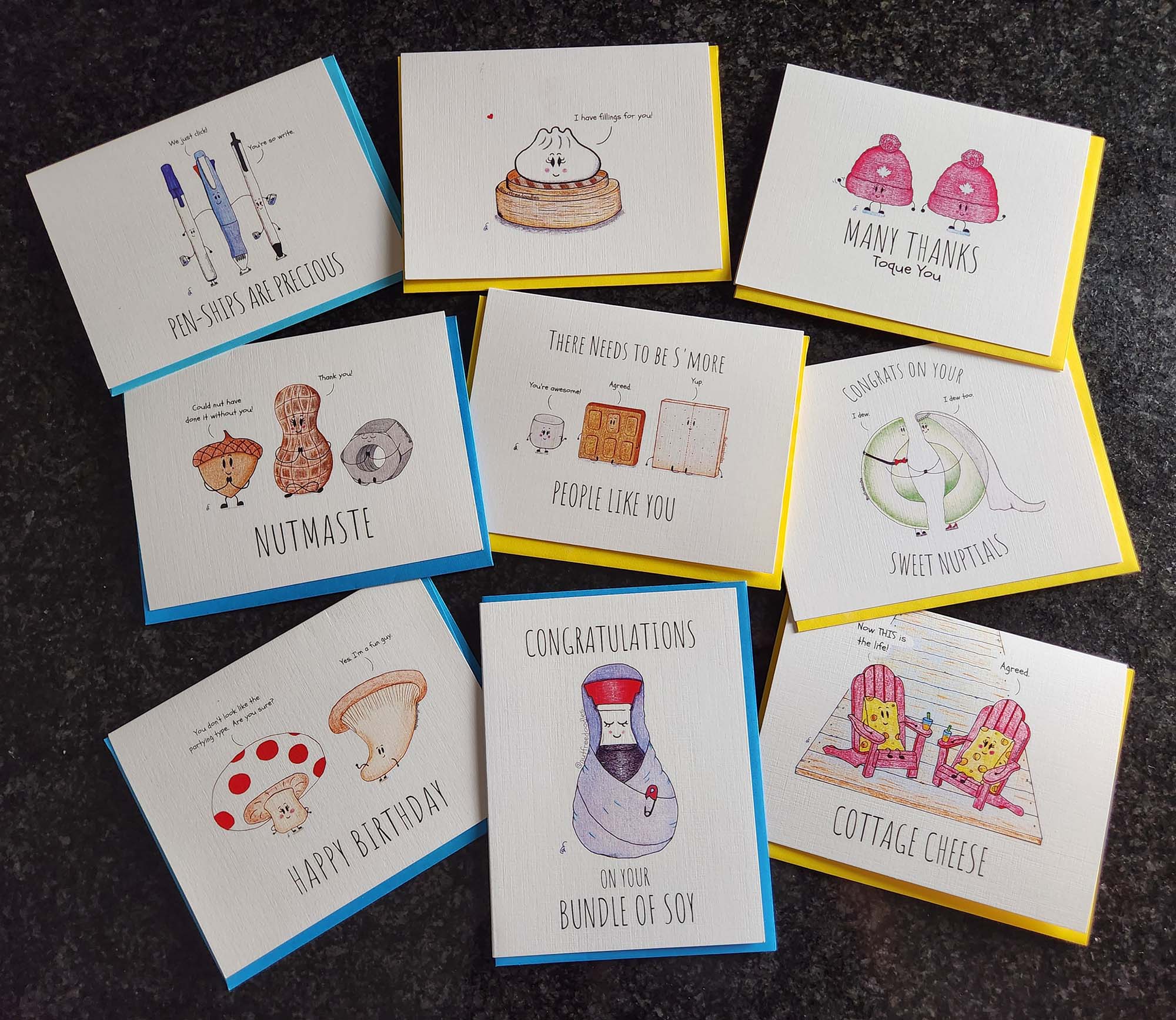 W: What's something you've done in the past year that you're proud of?
EF: With a lot of encouragement and nudging from my spouse I took the leap last year to actually try in-person markets. I ended up doing six by the end of the year. It's one thing to hide behind a website and have your cards for sale there, but being at a market and having the customer right in front of you, and you don't actually know them, it's nerve-racking.
I was surprised that I actually got a lot of joy out of interacting with people and seeing them laugh, giggle and explain some of the puns to maybe their parents. Looking back, I'm glad that I stepped out of my comfort zone, and it allowed me to share my art with more people.
W: What's something new that you've learned lately?
EF: As a self-taught artist, I call myself a rookie doodler. But I've recently figured out how to break down objects into the simplest form, and identify what are some of the most important lines necessary to make the objects recognizable.
Drawing the simplest things and deciding which lines are the most critical and which ones can be omitted is the most challenging part. But that's part of the fun and the journey of bringing my punny ideas to life.
W: What's the most recent thing you've bought from another Canadian maker?
EF: It was a pop-up art card from Roses Without Thorns, for my mom's 80th birthday. All of their cards are laser cut and hand assembled. This one was a 3D tree of life and it had such beautiful details. The consistency and the passion that Link [Tong] puts into his cards is amazing. All his designs are very unique.
W: Describe your dream studio.
EF: I try to live a minimalist life — I don't like clutter — so I don't need too much in the studio. But I would say high ceilings are essential, and a large window so I can have natural light and also people-watch to get ideas from the everyday things that I see.
As a physiotherapist by profession, I'd really want a desk that's adjustable to sitting and standing, to be able to change position. Sometimes when you're sitting for too long, ideas get stagnant and the body gets stagnant. So it's good to have that flexibility with the high-low desk.
Also, a massive beanbag chair in the middle so I can brainstorm silly ideas and nap. Sometimes the best ideas are when I'm not thinking about them. Sometimes you fight it and they don't come. And it's a great spot for me to snuggle up with my dog Mylo. That's always good for letting your mind relax so the ideas come to you.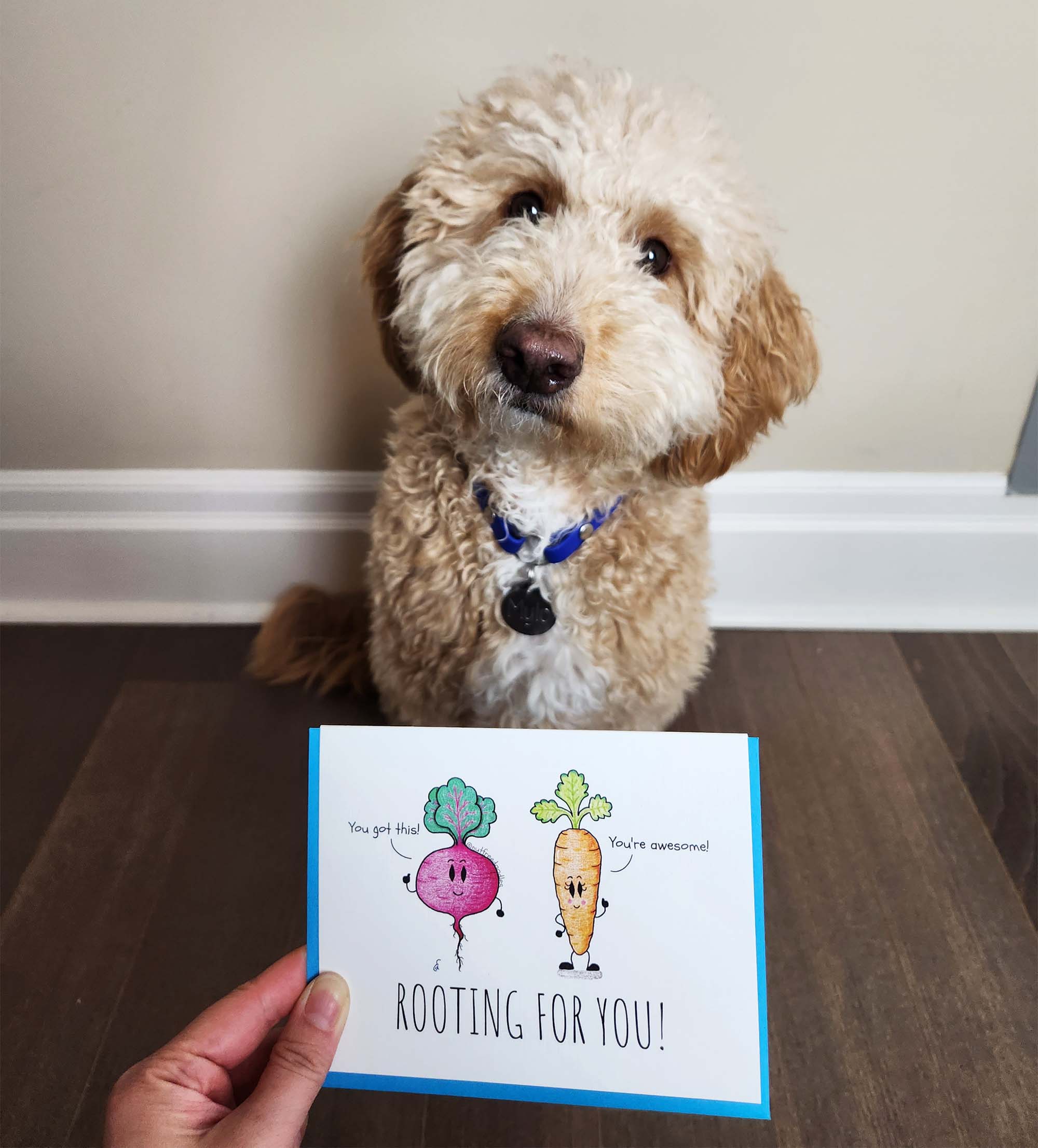 W: What's one book, movie, TV show, magazine, podcast or album that you're loving right now?
EF: This is a book that I've read and I'm actually rereading because it's so good. It's called Clarity & Connection by Yung Pueblo. It's all about self-awareness, to catch yourself in old patterns of reacting so you can move forward and show up to a better version of yourself. It's really helped me show up better for my relationships. The words are so simple, yet very impactful. I highly recommend it.